---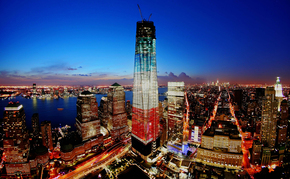 According to Cushman & Wakefield's annual Winning in Growth Cities report launched today at EXPO REAL trade fair in Munich, low global interest rates and ongoing risk are luring investors towards commercial property markets in core global cities, with New York attracting the most investment during the last year.  
The top 25 global cities have in fact strengthened their lead in the past year - increasing their market share to 56% from 46% in 2009. However while this dominant group will continue to be favoured by investors for their risk averse characteristics, they will in the future face increasing competition from a host of other cities according to the report. 
Cushman & Wakefield's report highlights include:
New York is the largest global investment market for second consecutive year - with volumes rising 18.9% to US$34.7 bn in the year to Q2 2012
London took second place with 3.8% growth in investment volumes to US$ 29.3 bn (18% less than New York)
Tokyo, Paris, Los Angeles and Hong Kong round out the top 6.  Los Angeles took top spot for investment in industrial, Shanghai for development sites and Hong Kong for retail.
Glenn Rufrano, President and Global CEO of Cushman & Wakefield tells
World Property Channel
, "True global cities have gone from strength to strength in the past year, and the investment hierarchy is now well defined. However, the top targets are really 'safety first' choices and will be challenged when recovery comes. In our opinion the hierarchy will in fact expand as cities mature, higher quality property is developed in emerging locations and crucially, as occupiers lead the way into new markets." 
A continued strong focus on mature, core liquid markets by investors seeking future growth potential but also better stability and liquidity has seen the top 25 cities increase their importance, with volumes rising 6% versus a 0.8% increase in the market overall.  
Boosted by higher yields and higher yield premiums, liquidity and transparency, North America dominates the top rankings, with 15 of the top 25 targets and 17 of fastest growing in the past year.  Asia is the second strongest region in the top 25, with 6 current targets and 5 high growth markets.  There was little change in the top 25 ranking with 21 of the top cities the same as last year, with Sydney, Seattle, Phoenix and Denver moving up at the expense of San Diego, Hamburg, Melbourne and Beijing, the latter of which lost out due to a slowdown in land sales although it is likely to recover.  
Concerning investment by property sector, the office market attracted the most investor capital, accounting for 43%, followed by retail (20.8%), residential (18.1%), industrial (10.3%) and the hotel sector (7.2%).    
Global flows of cross border capital reached US$150 billion in the 12 months to Q2 2012, a rise of 4.3% on the same period in 2011.  London topped the table for the overseas investors for the second year at US$19.6 billion, with Paris some way behind and New York in third spot.  Tokyo and Hong Kong are the top two Asia Pacific cities slotting for foreign investment, in at fourth and fifth respectively.  
Drivers of Success
As well as identifying today's winning cities in terms of commercial real estate investment and the differences in pricing and demand, the Winning in Growth Cities report also looks at the key drivers of city performance including skills base, innovation and quality of life.  According to David Hutchings, Head of European Research at Cushman & Wakefield, "The basic ingredients for success in a global city have always revolved around scale and access but in today's digital and risk-aware world, a range of other factors are of growing importance. In the future education, culture, connectivity and environmental sustainability will be critical, but so too will a cities reputation for ease of doing business, innovation and the quality of life it offers." 
Across a range of indicators examined in the research, the significance of New York was continually re-enforced, with the city ranking in the top 25 in all of the variables included bar quality of life. London however is not far behind and had more top 5 placings than New York. Other cities in the top 5 were Paris, Tokyo and Shanghai but interestingly only New York and London ranked highly for both scale and softer factors such as innovation and education which create the framework for future growth.  
According to Hutchings, "Competition among cities to attract investors money will only increase in the years to come as the available universe of cities widens. In the short term investors will spread out as they seek income and income growth but for the medium term, they would be wise to look closely at where occupiers are going and focus not just on size and liquidity but also at factors such as innovation, skill clusters and sustainability which highlight cities such as Amsterdam, Munich, Melbourne, Singapore, Toronto and Seattle." 
Global Regional Activity
Commenting on the Americas, Greg Vorwaller, Global Head of Capital Markets at Cushman & Wakefield said, "When looking at this year versus last, it feel like "déjà vu all over again, as the continued economic and geopolitical uncertainties have resulted in investors behavior biased to the safety of core properties in the very prime markets. As confidence is restored and recovery is felt, even at modest levels, for those not faint of heart, opportunities will abound for those prepared to prudently move of the risk spectrum, both as to acquisitions of quality assets in emerging or secondary cities, as well as to the recapitalizations of undercapitalized prime assets." 
Michael Rhydderch, Head of EMEA Capital Markets, Cushman & Wakefield also commented,  "Nervousness amongst investors caused by the sovereign debt crisis has focused most activity on the largest and most liquid markets and London has been the standout beneficiary from this.  Going forward, however, it is clear that the major German cities will prove particularly attractive both in terms of their defensive qualities and the relative strength of their occupational markets. Although a complex market, Berlin will continue to increase its share of the investment market." 
John Stinson , Head of Asia Pacific Capital Markets, "The Asia Pacific markets continue to attract significant volumes of  global capital and again this  year we see  a significant concentration  of major cities from  Asia in the Top 25 .  
With lingering concerns over the sovereign debt crisis in other regions we are witnessing higher allocations both to real estate and to the Asia Pacific region in all sectors. Moving toward 2013 these higher allocations will deepen capital pools in core cities but also strengthen volumes seeking opportunities in growth cities.   In particular watch the South East Asian major market cities as investors follow the increasing trend of occupiers favouring these markets."
Sign Up Free | The WPJ Weekly Newsletter
Relevant real estate news.
Actionable market intelligence.
Right to your inbox every week.
---
Real Estate Listings Showcase