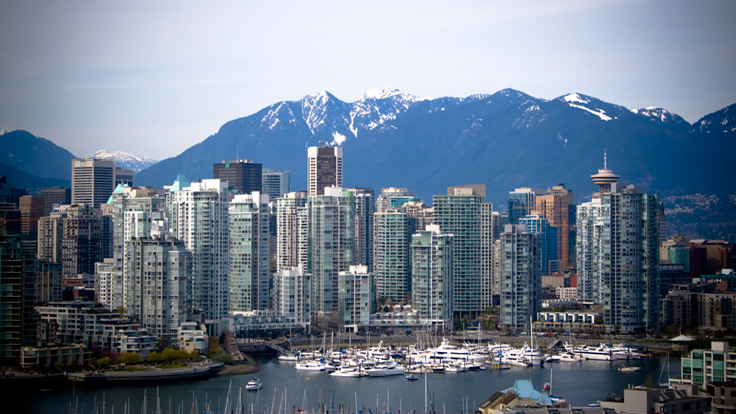 Vancouver Home Sales Far Ahead of 2012
Home sales in Greater Vancouver were 63.8 percent higher in September compared to last year, as market activity continues to outpace 2012 in the city popular with international buyers.
The number of homes sold in September reached 2,483, up from the 1,516 sales in September 2012, according to new data from the Real Estate Board of Greater Vancouver. The number was 1.2 percent lower than
last month's 2,514 sales
, but just one percent below the 10-year sales average for the month.
"While sales are up considerably from last year, it's important to note that September 2012 sales were among the lowest we've seen in nearly three decades," Sandra Wyant, REBGV said in the release. "Home sale and listing activity this September were in line with the 10-year average for the month."
But there has been minimal price fluctuations in Greater Vancouver, which may ease "bubble" concerns expressed by market watchers. The benchmark price for Vancouver homes is $601,900, a 0.7 percent drop from last year and 2.3 percent higher than January 2013.
"It's important to remember that stronger sales activity does not necessarily equate to rising home prices," Ms. Wyant said. "In fact, home prices have not fluctuated much in our market this year."
New listings for detached, attached and apartment properties totaled 5,030 in September, representing a 5.5 percent drop from last year. It is, however, 20.2 percent higher than the amount of homes listed in August. Greater Vancouver's sales-to-listing ratio sits at 15.4 percent, categorizing the market as "balanced," experts say.
Canada has enjoyed positive home sales numbers in its major cities as pent-up demand from stricter mortgage
lending guidelines
is satisfied. Home sales in Toronto reached 7,411 in September, up 30 percent compared to last year. The year-to-date residential sales total is one percent lower than the same period last year, according to the Toronto Real Estate Board.
"It's great news that households have found that the costs of home ownership, including mortgage payments, remain affordable," Toronto Real Estate Board president Dianne Usher, said in the release. "This is why the third quarter was characterized by renewed growth in home sales in the GTA."
The average selling price for a home in Toronto was $533,797, an increase of 6.5 percent from last year.