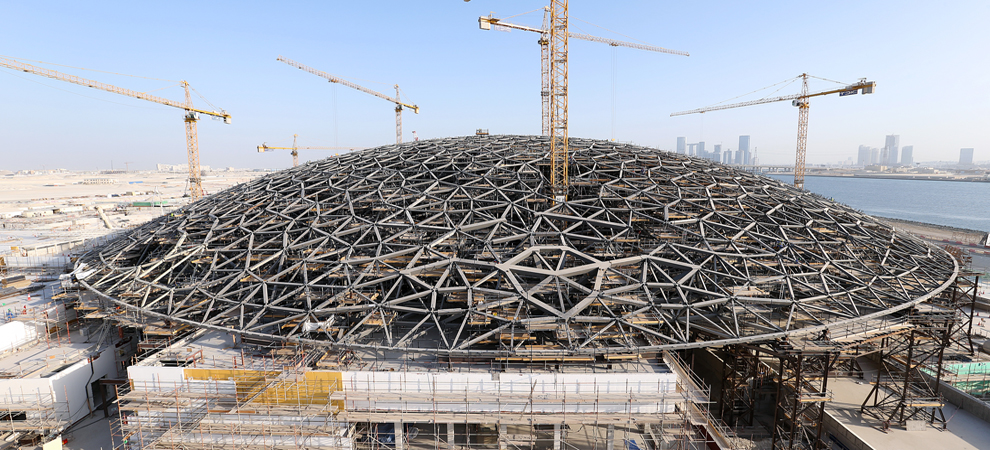 The Louvre Abu Dhabi Nearing Completion
The Tourism Development & Investment Company (TDIC), a master developer of major tourism, cultural and residential destinations in Abu Dhabi, announced today the full installation of the Louvre Abu Dhabi dome structure.
The dome consists of 85 super-sized steel elements and weighs 7,000 tons. Back in December 2013, the first super-sized element was lifted and put into place. Today, work on the last of those 85 pieces has finished completing the dome's complex puzzle shaped structure. Today, the dome sits atop of 120 temporary support towers, which will be later on disassembled and removed leaving the dome, as initially designed, resting on four main piers only.
Work has started on the cladding of the dome, whereby a total of eight layers of aluminum and stainless steel inserts, will be placed in a clockwise direction, above and below the steel frame. To achieve the 'rain of light' effect within the museum, these cladding pieces have been carefully engineered in specific sizes and orientations forming approximately 8,000 stars in both the upper and lower layers. These star-shaped pieces range from 3.5 to 13.5 meters wide depending on their position and location within the cladding design.
Ali Al Hammadi, Chief Executive Officer at TDIC said, "We are very pleased that Louvre Abu Dhabi's dome structure installation has now been completed and that the work is progressing as planned. This is a major milestone in the museum's development, and great achievement for everyone involved because the execution of the design is very complex and one that is unprecedented in the architectural world."
Elsewhere, great strides have been achieved across Louvre Abu Dhabi's construction site. To date, a total of approximately 144,000 cubic meters out of 145,000 cubic meters of concrete has been poured. Furthermore, a total of 33,000 tons of reinforcement steel has been used and over 18,500,000 man-hours completed on site. The construction of all the galleries has been completed structurally, along with the concrete work for the museum's basement levels as well as the security screening facility; a highly secure seven-meter deep basement through which authorized vehicles will transport all the artwork of the museum. Moreover, work is progressing on the 1.2 kilometer Saadiyat Tunnel which will be the main entryway for the artworks as they are transported to their destination.
Mock-up galleries of Louvre Abu Dhabi, which have been constructed for finalization and sign off, sit a few metres off site today. This mock-up building is by and large a testing ground to verify, evaluate and, ultimately, seek approvals for the architectural quality and aesthetics of works for the museum - both internally and externally.
Jassim Al Hammadi, Director of Infrastructure at TDIC said, "The dome is the museum's most prominent feature and has been by far the most challenging element to construct on site. However, we are working around the clock to meet our deadlines and make sure that the project is delivered on schedule. We will soon start the marine excavation process, which will see the revetment, or breakwater area, surrounding the museum's temporary platform removed in a strategic process. As work progresses, flooding will start to take place, resulting in Louvre Abu Dhabi's final floating appearance."
Designed by Pritzker-prize winning architect Jean Nouvel, Louvre Abu Dhabi will encompass 9,200 square metres of art galleries. The 6,681-square-metre Permanent Gallery will house the museum's permanent collection taking the visitor through a universal journey from the most ancient to contemporary through art works from different civilisations. The Temporary Gallery will be a dedicated space of 2,364 square metres presenting temporary exhibitions of international standards.
Louvre Abu Dhabi, when completed, will be one of the premier cultural institutions located in the heart of the Saadiyat Cultural District. These feature Zayed National Museum and Guggenheim Abu Dhabi - both also designed by world-renowned Pritzker-prize winning architects.