---
Cycling tourism is a fast growing global business. It provides the freedom that many seek in a vacation, an escape from the rat-race, a back-to-basics way to see new landscapes, a feeling of being at one with nature, a healthy break, not to mention an eco-friendly way to travel, exploring on two wheels is becoming a favorite way to holiday. 
And the economic effects are significant.
The European Cyclists' Federation (ECF) has shown that some 655,000 people are today employed as part of the continent's cycling industry, with CTC's 'New Vision for Cycling' revealing that a two-wheeled tourist spends, on average, £25 ($39 USD) a day within the local economy, comparing extremely favorably with a car visitor's spend of just £7.30 ($11.90 USD).
European Cycle Tourism Stats:
Cycling tourists spend on average £25 a day within the local economy, compared to a car visitor's spend of just £7.30 (CTC's 'New Vision for Cycling')
The newly proposed EuroVelo 8 cycling route, to be known as 'The Mediterranean Route', will encompass 11 countries, including Albania
Lalzit Bay Resort and Spa, 30 minutes from Tirana through which new route will pass, offering chance to invest in growing market
And cycling tourism is becoming more and more popular. Macs Adventure, a cycling and walking tour operator, specializing in tailor-made adventures in the UK, Europe and around the world, has recently revealed a 124% increase in cycling tour bookings for 2014 year-on-year, cementing the notion that increasing numbers of tourists are hopping on their bikes and exploring as part of their holiday plans. 
The impact of more televised cycling events such as the ever-popular Le Tour de France in Yorkshire this summer, with Leeds staging the iconic Le Grand Départ, is clear to see. Not only did the Premier Inn hotel chain witness a 67% growth in bookings of people bringing a bicycle, reports have also claimed that Le Tour had a £150 million positive impact on Yorkshire's economy. 
Le Tour provided the inspiration many needed to get on their bikes and not only are more people now cycling within the UK, many are now also taking their bicycles on an exploration of more far-flung territories. 
Responding to the undeniable growth in the industry, EuroVelo, a network of long-distance bicycle routes throughout Europe, has announced the development of a new, much-anticipated route from Spanish Cadiz to Cypriot shores. The EuroVelo 8, which will be known as 'The Mediterranean Route', will encompass 11 countries (Spain, France, Monaco, Italy, Slovenia, Croatia, Bosnia-Herzegovina, Montenegro, Albania, Greece and Cyprus) and span some 5,900 km.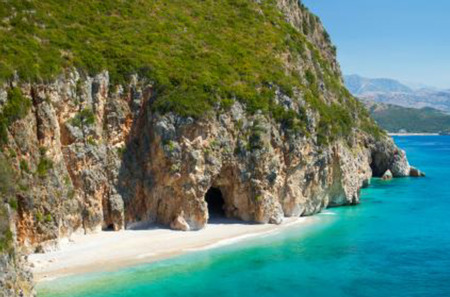 Forming an important and popular part of EuroVelo's proposed 70,000 km network, the route's planned navigation of Albania's Shkodra, Tirana and Durres cities is an exciting addition, as
Peter Walshe, Marketing Director for Albania's first high-end resort Lalzit Bay Resort and Spa explains, "The newly proposed 'Mediterranean Route' will offer much to the experienced and novice cyclist alike and, once reaching Albanian trails, is sure to open visitors' eyes to the countless natural wonders of this European gem. 
"Sweeping, beautiful landscapes and climbs of extensive, breathtaking mountain ranges provide the chance to discover the true Albania: a stunning, untouched land of authentic and undiscovered culture, extremely affordable prices and friendly, welcoming locals. Sure to put beautiful Albania on the map, and contribute to the country's growing tourist numbers."
Not only is the new EuroVelo 8 route through the 'Land of the Eagles' sure to encourage a further tourism boost as Walshe anticipates, the new literal connection to its European neighbors also marks an important association for the Balkan nation with the rest of Europe. This has been further cemented by the recent announcement that Albania has been granted EU Accession status, as the country edges closer to its goal of becoming an official EU nation. 
With an untouched, diverse landscape, newly emerging European links, booming tourist market and now the proposed network making the country a major part of Europe's eco and cycling tourism market, now is the time to consider a strategic investment in Albania. 
Lalzit Bay Resort and Spa, just 30 minutes from Tirana through which the new 'Mediterranean Route' passes, is a new property development investment option for those looking to capitalize on the growing Albanian market, as well as those looking to visit the beautiful country themselves, on two wheels or otherwise.
The five-star beachfront resort provides luxurious facilities, including a beach club and tennis courts, boutique shops, top restaurants and bars. Properties range from 1 or 2 bedroom apartments to 3 or 4 bedroom villas, boasting spacious indoor and outdoor space, optional private swimming pools and the very best fixtures and fittings, all inspired by California's elegant and modern beachfront houses. Prices range from €35,000 ($45,000 USD) to €360,000 ($450,000 USD).
Sign Up Free | The WPJ Weekly Newsletter
Relevant real estate news.
Actionable market intelligence.
Right to your inbox every week.
---
Real Estate Listings Showcase