---
To address the question of how poor air quality in Beijing is impacting China's commercial office markets, a subject of much local and international scrutiny in recent years, CBRE has just released a new report titled
Property and Pollution: The Impact of Smog on the Beijing Office Market
. The report analyzed how the deteriorating air quality will affect Beijing's real estate market; how occupiers and landlords will respond; as well as the opportunities and challenges for the city's office sector. CBRE's report key findings included:
Air Quality is the Second Biggest Concern for Office Occupiers in Beijing
Around 66% of the respondents identified air pollution as a key disadvantage for Beijing as an office location, second only to rising rents. On the various impacts of air pollution, 68% of the respondents believe that "air pollution threatens employees' health and work efficiency". In addition, 60% of the respondents believe that "air pollution has made senior expatriates less willing to work in Beijing". A further 29% believes that air pollution has "a significant impact".
Poor Air Quality Has Not Negatively Impacted Beijing's Appeal as an Office Location
Occupiers' concern over the poor air quality in Beijing has increased significantly in recent years. At the same time, leasing activity and net absorption of office space have both declined. This has led to speculations on whether or not these two situations are directly related. However, CBRE's research findings and key data of the office market shows that demand for office space in Beijing remains strong. There is no evidence that suggests any direct link between lower net absorption and poor air quality.
Tin Sun, Associate Director, CBRE Research Northern China, commented, "Whilst poor air quality is a major concern, Beijing remains a top choice for when corporate occupiers choose locations for their regional or national headquarters. The major concerns of the companies surveyed focus on their employees' health and the increasing difficulties of relocating senior expatriates to work in Beijing. However, no evidence shows that there's direct link between the poor air quality and the declining office leasing activity over the past two years or so."
Leasing activity in Beijing was subdued in recent years by the shortage of supply and the increasing rental costs. Vacancy has remained low since 2011, standing at 4.4% as of Q4 2014, or the lowest among the 17 key domestic office markets that CBRE monitored. New supply was limited over the past two years and could not satisfy the potential demand from the market. The shortage of office space available in Beijing has led to the constant rise in rents.
Office rents for Beijing's Financial Street and Beijing's CBD ranked third and fourth, respectively, in CBRE's latest ranking of the most expensive global office locations. Rents in most other submarkets in Beijing have also reached record high since the end of 2012. Consequently, respondents cited "rising rents in Beijing" as the biggest concern when making decisions for office locations. A majority of occupiers, therefore, have chosen to adopt a more cautious leasing strategy due to the current economic uncertainties and budget constraints. These factors affect the overall office leasing activity, much more than the poor air quality in Beijing.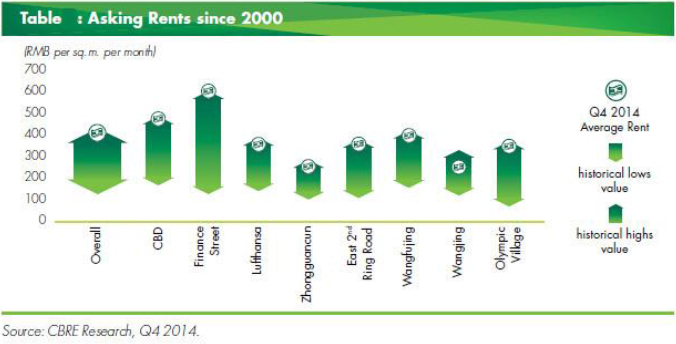 New office supply in Beijing is expected to climb in 2015. This will improve overall availability of office space for tenants whilst posing greater pressure on landlords to reduce rents, ultimately generating more leasing activity and better net take-ups throughout the year.
Buildings with Green Features will Help Retain Tenants
As employees' concerns over their personal health and working environment are increasing, indoor air quality is coming into play when companies make leasing decisions. Buildings with green features will help retain tenants by increasing occupier satisfaction and loyalty. As the white paper reveals, only 37% of the respondents are very satisfied or satisfied with "indoor environment and air quality". Around 14% are dissatisfied or very dissatisfied, recording the second lowest point in the satisfaction portion of the survey.
Virginia Huang, Regional Managing Director, CBRE Northern China, commented, "In the context of tight space availability and high rents in Beijing, companies have to rely on traditional index when making leasing decisions. These fundamental elements include office rent level, location, availability of public transportation, profile of the office area and property management. However, as new supply comes on stream and occupiers have more choices, green buildings are expected to be popular leasing targets as they possess unique selling points. "
CBRE has categorized prime office buildings in Beijing's CBD, Lufthansa and Financial Street, into two groups. CBRE evaluated the differences between LEED and non-LEED certified buildings, and how LEED certifications--which closely measure the effectiveness of air purification systems--affect the indoor air quality, and the relationship between air quality and rental level. CBRE found that LEED-certified buildings demonstrate much better rental performance, and this is particularly true when the market sees over-supply, higher vacancy rate and more intense competition.
Catherine Xiong, Senior Director, Project Management, CBRE, commented, "To meet occupiers' increasing demand for higher indoor air quality, more landlords have started to improve their air purification systems. Currently, some of the effective measures include setting up PM2.5 filters on the mainframe or terminal units of central air conditioners, improving the air tightness in buildings, using air quality monitors that are more precise and sensitive, adopting fit-out materials and procedures configured to meet higher environmental specifications requirements."
Looking forward, as the Chinese government continues to issue more measures to tackle air pollution issues, CBRE predicts that growth in the tertiary sector is expected to create additional demand for office space. In the long term, the renovation of manufacturing sites to become office space is likely to create more office supply and support a more balanced supply and demand structure. Furthermore, the synergized development of the Beijing-Tianjin-Hebei region is expected to transform the demand patterns for the overall office market in Beijing.
Sign Up Free | The WPJ Weekly Newsletter
Relevant real estate news.
Actionable market intelligence.
Right to your inbox every week.
---
Real Estate Listings Showcase