---
But surged 84 percent quarter over quarter in Q4

Global property consultant CBRE is reporting that worldwide commercial real estate investment increased by 84% quarter-over-quarter in Q4 to $290 billion but was down by 20% from Q4 2019. The surge between Q3 and Q4 2020 was mainly driven by a 97% increase in U.S. volume. Nevertheless, annual global investment was down by 26% from 2019 because of the pandemic.

The Q4 rebound was significant in all three global regions, as the promise of vaccine deployment and continued economic recovery buoyed investor sentiment. Despite a resurgence of COVID infections in parts of the world, Q4 performance is grounds for an optimistic outlook for 2021.

The Americas

The Americas investment volume more than doubled in Q4 from Q3 to $144 billion, leading the global rebound. This was 20% below the record-breaking volume in Q4 2019 and 11% below the five-year Q4 average. However, the relatively solid finish to 2020 turned a 60% year-over-year decrease in Q2 and Q3 into a less brutal 34% annual decline.

The U.S. reported $135 billion worth of transactions in Q4, a 21% year-over-year decline but a 97% increase from the previous quarter. This accounted for 47% of total global volume in Q4. Simon Property Group's $3.4 billion acquisition of Taubman Centers was the only entity-level deal in the U.S. since February. For the full year, investment dropped 34% in the U.S., 29% in Canada, 15% in Brazil and 57% in Mexico. Mexico's climbing COVID-19 deaths have hindered its economic and property market recovery.

On the sector level, multifamily had only a 1% drop in Q4 investment volume year-over-year and industrial fell by 4%. Investors continued to flock toward Americas multifamily and industrial assets due to their stable outlooks and proven resilience amid the pandemic uncertainty. Industrial (26%) and multifamily (36%) accounted for 62% of Americas investment volume in 2020, compared with 53% in 2019 (Figure 2).

The office sector was down 35% year-over-year in Q4 but saw a 93% increase over Q3, an encouraging sign heading into 2021. Recovery of the retail and hotel sectors hinges on vaccinations and increased mobility. Combined, the two sectors accounted for 13% of total volume in 2020, compared with 18% in 2019.

EMEA Region

EMEA investment surged 84% in Q4 from Q3 to $109 billion, down by 25% from Q4 2019 and by 12% from the five-year Q4 average. Record-setting volume in Q1 lifted the annual total to $329 billion, a 17% decline from the prior year that was the smallest of all three regions.

Q4's quarter-over-quarter increased volume was mostly attributable to Germany, U.K. and the Netherlands. However, on a year-over-year basis, Germany's Q4 volume fell by 30%, the U.K.'s was down 20% and the Netherlands had a 10% increase. Denmark, Switzerland and Norway exhibited remarkable resilience throughout 2020, ending the year above their 2019 volumes. Looking ahead, recent reintroductions of lockdown measures may weigh on investor sentiment in early 2021.

Capital is increasingly being allocated to multifamily and industrial assets in the region. Combined, they accounted for 38% of total EMEA investment in 2020, up from 30% in 2019 (Figure 2). Multifamily investment grew 7% and industrial by 11% in 2020. Investors accepted low yields in both sectors for potential rent growth and low risk in these uncertain times.

Office and retail investment volume recovered in Q4, growing by 77% and 67%, respectively, from Q3. On an annual basis, however, their volumes fell by 34% and 5%. The Q4 office rebound was particularly evident in the U.K. and Germany, focused on core assets, as employment growth gained momentum. Retail investment is expected to remain stable at low levels. The hotel sector was down 66% in 2020. Investors anticipate more distressed sales in 2021.

APAC Region

APAC continued to demonstrate the broader economic benefits of an effective pandemic response. APAC investment volume increased by 34% quarter-over-quarter in Q4 to $36 billion and on par with Q4 2019's level, indicating an ongoing return to normalcy in the region. APAC's annual volume fell by 21% from 2019.

Japan, China and Australia led the Q4 recovery as investors returned to gateway office markets such as Tokyo, Hong Kong, Sydney and Shanghai. For the full year, South Korea, Japan and Taiwan held up well with an annual change of +6%, -2% and -6%, respectively, thanks to their adept management of the pandemic. India was a magnet for institutional investors in 2020, with 11% annual growth in investment volume. Not only is India a primary outsourcing destination of advanced economies, but its growing workforce and budding economy represent untapped opportunities. Brookfield acquired an Indian office portfolio for $2 billion in Q3 and Blackstone's $1.2 billion acquisition of a retail portfolio in Q4 made it the largest mall operator in India.

APAC's office demand is expected to remain resilient despite the impact of remote working. Office investment increased by 27% year-over-year in Q4 and was down by only 9% on an annual basis, accounting for 57% of the total APAC investment volume. Logistics properties were keenly sought after, with volume rising 25% in 2020 and their share of total investment up to 19% from 12% (Figure 2). The yield spread is narrowing between office and logistics assets. Some logistics investors are shifting to greenfield development in search of higher returns.

The retail and hotel sectors started to see signs of recovery in China and Japan, but lenders generally remained cautious. Investment fell by 43% and 69%, respectively, for retail and hotel properties. Investors are seeking opportunities in markets with large pools of domestic tourists, such as Japan, Australia and China.

2021 Commercial Investment Forecast

CBRE says 2021's economic outlook is positive for most economies, considering accommodative monetary policies, additional fiscal stimulus and progress on vaccine deployment. With further economic recovery, global CRE investment is expected to normalize in 2021, especially in the second half as workers return to the office and travel resumes. CBRE estimates that 2021 investment volume will increase by approximately 15% to 20%.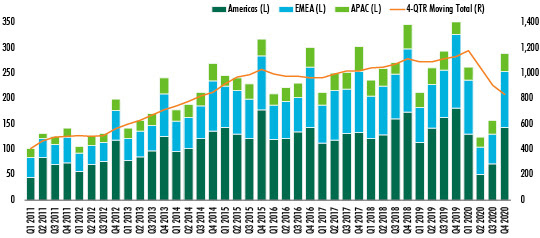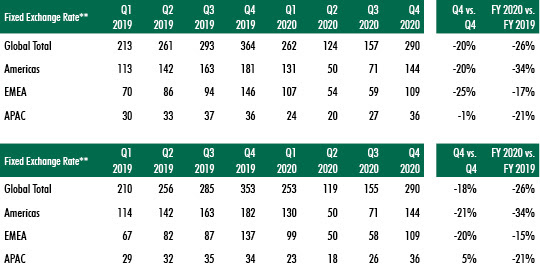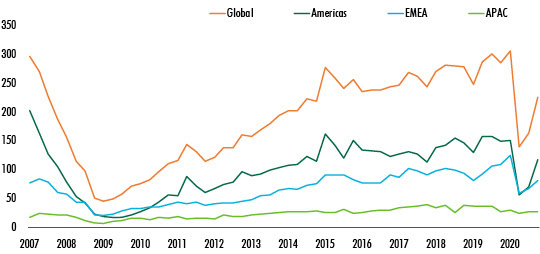 Sign Up Free | The WPJ Weekly Newsletter
Relevant real estate news.
Actionable market intelligence.
Right to your inbox every week.
---
Real Estate Listings Showcase