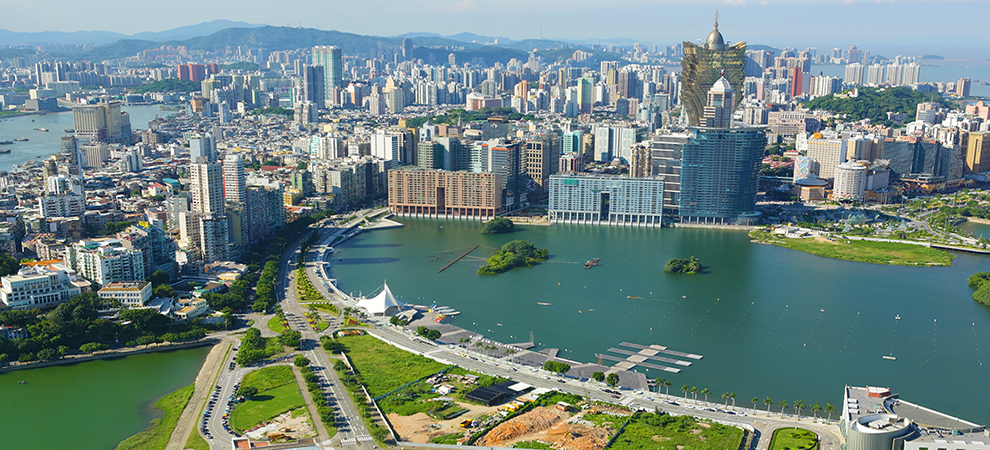 China's Easing of Borders During COVID-19 Aids Macau Hotel, Gaming Industries
Based on JLL's Macau Mid-year Property Review 2020, the global economy has been badly hit by the COVID-19 pandemic as it hindered economic activities and travels between countries. In Macau, all property sub sectors have been impacted with retail and hotel industries facing the biggest hit. Those retail and hotel properties located in the periphery of tourist areas will see consolidations and adjustments while residential and office properties that rely more on domestic demand will be relatively more resilient.
According to the DICJ statistics, Macau's gaming revenue recorded at MOP 33.72 billion in 1H20, a plunge of 77.4% y-o-y. After nine consecutive months of decline since October 2019, Macau's gaming revenue is now back to the pre-handover level. Both the VIP and mass markets experienced a relative drop in their revenues. The VIP market's revenue fell by 60.2% y-o-y in 1Q20 at MOP 14.81 billion, accounting for approx. 48.6% of the city's total gaming revenue.
Macau as a tourism-oriented city relies heavily on the revenue generated by the gaming and tourist sectors, and thus its domestic economy has been seriously hit by the pandemic. Macau's GDP totaled MOP 54.4 billion in 1Q20, down 48.7% y-o-y. The expenditure-based GDP showed that the fall was mainly due to the contraction of private consumption expenditure, fixed capital formation and balance of trade, which reduced by 15.2%, 36.7% and 75.6% y-o-y respectively, together accounting for approx. 74.4% of Macau's total GDP. During the same period, government consumption expenditure rose moderately by 5.0%, due to the increase in spending related to anti-epidemic subsidy schemes.
Due to the COVID-19 pandemic, countries and cities have imposed different levels of travel and border restrictions that have negatively affected the tourist industry. Macau's visitor arrivals totaled about 3,269,000 in 1H20, dramatically down by 83.9% y-o-y. The majority of Macau's visitor arrivals remained from Mainland China, making up 71.6% of the total, and 48.1% out of which visited Macau under the Individual Traveller Scheme (ITS). Macau's visitor arrivals were mainly from China and Hong Kong, and it's almost zero for the number of visitor arrivals from overseas. As of end May 2020, the total supply of hotel rooms in Macau recorded at 33,100, down 11.2% from end 2019. A total of 12 hotels providing over 4,000 guest rooms have been requisitioned as quarantine centres. The cumulative occupancy rate of hotel rooms in Macau fell significantly to 29.9%, while the average length of stay of guests was about 1.6 nights.
Macau's labor market also felt the impact in 1H20. According to the DSEC statistics, the city's unemployment rate rose to 2.4% while the overall median monthly income fell to MOP 16,000 as of end 1Q20. The number of imported labor in Macau reduced to approx. 189,274 as of end May 2020, down 3.7% from end 2019, as some of the middle to senior level expatriate workers were not offered a renewal of employment contract. The total resident deposit in Macau fell slightly to MOP 668.64 billion as of end May 2020, down a little bit by 0.3% from end 2019.
"The COVID-19 pandemic has created a lot of volatility and uncertainty to the global economy, undermining investors' confidence, and the situation will unlikely improve until the epidemic is under control. Currently, the epidemic is basically under control in Macau. With the city's accumulated wealth and the government's economic revival measures, as well as China's easing of border restrictions between Guangdong and Macau, we believe Macau's property market can maintain its resilience in 2H20. However, if the epidemic continues to be unstable around the peripheral areas in the future, the economy will face challenges again and the property market may enter a new phase of downward cycle," says Mark Wong, Director of Valuation Advisory Services at JLL Macau.
Macau's Office Market
With the government's anti-epidemic subsidy schemes, most of the companies have been able to survive. The office market was relatively more resilient in 1H20. In the first five months of 2020, a total of 1,923 new incorporations registered in Macau, down 32.7% y-o-y, while the number of companies in dissolution was 274, down 23.7% y-o-y.
Office supply continued to be limited with no new office developments being granted with occupation permit in 1H20. The overall office market vacancy rose to 10% as of end 1H20 from 7% in end 2019. Some Grade A offices adjusted a little bit lower their rentals to attract new tenants or offered to renew the tenancies with tenants at the existing rental levels, so as to maintain a higher level of occupancy rate. According to JLL Macau Office Index, the rental values for the overall office market and Grade A office market fell by 1.6% and 3.6% respectively in 1H20 from end 2019.
In the sales market, the number of office transactions fell by 18.2% y-o-y to a total of 63 as of end May in 2020, as shown by the DSEC statistics. During 1H20, the capital values for the overall office market fell by 1.2% from end 2019 and remained stable for Grade A offices. The yields for the overall office market and Grade A office market recorded at 2.9% and 3.0% respectively.
"As tourist-dependent retailers are considering contracting the sizes of their offices or relocating to premises that offer lower rentals to reduce operation costs, Grade A office market will face the relatively direct impact. The COVID-19 pandemic has been under control in Macau and people have been back to normal to work in office. However, the work-from-home experience has changed the corporates' thinking about office design and way of work, and created a gap for flex office space development in the city. In fact, corporates can consider deploying flexible office leasing strategy to respond to future business needs to achieve a win-win of better user experience and lower operation costs," says Oliver Tong, Head of Leasing at JLL Macau.
The Retail Market
According to the DSEC statistics, the total retail sales dropped significantly by 45.1% y-o-y in 1Q20 to MOP 11.24 billion. All retail categories were recorded with negative growth. With the lack of tourist arrivals, the proportion of total expenditure by tourists dramatically fell to 20.9%. The sales of leather goods, adults' clothing, department stores, watches, clocks and jewelry, and Chinese food products each experienced a drop of over 50%. As local people mostly stay in the city that generated a greater demand for daily necessities and groceries, the sales of supermarkets grew by 14.0% y-o-y.
In the sales market, a total of 109 retail property transactions were recorded in the first five months of 2020, down 44.1% y-o-y. No notable transactions were recorded in the sales market in 1H20. Retail property transactions were mainly seen in domestic areas, with investment yields of over 2.5%. Retail properties in tourist areas saw a surge in vacancy and failed to attract investors' interest even if a price cut of 30% from last year's level was given. Some landlords offered to waive or lower rental payments by up to 20%-50% on short-term basis. Some tenants took up space on very short-term basis in core area of Senado Square at rentals 70% lower than the market rates, back to the level in 10 years ago.
According to JLL Macau Retail Index, the overall retail rental values fell by 17.5% while overall retail capital values declined by 21.3% in 1H20 from end 2019. The overall retail yields maintained at around 1.8% as of end June 2020.
"Retail and tourist sectors were the most badly hit by the COVID-19 pandemic. The retail property sector saw a dramatic adjustment and even with China's easing of border restrictions, the retail industry won't be back to its pre-pandemic status shortly. During the past few months, we did a survey with over 500 retailers from different trades aiming at understanding their future business plans. Among the respondents, only about 20% mentioned that they would continue their business expansion in the short term. The rest in general stated that they would consolidate their business and adopt cost control strategies, expecting to take at least a year for business recovery," says Oliver Tong.
"As part of the overall economic revival measures, the Macau government introduced a series of incentives such as Consumption Subsidy Plan and Macao Ready Go! to help corporates weather economic hardship by stimulating local consumption spending. In fact, local people command an impressive level of consumption power that is non-negligible especially when the city is suffering from economic recession. Lifestyle, F&B and leisure entertainment will become the focus in the future, and the retail sector is expected to experience a U-shape rebound. Quite a few of large-scale retailers like housewares stores and supermarkets targeting local people opened their stores during the last few months when the city was impacted by the pandemic and were well responded by market. A mainland chain of hotpot restaurant also successfully started up its online hotpot delivery business. It all clearly proves the potential of the local market," adds Tong.