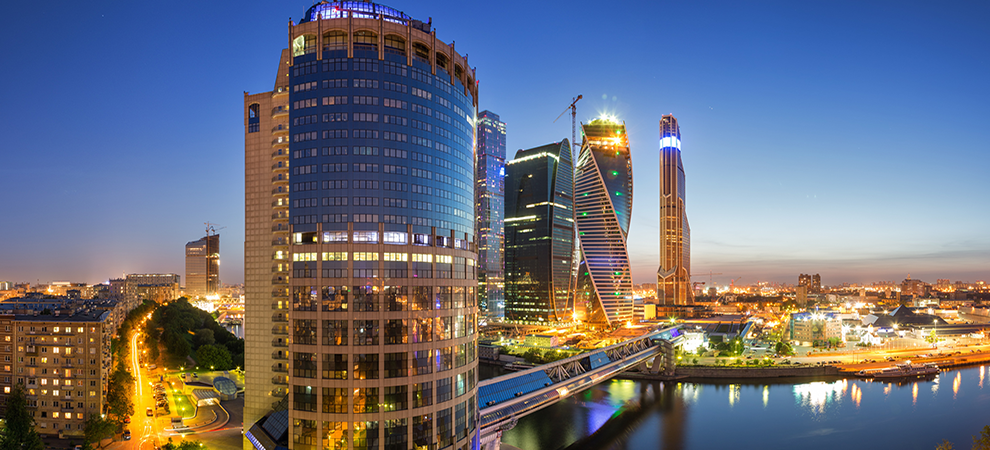 Demand for Moscow Office Space Expands to Record Levels
According to JLL, office take-up in the Moscow City district in Q2 2016 reached 120,000 sq. m, while for H1 2016 the figure totaled a record 207,000 sq. m, which was three times higher, the number for the full 2015 (77,000 sq. m). The total amount of office space take-up in Moscow in Q2 increased 11% YoY to 310,000 sq. m, bringing the H1 total to 578,000 sq. m (17% growth YoY).
Banking sector was the main demand driver, with the share of 32% in H1 2016. Russian companies continued to occupy the dominant position with the 84% share versus 71% in H1 2015.
JLL analysts expect the amount of transacted office space this year to be close to the volumes seen in 2015, around 1m sq. m.
Occupier activity in H1 2016 remained high; many tenants consider the current situation as an opportunity to renegotiate existing lease terms or to relocate to more affordable premises of a better quality. In H1 2016, renegotiation deals comprised roughly half of all transactions.
"An increase in take-up was attributed mainly to several large transaction closed over the first half of the year, particularly in Moscow City. Despite some stabilization seen on the rental market, the demand for new office space remained moderate", commented Elizaveta Golysheva, National Director, Head of Office Agency, JLL, Russia. "Asking rents decreased slightly QoQ in lower quality segments where owners are more flexible in negotiations with tenants."
Asking rents in Class B+ amounted to 12,000-20,000 RUB/sq. m/year (compared to 14,000-22,000 RUB/sq. m/year in Q1 2016). For premium offices, rents were stable in the range of 600-800 USD/sq. m/year while Class A asking rents were in the range of 400-600 USD/sq. m/year. In Moscow City, Class A rents were also unchanged in the range of 360-600 USD/sq. m/year.
The supply of new office space kept decelerating - about 112,000 sq. m of quality premises were delivered to the market over the course of Q2, which was 16% lower YoY. In the first half of 2016, the amount of new office reached 175,000 sq. m, which was almost 53% lower on a YoY basis. This also marked a record low level of new supply over the past decade.
In terms of the quality of new supply, Class A deliveries comprised only 17% of total H1 2016 completions whereas in H1 2015 the share of Class A deliveries exceeded 74% of total completions. Among ten buildings commissioned over the past six months, there were eight Class B+ buildings and only one Class A building - first phase of G10 Business Park (office area 30 252 sq. m) which was also the largest object commissioned.
"Over 77% of deliveries in H1 were located outside the Third Transportation Ring (TTR) while no office projects were completed inside the Garden Ring," said Alexander Churikov, Head of Office, Occupier & Industrial Research, JLL, Russia. "For the second half of the year, new supply is expected to reach 500,000 sq. m bringing the 2016 total to 679,000 sq. m. This will mark a 6% YoY decline and a record low level over the last four years."
Among the largest upcoming projects, there is Federation Tower - East in Moscow City and new office premises in Bolshevik business center on Leningradskyi Avenue. The share of Class A offices will drop to 22% of total supply of this year versus 45% in 2015.
At the end of June, the overall vacancy rate in the Moscow office market remained roughly unchanged at 15.6% versus 15.8% in Q1 2016 and 16% at the end of 2015. The vacancy rate in Class A declined marginally as well, to 21.0% from 22.4% in Q1 2016.
The vacancy rate in Moscow-City was 17% (+1 ppt compared to Q1 2016) which was caused by growing supply on the secondary market, despite the record demand for new office space in this sub-market. As for Class B+, there was some marginal increase in vacancies due to completion of 36,000 sq. m in Q2.