---
Based on CBRE's latest report,
The Decentralization of the Seoul Office Market,
reveals that a number of new and emerging business districts have begun to see stronger office leasing demand, including those from multi-national companies, supported by government-led initiatives to promote growth in cities around Seoul.
The report states that Seoul's emerging submarkets such as Sangam Digital Media City (DMC), Pangyo Techno Valley, Songdo Business District, and Jamsil, Munjung and Yongsan districts are growing and now putting downward office rental pressure on the three major business districts of Seoul - the Central Business District (CBD), Gangnam Business District (GBD), and Yeouido Business District (YBD).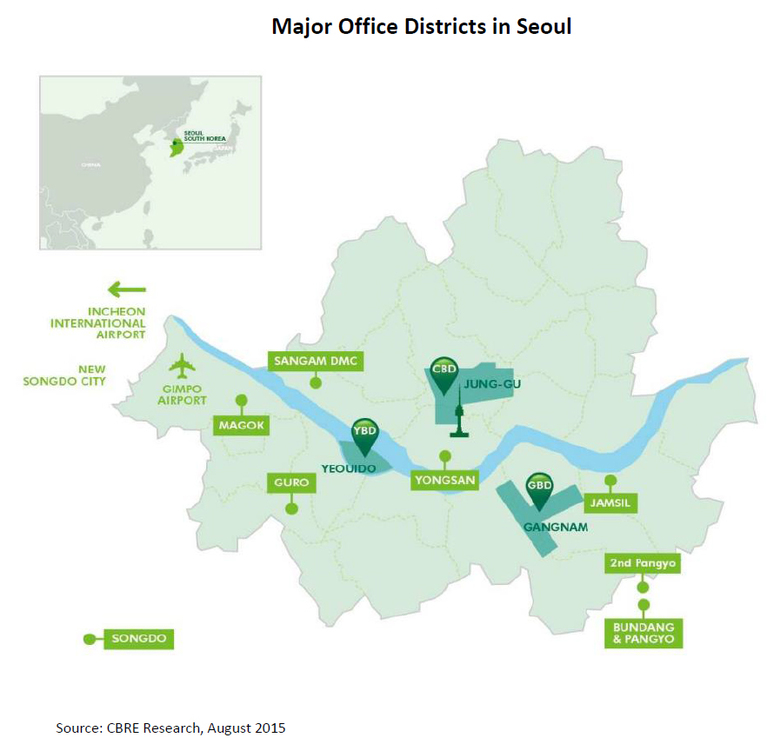 Dr. Henry Chin, Head of Research for CBRE Asia Pacific comments, "Driven by lower operational costs and improving infrastructure, multinational companies--particularly those from technology, media and telecommunications, research and development, and gaming--are choosing to relocate to Seoul's emerging decentralization districts, rather than the three main business districts of CBD, GBD and YBD. Many companies have been taking advantage of government subsidies and incentives to move into newly formed districts."
"Authorities have provided companies with tax incentives and other benefits to create research and development, and IT-focused clusters in areas such as Pangyo Technology Valley and Sangam DMC, a move which has prompted a number of companies to relocate from the original three business districts," adds Justin Kim, Director of Research and Consulting, CBRE Korea.
Another government-led driver of the decentralization trend--first proposed in 2003 and expected to be completed in 2017--has been the initiative to relocate numerous institutions, affiliates, subsidiaries and corporations away from Seoul to metropolitan areas across the country. To date, nearly 110 government-related institutions have been relocated from the CBD and GBD.
Mr. Kim says, "With the planning and construction of new transportation infrastructure by the Greater Seoul metropolitan council, which covers Seoul, Gyeonggi and Incheon, this has also helped facilitate the decentralization trend in the office leasing market."
Emerging Submarkets Expand into New Business Districts
With the government set to provide incentives and tax breaks, the wave of relocations from the major three business districts by conglomerates is set to gather pace in certain emerging hubs:
Sangam DMC: Originally developed to enhance the media and entertainment (M&E) sector, overall vacancy has steadily declined in recent years, supported by the relocation of media companies such as MBC from YBD, and YTN, JTBC and TV Chosun from the CBD. Factors such as lower construction costs and prospects of an improved working environment have contributed to these moves.
Pangyo Techno Valley: Formed in 2009 to promote an advanced technology and innovation cluster focusing on information technology, biotechnology, culture technology and nanotechnology, this district is becoming a preferred location for rapidly expanding IT companies requiring large spaces for their corporate headquarters. IT and venture capital companies such as Nexen, NC Soft, Neowiz Game, Daum Kakao and KG Inicis have been moving into their own headquarters buildings, pushing down overall vacancy in the district.
Songdo Business District: Located next to Incheon International Airport and originally designed to serve as South Korea's international business district providing tax breaks to multinational companies, this hub has attracted several global organizations such as the Green Climate Fund Headquarters and the World Bank. The new Asian Infrastructure Investment Bank (AIIB) is reported to open an office in the area.
Jamsil, Munjung and Yongsan: Jamsil is another up-and-coming business district, attracting companies such as Samsung SDS and Dongyang Networks. The Munjung district is an emerging hub for the legal sector and has also been earmarked as a knowledge industrial center, which should help attract conglomerates to the area. The emergence of Yongsan is set to exert further pressure on Seoul's established business districts, boosted by LG Uplus' presence and Amore Pacific's expected relocation in 2017.
Even though Sangam DMC and Pangyo Techno Valley are now well-established alternative business districts, these areas are still only permitted to host companies operating in the M&E and technology sectors. Landlords will therefore find it challenging to attract tenants from the three major business districts in the short-term. However, as these limitations are gradually relaxed and removed, these two districts and other new areas will see stronger demand as more companies seek cheaper and better office space outside the main business districts.
CBRE recommends tenants to take advantage of the flight-to-quality opportunities as more Grade A office buildings will become available at lower rents in the emerging business districts.
"Given the current overhang supply issue in Seoul's office market, the decentralization trend will continue to put downward pressure on rents in the traditional three major business districts--CBD, GBD and YBD--in Seoul. Flight-to-quality will continue and we aren't expecting to see significant rebound in rents in the short-term," says Dr. Chin.
For landlords, owners need to adopt a more flexible attitude towards leasing negotiations and incentives in order to attract new tenants in what is a very competitive market. Dr. Chin adds that landlords in established business districts should be prepared to compete with those in emerging areas--they will need to diversify their property portfolios by investing and developing office buildings outside of the three main business districts.
Sign Up Free | The WPJ Weekly Newsletter
Relevant real estate news.
Actionable market intelligence.
Right to your inbox every week.
---
Real Estate Listings Showcase