---
According to a new report by Cushman & Wakefield, European real estate is set to stay firmly in the spotlight for global investors with a resulting two-year window of high activity and attractive relative pricing driven by improved property investment supply, portfolio restructuring, rising prices and the impact of quantitative easing.
Their report,
Capital Views - The Allure of Europe
, says while activity has spread rapidly around all corners of Europe from the core, on to the South and now towards Central Europe, global money has lagged behind, staying close to the biggest hub markets.  The UK, Germany and France took three quarters of all global money in Europe in the past year for example.  According to Cushman & Wakefield, this is now changing however, Southern Europe in particular coming on to the global radar.  Spain for example is now the only country other than UK to draw capital from all global regions.  This change is expected to accelerate in 2015 as global investors turn to more new markets across the region.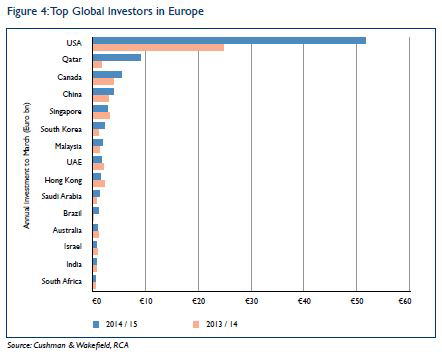 Jan Willem Bastijn, head of EMEA Capital Markets at Cushman & Wakefield comments, "The overall choice open to investors is increasing as banks deleverage, portfolios are turned and development comes back to the agenda. This heightened availability in a stabilizing economy will continue to underpin activity for domestic and foreign buyers, with potential for the market to deliver a new peak for trading in excess of the previous record of €275bn."
In terms of opportunities the Cushman & Wakefield report points to three clear tiers of potential where liquidity, an improving occupier and  / or attractive pricing point to better than average gains. In the first tier, core markets of London, Paris and Germany continue to lead the way, followed in the second tier by a focus on the leading cities of smaller countries notably Madrid, Barcelona, Milan and Brussels.  In the third tier meanwhile, the focus is shifting East and not just to the main hubs of Poland and the Czech Republic.
David Hutchings, head of EMEA Investment Strategy at Cushman & Wakefield says, "Europe has been the global market of choice for some time now and even though risk aversion has eased somewhat and other markets are looking more appealing from a macro perspective, particularly the US, Europe has an edge that has kept it in the spotlight. Quantitative easing has only added to that and with the macro drivers for demand growing more positive and starting to close the gap between the occupier and the capital cycle, the market could have a two-year window of high activity and attractive relative pricing."
Bastijn concludes, "The make-up of investors heading into Europe is if anything going to get even more global and we're expecting record trading volumes in Europe this year. However to achieve that, the demand side is to be honest the easy part of the equation - it's supply that will decide whether we're right or not. Actually having stock to buy is a key reason why Europe is attracting global capital and is also important in shaping where that capital goes once it gets here."
Sign Up Free | The WPJ Weekly Newsletter
Relevant real estate news.
Actionable market intelligence.
Right to your inbox every week.
---
Real Estate Listings Showcase