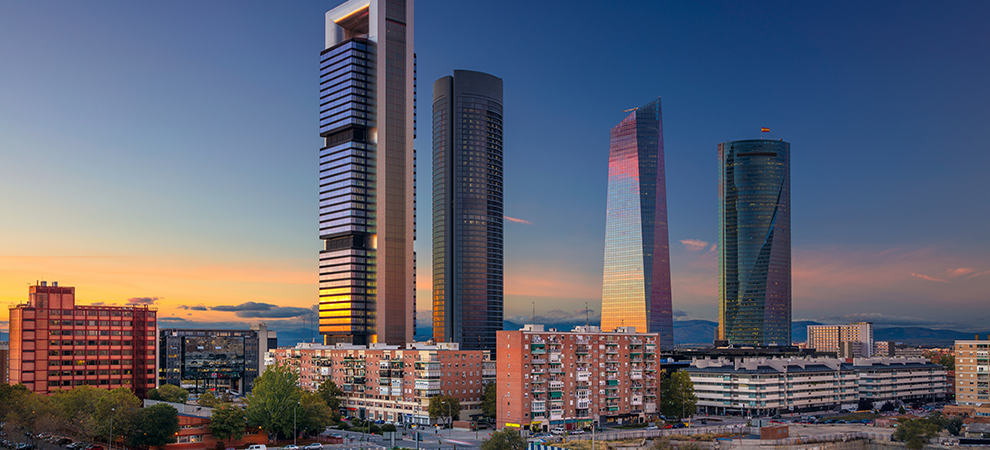 Madrid Office Yields Hit Record Lows in Late 2016
According to analysis from Knight Frank, competition for office assets in Madrid Spain is pushing yields to record low levels.
Over €1.1 billion ($1.15b USD) has been invested in Madrid in the first nine months of the year, with Knight Frank predicting investment in 2016 could total €2 billion ($2.1b USD) , well above the long-term average. Intense competition for assets is putting upwards pressure on pricing, with yields now below 4%, and approaching their pre credit crunch level.
According to Knight Frank's research, the prospect of double-digit rental growth over the next two years makes Madrid a compelling proposition for investors moving forward. Demand for office space in the city remains robust, with take up for 2016 forecast to reach nearly 500,000 sq m, in line with the long-term average. The vacancy rate currently stands at 10%, but Knight Frank points to a supply squeeze at the top end of the market, where the paucity of high quality space is driving rental growth.
Humphrey White, Managing Director, Spain at Knight Frank said, "We are seeing strong appetite from investors to place capital in Madrid, and competition is fierce for high quality office assets.
"Investors are encouraged by the recovery in the Spanish economy, which continues apace, and relative political stability following this year's election.
"Demand for office space is robust, and we forecast an increase in prime rents in 2017, which many investors wish to capitalise on."