---
Even though Northern California is the cradle for the technology industry, and Silicon Valley has matured beyond the garages from which it was born; technology firms and start-ups aren't just exploring new U.S. markets, and they're starting to plant roots. This is according to JLL's recently released
2015 United States Technology Office Outlook Report
.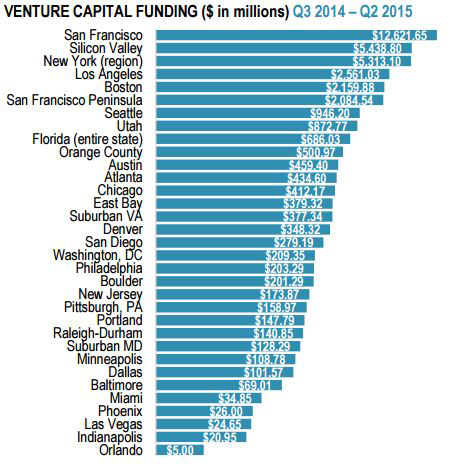 Over the past year, 73 percent of the sector's office leases represented occupancy growth. With Northern California holding nine of the top 15 most expensive in-demand technology submarkets--led by Downtown Palo Alto at $98.68 per square foot--tech firms are looking to other zip codes to fuel their future. Expansion for the technology industry in 2015 is no longer just about the convenience of cheaper rents or accessing new talent pools. It's a strategic necessity.
"Technology companies and start-ups need to look at a full range of options as part of their location strategy," said Steffen Kammerer, leader of JLL's Technology Practice group. "These companies have to grow. They can still hold a headquarters in the Bay Area, but their offices in secondary or tertiary markets can sometimes support larger staffs or hold just as much strategic importance to their business plans. We're seeing this now more than ever."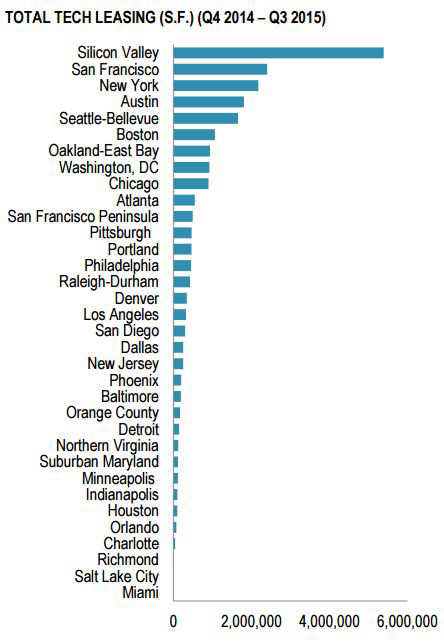 Fortunately, according to JLL's report, the same economic forces that are pushing rents higher along familiar Northern California streets like Sand Hill Road and Hamilton Avenue--which at $141.60 and $124.44 per square foot respectably are the most expensive in the United States--are making it possible for the sector to spread the wealth into markets like Atlanta, Detroit, Orlando and Phoenix. In the past year, 34 technology companies expanded into new locations across 19 markets with more than 2.1 million square feet of office space.
"Other markets are not competing against Silicon Valley. They're competing to be more like Silicon Valley," said Julia Georgules, Director of U.S. Office Research for JLL. "Technology has become so pervasive in business that it's now becoming a part of every industry and every market. This is generating a new momentum and energy in smaller markets and making them attractive to the type of talent that the technology industry is recruiting. It's not necessary to be located in San Francisco or Silicon Valley anymore as a result, although you'll still find great opportunity in those markets."
Venture capitalists are even casting a wider net across the United States. Last year, 75.8 percent of unicorn companies were located in San Francisco and Silicon Valley; however, that number has shrunk to 59.2 percent with a remaining share in Utah, Oakland-East Bay, Boston, Washington, D.C. and Orange County, California.
Identifying the Next Growth Market
Not all locations are equal, however, particularly for young start-ups and small-to-mid sized technology firms.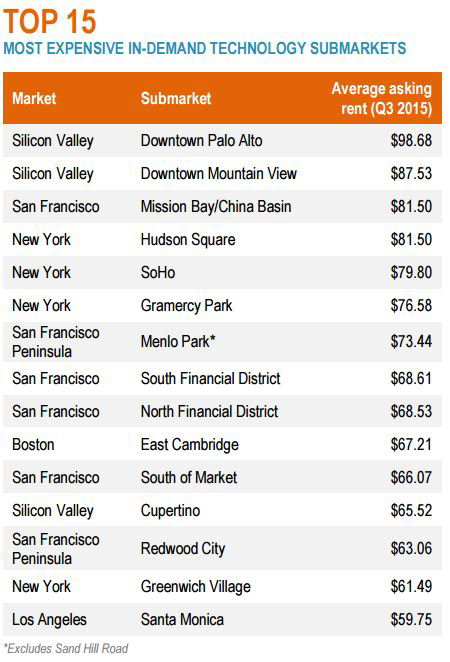 "The definition of opportunity or what determines a 'sweet spot' market is constantly evolving, and the time to capitalize on those opportunities isn't infinite," said Amber Schiada, Director of Research for Northern California and Rocky Mountain region. "Start-ups are now competing with other industries for talent and creative space that will push rents at a faster rate over the next 12-18 months. That's why we developed this matrix, so that these companies could quickly and easily examine a full range of factors when selecting their next location."
JLL's evaluation identified 21 markets that were ideal for technology companies making location selection with cost in mind. Some of their findings included:
Austin: Texas's tech hub was a prime low-cost alternative, however, the market has caught up slightly with average asking rents sitting at $32.59 per square foot, 10th highest among the report's 37 markets. Austin's 15 percent annual job growth, second only to San Francisco, will keep talent attraction strong.
Las Vegas: Job growth was 12.7 percent with an average tech wage of just $79,408, making Las Vegas a cost prohibitive option for potential start-ups. The city's expanded potential could depend on the ability to recruit a brand-name technology firm to mix with the hospitality sector and Zappos.
Nashville: The start-up future is bright for the Music City due to Tennessee's selection for a $100 million program called TechHire. Lack of office space will challenge rapid expansion, but innovation will drive interest as Nashville led the country in patent density (utility patents per every 1,000 people).
Phoenix: With one of the most active development pipelines in the country--3.9 million square feet under construction--Phoenix's workplace offerings will evolve toward tech tenant tastes at competitive prices. Phoenix also offers the second lowest average monthly apartment rent of the report's 37 markets.
Raleigh-Durham: North Carolina's Triangle is developing into a popular back-office and financial technology market. With the country's sixth lowest average annual cost per employee--at 175 square feet per person--Raleigh-Durham's tech sector presence will continue to expand behind the technology units of firms like Fidelity and Credit Suisse.
Sign Up Free | The WPJ Weekly Newsletter
Relevant real estate news.
Actionable market intelligence.
Right to your inbox every week.
---
Real Estate Listings Showcase