---
According to RentCafe, primarily driven by change in life events, self storage is becoming increasingly popular. The recent need to carve out space at home for home offices or gyms, plus an increase in multigenerational living, have joined the traditional reasons for using self storage including growing families, living with roommates, moving and downsizing.
Moreover, interest in using self storage is further amplified by the growing share of renters among American households. Around 44 million households in the US, or 36%, are renters - a number that has grown gradually over the past decade, from around 40 million in 2012. Generally speaking, rental units, whether apartments or single family homes, are significantly smaller than owner-occupied units: 1,190 square feet vs. 2,040 square feet on average, according to the US Census, hence the bigger need for extra space away from home.
RentCafe further reports home renters tend to move more frequently than homeowners. The extra storage requirement associated with renters, arising both from less space at home and increased mobility, goes hand in hand with the expansion of the self storage sector, which has now gone beyond 1.6 billion square feet of storage space.
Currently, about 21% of renters in the US are using self storage, and another 12% are planning to use it in the future. This is one of the main findings of our analysis of renters' habits and preferences regarding self storage, based on over 4,200 survey responses.
With more baggage than other generations, Gen Xers rank as top self storage users among renters
Breaking down the numbers by the type of home renters reside in, 20% of them who live in apartments turn to self storage for maximizing living space, with an even larger share of renters living in single family homes relying on self storage (25%). Single family homes are usually bigger than apartments, but the people who rent them usually have larger families, which may explain why they have more complex storage needs.
Among the different age groups, Gen X renters are by far the most interested in using self storage: 44% are current self storage users, and another 21% declared they plan to use the service in the near future. Baby boomers follow closely, with 38% reporting an interest in self storage, while 30% of the millennial renters also keep some of their belongings in storage. Gen Xers and baby boomers are traditionally more likely to use self storage as they generally own more stuff, but millennials are slowly catching up. Whether seeking better jobs or improved living conditions, millennials are much more mobile than other generations, and their need for self storage mostly relates to moving. Moreover, millennials tend to focus on experiences - including camping and RVing - which adds to this generation's demand for self storage. 
Perhaps unsurprisingly, as women's closets tend to fill up more quickly than men's, women are also using self storage more than men: over half of the female renters said they are currently using self storage, and an additional 22% of them are planning to rent a unit in the future. On the other hand, only 22% of male renters are also self storage users, and 14% of them show interest in this service for the future. 
Moving and a lack of space at home are the main reasons why renters use self storage
Moving is the most frequent reason why renters need to use self storage - 42% of them rented a storage unit while switching homes. A lack of sufficient space at home is the second-most popular reason pushing renters to self storage, with 31% indicating homes that are too small for all their stuff being a main driver.
Millennial renters are very likely to use self storage during a move - 45% of those who declared they use self storage do so for moving-related reasons, followed by Gen Xers. On the other hand, Gen Z renters who use self storage do so primarily because they can't fit all their belongings in at home.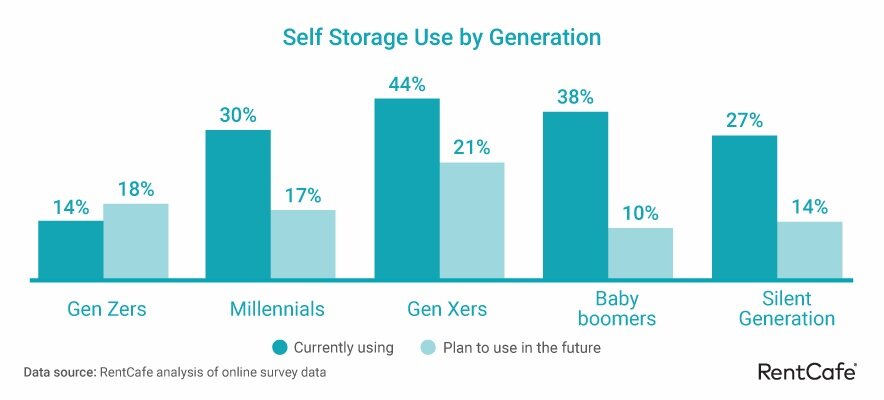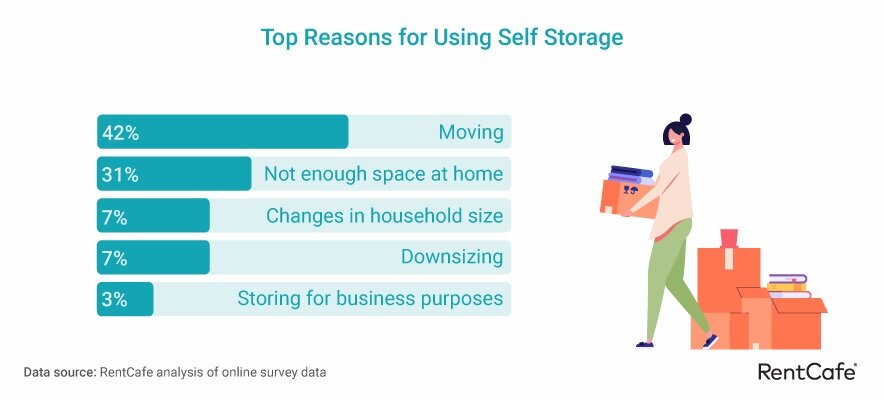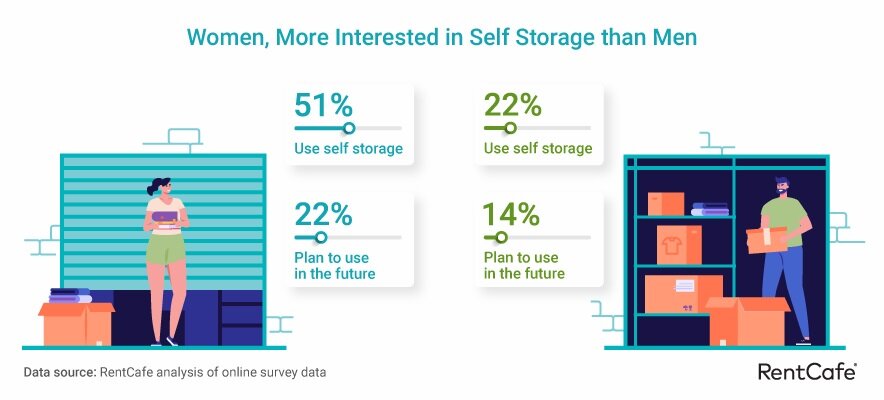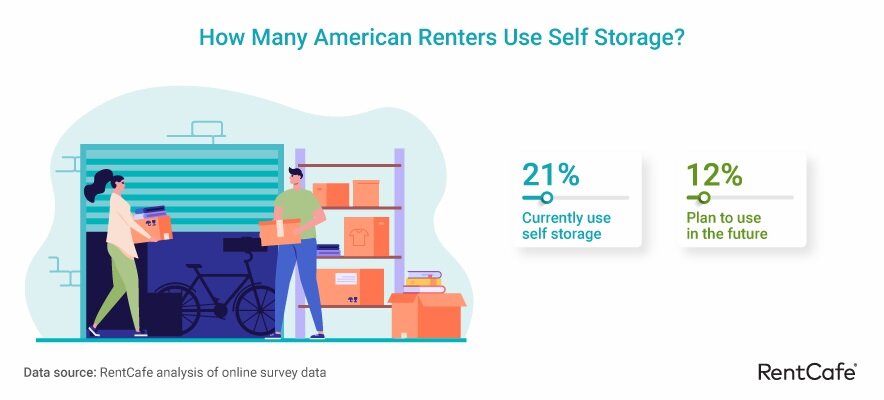 Sign Up Free | The WPJ Weekly Newsletter
Relevant real estate news.
Actionable market intelligence.
Right to your inbox every week.
---
Real Estate Listings Showcase