---
Post-Covid, U.S. Commercial Markets Entering New Expansion Phase
According to new research by global property consultant CBRE, commercial real estate lending activity in the U.S. surged in Q3 2021, reflecting a healthy rebound of property acquisitions activity.

The CBRE Lending Momentum Index, which tracks the pace of CBRE-originated commercial loan closings in the U.S., soared in Q3 2021 to reach a value of 376--up 31.6% from June 2021 and 29.1% from February 2020, prior to the pandemic. Compared with its low point a year ago when lending activity fell sharply amid COVID-19 (September 2020 = 160), the index is now up by 135%.
"The number of new lenders entering the market or existing lenders expanding their programs is extraordinary. Capital chasing equity-like returns has found it more difficult to invest, and many have pivoted to high-yield debt strategies, such as real estate, that provide attractive risk-adjusted returns," said Brian Stoffers, Global President of Debt & Structured Finance for Capital Markets at CBRE.

"Lending on value-added assets remained strong in Q3, supporting debt funds and other alternative lenders' leading share of non-agency commercial mortgage origination activity," added Mr. Stoffers.

CBRE's lender survey indicates activity by alternative lenders, such as debt funds and mortgage REITs, led volume in Q3 2021, accounting for 39% of all non-agency loan closings. This share was consistent with Q2 2021, as borrowers continued to seek financing for value-added assets. Year-to-date, bridge loans accounted for close to 80% of alternative lender loan closings, while construction loans accounted for 13%. Debt funds have tapped a strong collateralized-loan-origination market to term-finance their loan portfolios.
Banks were the second most active lending group in Q3 2021, accounting for 23.1% of loan closings, down slightly from Q2 2021 and from their 38.3% share of a year ago. Banks were active in bridge lending, which accounted for almost one-half of their Q3 2021 activity. Permanent loans accounted for an additional one-third and construction loans accounted for 19% of bank loan volume. Multifamily, office and industrial assets made up the bulk of bank loan closings in Q3 2021.

Life companies have maintained a relatively consistent share of loan closings over the past several quarters. These lenders accounted for 20.2% of closings in Q3 2021 that were primarily fixed-rate permanent loans on multifamily, office and retail assets.

CMBS loan origination activity gained pace in Q3 2021, lifting the sector's share to its highest level since Q1 2020. CMBS accounted for 17.6% of loan closings in Q3 2021, up from 14.2% in Q2 2021 and 3.9% a year ago. Industry-wide CMBS origination volume has been on the upswing, with several additional deals slated to close by year-end. Year-to-date CMBS issuance totals $77.1 billion, already nearly double 2020's year-to-date of just $40.7 billion.

Underwriting criteria for Q3 2021 were slightly more aggressive than the previous quarter. Underwritten cap rates and debt yields were lower, while the percentage of loans carrying full or partial interest-only terms jumped above 61%. The percentage of loans carrying full or partial interest-only terms jumped to 61% in Q3 2021 from 54.2% in Q2 2021. Full-term interest-only accounted for 23.3% of loans in Q3 2021, up from 19.8% in Q2 2021.

Multifamily agency loan production increased to $34 billion in Q3 2021 from $24 billion in Q2 2021. Year-to-date volume totals $93.5 billion, just $3.9 billion less than in the same period a year ago. CBRE's Agency Pricing Index, which reflects the average agency fixed mortgage rates for closed permanent loans with a seven- to 10-year term, decreased by 15 basis points (bps) in Q3 2021 to average 3.13%. Compared with a year ago, rates are up by 27 bps.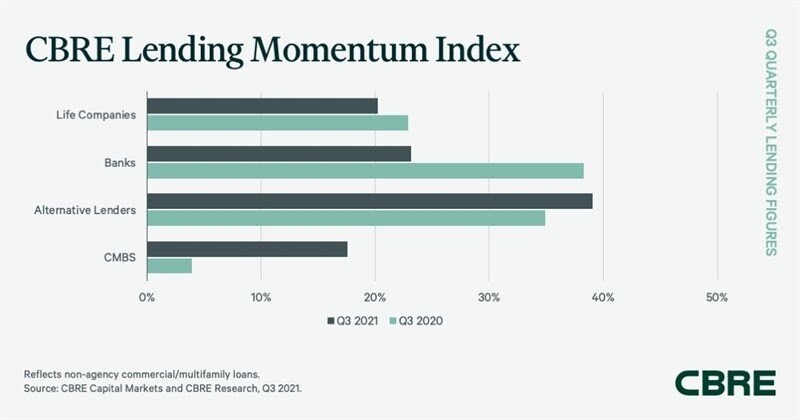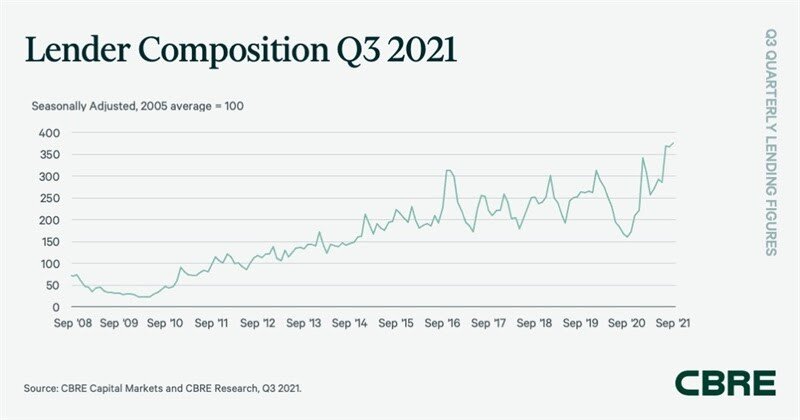 Sign Up Free | The WPJ Weekly Newsletter
Relevant real estate news.
Actionable market intelligence.
Right to your inbox every week.
---
Real Estate Listings Showcase