---
Based on new research from CBRE, the pace of commercial real estate lending activity eased in the second quarter of 2022 amid heightened market volatility from rising inflation and interest rates.
While the CBRE Lending Momentum Index, which tracks the pace of CBRE-originated commercial loan closings in the U.S., declined by 7.9% quarter-over-quarter, it remains up 41.1 % year-over-year. The index closed Q2 2022 at a value of 403.
"Market volatility from rising inflation and interest rates cooled the commercial mortgage market in the second quarter, characterized by wider spreads and more selective underwriting. We expect debt capital to be constrained for the balance of the year as lenders determine how and where to deploy capital. In a tight lending environment, relationships with borrowers and capital sources become all the more imperative," said Rachel Vinson, President of Debt & Structured Finance, U.S. for Capital Markets at CBRE.
CBRE's lender survey indicates that banks had the largest share of non-agency loan closings in Q2 2022 at 38.1%-- up from 27.5% in Q1 2022 and 10 percentage points higher than a year ago. Banks funded a broad mix of permanent, bridge and construction loans across property types in Q2 2022.
Alternative lenders, such as debt funds and mortgage REITs, were the second-most active lending group in Q2 2022 with 32.2% of loan closings--down from 42.7% a year ago, as bridge lending slowed. Rising spreads slowed Collateralized Loan Obligations (CLOs) issuance to $12.3 billion in Q2 2022 from $15.2 billion in the previous quarter. Multifamily has been a preferred property type for CLO issuers, as office, retail and hotel bridge lending eased.
Life companies accounted for 26.2% of closed non-agency loans in Q2 2022, on par with their Q1 2022 share and more than double their 10.5% share from a year earlier. Most originations were permanent fixed-rate loans to a mix of property types with an average LTV of 57%.
CMBS conduit loans accounted for the remaining 3.5% of non-agency loan volume in Q2 2022, down from 16.5% a year ago. Industrywide CMBS origination volume stalled in June amid rising spreads and market volatility. CMBS issuance fell to $20.8 billion in Q2 2022 from $29.2 billion in Q1 2022.
Loan underwriting criteria was more conservative in Q2 2022. Average LTV ratios fell, while underwritten cap rates and debt yields increased. The percentage of loans carrying interest-only terms decreased to 58.8% in Q2 2022 from 68.3% in Q1 2022.
Government agency lending of multifamily assets totaled $33.4 billion in Q2 2022--up 39.2% from a year ago. Fannie Mae and Freddie Mac have a combined $156 million purchase cap this year, 50% of which is targeted to affordable and underserved markets.
CBRE's Agency Pricing Index, which reflects the average agency fixed mortgage rates for closed permanent loans with a seven- to 10-year term, increased by 39 basis points (bps) in Q2 2022 and 59 bps from a year ago to average 3.87%.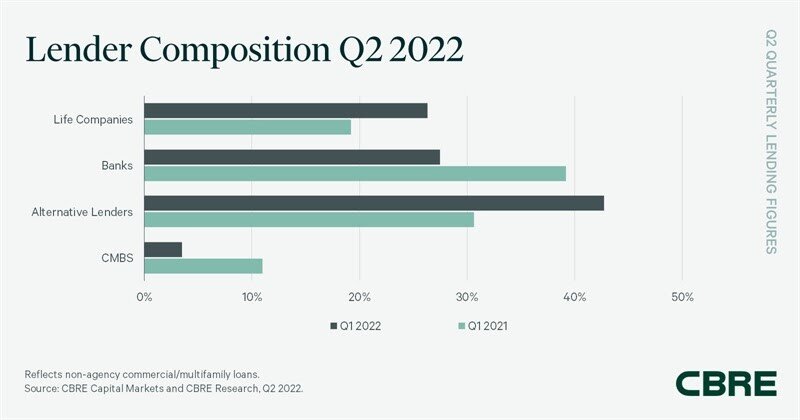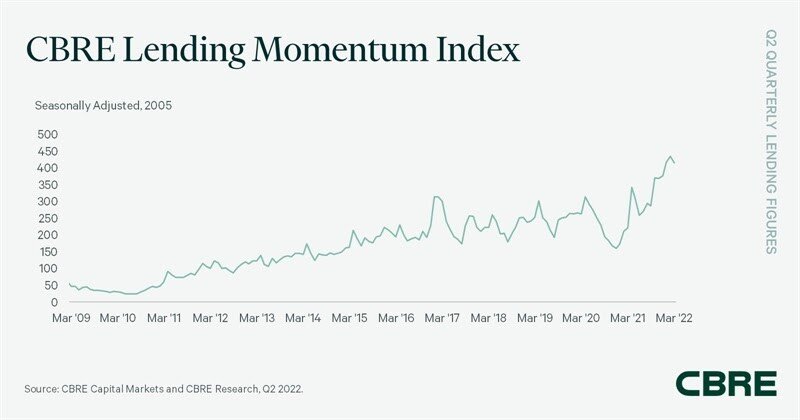 Sign Up Free | The WPJ Weekly Newsletter
Relevant real estate news.
Actionable market intelligence.
Right to your inbox every week.
---
Real Estate Listings Showcase