---
Due to Pressures from Both Supply and Demand Sides of the Market
Global property consultant CBRE forecasts a 14.1 percent year-over-year increase in U.S. construction costs by the end of 2022 due to a litany of pressures including labor shortages, inflation, supply chain disruptions, ongoing pandemic reverberations and the war in Ukraine.
 
The increase likely will be the largest in several years, though relief might be on the horizon, according to a CBRE report. The projected increase this year exceeds last year's 11.5 percent rise and well outpaces the historical average gain of 2 percent to 4 percent per year. The anticipated 2022 gain is the largest since CBRE began tracking cost projections in 2007.
 
Beyond 2022, CBRE foresees cost increases declining back to their historical range at 4.3 percent next year and 2.9 percent in 2024 as supply chain issues abate, inflation eases and production of materials hampered by the pandemic gets back to full speed.
 
"The construction industry thrives on predictability, but we continue to grapple this year with numerous challenges and volatility, making estimating and managing costs more difficult." said Nicolas McNamara, Director, Cost Consultancy for CBRE. "Labor shortages and wage pressure -- combined with supply chain disruption -- have contributed to a sharp increase in costs. But demand for new projects remains strong. Understanding the levers moving construction costs, which are analyzed in this report, is key to navigating this challenging environment."
 
CBRE bases its construction-cost forecast on three primary factors: labor costs, materials costs and contractor margins. The latter often rises when contractors' work backlogs increase.
 
Pressures driving costs up come from both the demand side and the supply side this year. Demand is robust for construction of residential housing (rental and for-sale), infrastructure projects, warehouses and other logistics facilities. Meanwhile, material costs have escalated due in part to curtailed production amid the pandemic, and global shipping costs have increased due to related supply chain bottlenecks. The war in Ukraine has hampered shipping operations and supplies of various materials.
 
A tight labor market also has driven up overall costs. The construction industry has yet to regain its prepandemic level. Hiring is hampered by competition for talent with the logistics industry. And fewer young workers have returned to the industry; whereas workers 25 and younger outnumbered those 55 and older prior to the pandemic, the reverse now is true, according to the U.S. Bureau of Labor Statistics.
 
"Despite supply constraints, the demand side of the equation is bolstered this year by rental increases, and market demand," said Nancy Moses, Executive Vice President for Trammell Crow Company, CBRE's development subsidiary and the largest commercial real estate developer in the U.S. "From a developer perspective, we involve our suppliers early in the process. The sooner we recognize affected material and schedule impacts, the better opportunity we have to find an alternative solution. In this market, transparency, flexibility, and communication are vital." 
 
Certain cost pressures are likely to persist in the short-term, even with overall cost increases expected to recede in the coming years. Among the lingering complications anticipated by CBRE are material shortages, longer-than-usual lead times for material delivery, shortages of components like semiconductors, and labor scarcity.
 
Regionally, growth in construction jobs and wages has come mostly in the Sun Belt and Mountain West regions since the start of the pandemic.
Top 10 US Markets For Gains in Construction Jobs, Wages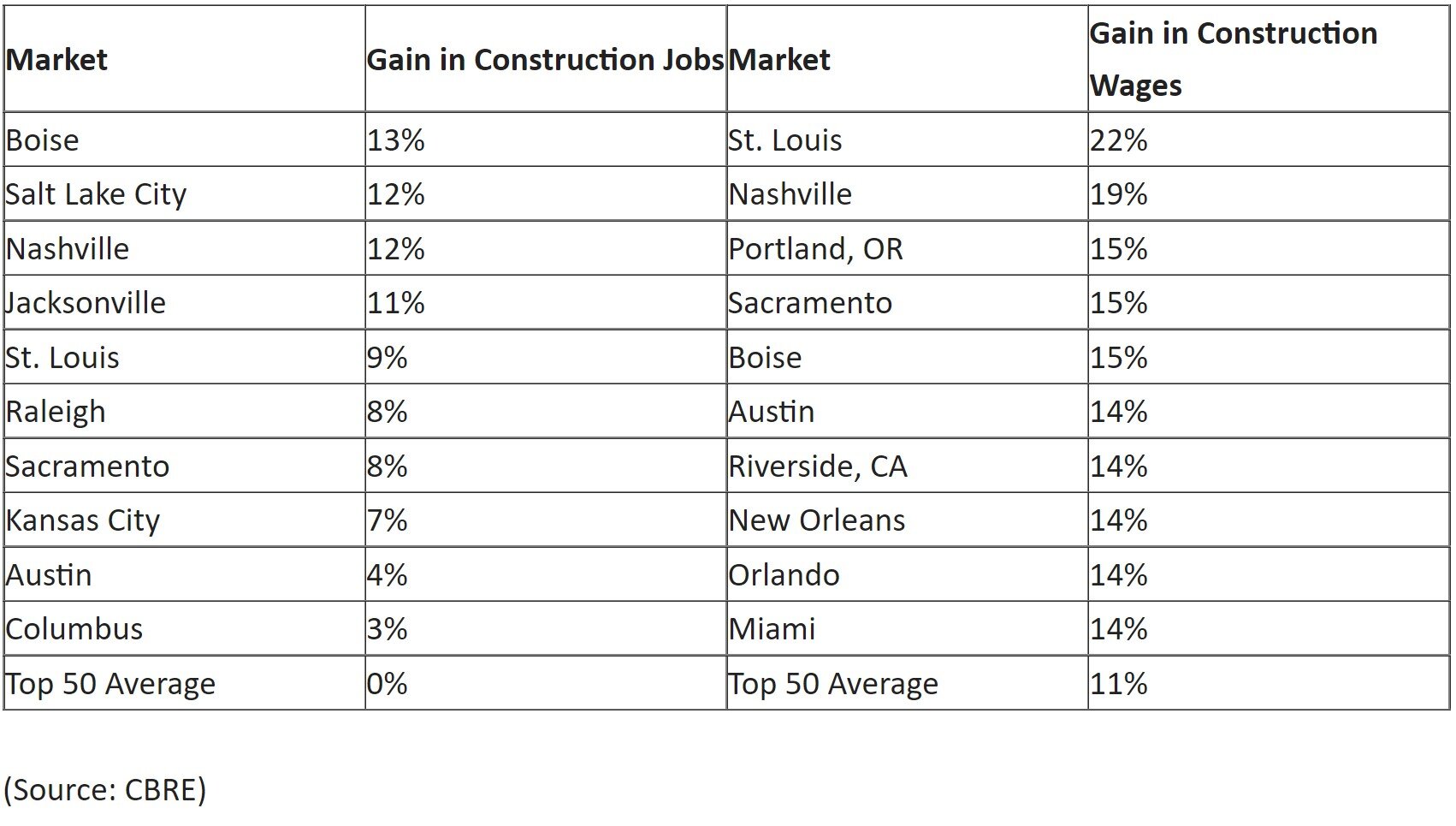 Sign Up Free | The WPJ Weekly Newsletter
Relevant real estate news.
Actionable market intelligence.
Right to your inbox every week.
---
Real Estate Listings Showcase