---
According to CBRE's latest retail research report
Hidden Value in U.S. Open-Air Shopping Centers
, retail real estate investors looking for open-air shopping centers can uncover significant value today in mid-priced major markets compared to both high priced prime markets and lower-cost secondary markets.
The paper analyzed three tiers of open-air shopping center markets categorized by their average cap rate in 2014. Based on an analysis of cap rate levels and cap rate spreads between the three tiers, pricing by deal size over $20 million, liquidity and the outlook for fundamentals, CBRE's analysis found that mid-priced, major markets like Dallas/Fort Worth, Northern Virginia, and Phoenix offer relative value even against secondary, lower-priced markets.
"At this stage in the cycle, there is an abundance of capital chasing a limited number of properties. Opportunities are scarce and pricing is high in most gateway markets, so investors have to look elsewhere to find value," said Spencer G. Levy, CBRE's head of research in the Americas. "The current spread between cap rates in major and prime markets has rarely been as high as it stands now. As such, investors in major markets are being unusually well-compensated relative to investors in the nation's prime markets."
Analysis provided by CBRE Research shows that current spread between cap rates in major and prime markets has rarely been as high as it stands now. The Q4 2014 spread premium offered by major markets against prime markets was 44 bps, compared to the long-term average of 26 bps.
Other findings in the report include:
Grocery-anchored shopping centers see less pricing differential among market tiers, and as a result, less clear opportunities for investors today. However, in the prime markets, while prices have noticeably flattened over the past two years, a strong divergence in pricing exists between the over $20 million market and the under $20 million market--the cap rate spread between these markets persists at historically high levels. Part of divergence in pricing might be attributed to not only the effect of e-commerce on smaller grocers, but also the impact on their businesses by non-traditional grocers (Wal-Mart, Target, etc.), according to the report.
Among power centers, relative value is more apparent across market tiers. Specifically, cap rates for power centers in prime markets just reached a new record-low of 5.9 percent in Q4 2014. The occurrence of record-breaking cap rates is not only unusual across retail segments, but especially so for a segment that has been challenged by economic conditions and exposure to ecommerce. Still, as prime markets reach record pricing, the cap rate spreads between prime markets and major and secondary markets are at cyclical highs, offering investors a value proposition in these other markets.
As a favorable outlook for the economy boosts commercial real estate fundamentals, investment opportunities for open-air shopping center investors appear to be shifting decidedly to many of the nation's mid-priced, major markets, while the nation's priciest prime markets - most of which are considered gateways - appear to have the fewest options to discover value at this stage in the cycle" said Mr. Levy. "On a relative basis, major markets, in particular, offer a clear value proposition to investors of open-air shopping centers: considerable risk premiums, liquidity and improving fundamentals."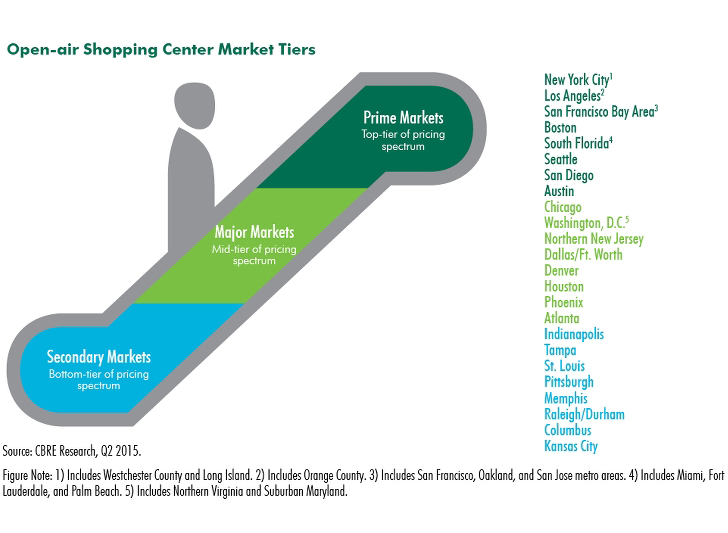 Sign Up Free | The WPJ Weekly Newsletter
Relevant real estate news.
Actionable market intelligence.
Right to your inbox every week.
---
Real Estate Listings Showcase