---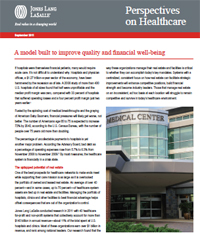 Based on a new report by Jones Lang LaSalle (JLL), there is significant room for financial improvement to the U.S. healthcare system just from better facilities management practices and operational strategies by healthcare providers nationwide.
It turns out that healthcare systems with a more centralized and strategic approach to their real estate activities enjoy a significant competitive advantage over systems that delegate property decisions to individual hospitals.
With healthcare reform a high priority for President Obama, the connection between healthcare real estate strategy and improved performance comes from a newly released study, "Improving Healthcare Systems through Strategic Real Estate and Property Management," which was produced by an independent research firm on behalf Chicago-based Jones Lang LaSalle's Healthcare Solutions Group.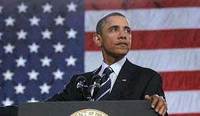 The study also found that this more centralized and strategic approach benefits all areas of the healthcare real estate function - planning, design, construction, leasing and property management - resulting in significantly better overall financial and operational performance.
In addition, the study introduces Jones Lang LaSalle's proprietary performance model that defines the four stages of healthcare real estate organization: locally managed, centrally administered, centrally managed and strategically managed (the model is available to media upon request.). Healthcare systems enjoy steady improvement in operating margins as they advance along that continuum to strategically managed. Of the systems surveyed, those with a locally managed focus had an average operating loss of 0.28 percent, whereas those that were strategically managed had an average operating profit of 3.89 percent - a full percentage point more than the industry average.
Surprisingly, however, only seven of the 40 U.S. healthcare systems surveyed are strategically managing their property assets - leaving plenty of financial, operational and competitive upside for the other 33 systems surveyed - and hundreds of others like them across the nation.
The Jones Lang LaSalle Real Estate Performance Model also describes the four basic functions of healthcare real estate management: planning, building, transacting and managing. The study points to several examples of how leading healthcare systems have benefitted from a more strategic approach to real estate:
Planning
One of the first steps several healthcare systems took after centralizing real estate and facilities was identifying and selling land and buildings that were no longer essential. During the past decade, Baylor Health Care System sold all of its medical office buildings (MOBs).
"We decided there was no sense in tying up capital in MOBs," said Wes Huff, vice president of real estate at the $3.8 billion faith-based non-profit, which operates more than 10 million square feet of hospitals, surgery centers, clinics and other facilities in the Dallas/Fort Worth metropolitan area.
Building
Geisinger Health System introduced standard construction designs across facilities in the 42 Pennsylvania counties that it serves. It believes such standardization has played a role in boosting care quality and growth, from $955 million in 2001 revenue to $2.3 billion in 2010.
"Facilities absolutely have a role to play in improving the quality of the operation," said Tom Gensemer, associate vice president of facilities administration at Geisinger. "Our facilities need to be built in a way that allows our providers to practice medicine in the most efficient and effective way."
Transacting
Healthcare systems can use income from real estate management to fund the essential investments in medical and information technology, which several executives said can generate better returns.
Duke Health System, a $2 billion health system based in Durham, N.C., is a case in point. "If we buy an X-ray machine, we know we can make 11-12 percent on it," said Scott Selig, associate vice president for capital assets and real estate. "If we build a building, we may only make a 7 percent or so return on it. So it's better for us not to have bricks and mortar but to have X-ray machines."
Some healthcare systems have centralized their leasing and lease administration functions, the inventory of assets, which minimizes compliance risk and improves the flexibility of the footprint. They are also freeing up capital for clinical purposes by identifying and processing non-strategic assets.
Managing
The leading hospitals have learned to use real estate to their advantage given that strategic real estate management can alleviate the struggle to balance capital investments. Catholic Healthcare West, a 40-plus hospital system in California, Arizona and Nevada, drove down energy consumption by 26 percent and cut costs by $5 million a year with a tiered management approach. During the next 10 years, the system is targeting another 20 percent in energy consumption.
"By centralizing energy management activities, the organization puts one eight-hour-day person a week on each site to ensure equipment is operating at pre-established set points. While there is an associated cost, the payback happened in year one (and increases over time)," said Jeff Land, vice president of corporate real estate, Catholic Healthcare West.
Significant upside
While the business of healthcare continues to face economic stress, as evidenced by declining margins and credit ratings, the capital constraints now facing hospitals are dramatically changing the way systems leverage real estate to implement their strategic, long-term objectives.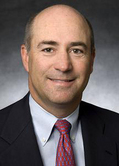 "With more than 40 percent of a healthcare systems assets tied up in real estate and facilities, gaining critical management control is essential to support a system's financial and operational strategy," said Peter Bulgarelli, chief operating officer of Jones Lang LaSalle's Healthcare Solutions group. "Those systems that have focused on how real estate can facilitate strategic improvements have enhanced competitive positions, built financial strength and become industry leaders. Those who manage real estate at the most local level will struggle to remain competitive and survive in today's healthcare environment."
The 40 systems studied by Jones Lang LaSalle collectively generate about 11 percent of the $1.27 trillion spent on hospital and physician services. The combined revenue of the 40 systems exceeds $140 billion, with nine of 10 of the systems achieving revenues of more than $1 billion annually.
It is not surprising, according to Jones Lang LaSalle, that healthcare systems have struggled to integrate facilities to their advantage.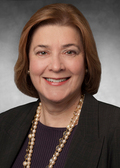 "Real estate and facilities have been viewed as a 'means to an end'; they are not the core business of the hospital," said Sydney Scarborough, managing director, Jones Lang LaSalle. "Senior healthcare executives must focus on patient care, service quality, and growth initiatives. Yet, the opportunity to reduce real estate carrying costs and capital spending is real and those resources could be re-deployed to the hospitals critical healthcare mission."
"When systems adopt an approach that strategically manages their real estate, economies of scale, knowledge and talent are created," said Bulgarelli. "This translates directly to important operational savings and better patient care."
The Jones Lang LaSalle study unveils the significant upside available to systems, as demonstrated by participating healthcare systems that recognized the true value real estate offers and have seen dramatic improvement in financial and operational performance through a carefully orchestrated plan.
The "Improving Healthcare Systems through Strategic Real Estate and Property Management" study was based on telephone interviews that were conducted with executives from 40 U.S. healthcare systems from January through May.
---
Sign Up Free | The WPJ Weekly Newsletter
Relevant real estate news.
Actionable market intelligence.
Right to your inbox every week.
---
Real Estate Listings Showcase