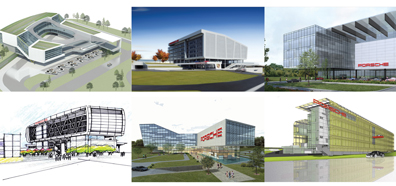 Porsche to Build New U.S. Headquarters Building in Atlanta
Porsche Cars North America has just announced that they will build its new U.S. headquarters at Jacoby Development's Aerotropolis Atlanta, in an approximately $100 million, 175,000-square-foot build-to-suit transaction arranged by Cushman & Wakefield.
The announcement was made by President and CEO of Porsche Cars North America Detlev von Platen, Georgia Governor Nathan Deal and Atlanta Mayor Kasim Reed at a press conference held this morning.
Porsche Cars North America's new headquarters will be built on nearly 27 acres and offer a complete experience for its employees, dealers, customers, and visitors. In addition to its corporate offices, Technical Services, and conference facilities, the new headquarters will introduce the Porsche Experience Center, a handling circuit and off-road course for product demonstration and advanced driver training. While Porsche operates similar Experience Centers in select global cities, this Center will be the first of its kind in the U.S.
Cushman & Wakefield's Ken Ashley, Sam Hollis, Betty McIntosh, Margo McConnell, and Sarah Momberg represented Porsche in its real estate site search and related negotiations for its new headquarters.
"Over the course of a year, Porsche evaluated more than 70 options in multiple states for its new headquarters," said Mr. Ashley, a senior director based in Cushman & Wakefield's Atlanta offices. "From the beginning, Porsche brought a unique vision of what it desired in a headquarters location. It required a home that would embody its iconic brand and stand the test of time as the company continues its success in the coming decades. Ultimately, Aerotropolis Atlanta was the location with the flexibility to accommodate this vision."
Porsche is the first major company to sign on at Aerotropolis Atlanta, which is being developed by Jacoby Development. The redevelopment project includes successfully recycling 95 percent of an existing automotive manufacturing structure on the 130-acre site, which is adjacent to the world's busiest airport, Hartsfield-Jackson Atlanta International Airport, and will serve as an entrance to its new International Terminal. The site is zoned for 6.5 million square feet of class-A office, hotel, conference center, retail, data center, business park, and 4,000-space parking facility. Aerotropolises are new urban forms emerging in many cities at the intersections of airports and transportation corridors that offer speed, agility, and accessibility.
"Cushman & Wakefield is proud to support the redevelopment of this former automotive assembly plant, and to have played an integral part in keeping - and adding - jobs in Metro Atlanta," stated Ms. McIntosh, a managing director in the Business Incentives Practice in Cushman & Wakefield's Global Business Consulting Group, based in the firm's Atlanta office. "A project this complex required a partnership with political leadership, economic development professionals, the developer and Porsche Cars North America. As the project moves forward, considerations such as recruiting and training assistance for the employees who will fill the expected new jobs and designation as a 'Major Project' providing expedited permitting will turn the dream into a reality."
Porsche's new headquarters is expected to open in 2013, and will house approximately 400 employees, combining Porsche Cars North America's core business units under one roof for the first time and bringing key out-of-state executives to Atlanta. Prominent visibility for the world-famous brand will also be facilitated by new exit signage on I-75, which offers direct access to Aerotropolis Atlanta. The building will feature an environmentally friendly design, with plans to pursue LEED Gold Certification.
The firm's U.S. headquarters is currently located in Sandy Springs, where it has been based for 13 years.
---