---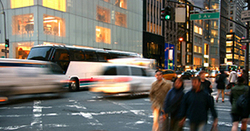 According to Jones Lang LaSalle's North America Year-end Retail Outlook report, the retail sector continues to edge tentatively toward recovery, buoyed by a stellar start to the holiday shopping season, as retailers, landlords, and investors capitalize on pent-up consumer demand.
However, several obstacles stand in the way of sustained progress in 2012.
The sector will most likely remain in a holding pattern for at least the next three quarters as the U.S. elections approach, the European debt crisis heightens and lackluster job growth fuels uncertainty.
"Everyone, including consumers, is in a continued wait-and-see mode, delaying major buying and investment decisions until they see how several dynamics play out, including the elections next year," said Greg Maloney, CEO and President, Jones Lang LaSalle Retail. "Until we have some market certainty in the U.S. and overseas plus sustained high levels of consumer confidence driven by higher paychecks, a stronger stock market and an improved housing market, a robust recovery will elude the retail sector."
Retail outlook highlights
National retail vacancy levels dropped slightly from last quarter's level of 7.1 percent to 7.0 percent, posting a year-over-year drop of 10 basis points.
Rents continue to hover at what is hopefully a bottom, falling 1.6 percent year over year and inching down 0.5 percent since the last quarter to the current national average of $14.65.
Investment sales volume of significant retail properties totalled $8.2 billion in the third quarter of 2011, down sharply from the second quarter, when data was inflated by the $9.2 billion Blackstone/Centro transaction.
All of the 18 regional markets that Jones Lang LaSalle tracks are currently tenant favourable and are likely to remain that way through at least the first half of 2012. Houston is the only market that is showing a significant rise in rental rates.
Retail market continues to edge towards a bottom
The year-long trend of slow retail growth continued this quarter as the dramatic turnaround in market fundamentals that experts predicted for the end of 2011 simply did not materialize. However, net absorption has been positive for the past 36 months, with 63.8 million square feet absorbed over the past 12 months. New development remains low, totaling just over 38.4 million square feet over the past 12 months.
National retail vacancy levels posted a miniscule 0.1 percent quarter-over-quarter drop from 7.1 percent to 7.0 percent. Open-air shopping centers reported in at 10.9 percent vacancy at the high end and general retail at 4.7 percent vacancy at the low end of the spectrum. New York and San Francisco continue to be the healthiest markets, with vacancy levels of 2.1 percent and 3.0 percent, respectively. Atlanta and Dallas show the largest vacancies at 10.2 percent and 9.1 percent, respectively. Rents fell 1.17 percent year over year, and inched down 0.5 percent since the last quarter to the current national average of $14.65.
Among the markets tracked, Chicago continues to report the highest absorption, with an impressive 2.0 million square feet in the third quarter of 2011. Boston and Houston were not far behind with 1.98 and 1.75 million square feet, respectively. Only Atlanta showed negative net absorption this quarter, with -352,909 square feet, though San Francisco's poor absorption continued into this quarter with only 19,942 square feet absorbed due to store closings and relocations.
Though retailer contraction subsided in 2011, with only 2,196 store closures reported, this trend may change course in 2012. Industry pundits predict store closure announcements to hit the 5,000 mark next year if holiday sales prove disappointing. Consumer electronics stores and small specialty retailers will likely take the largest hits.
Capital markets continue flight to quality
Investment sales volume of significant retail properties dropped sharply in the third quarter to $8.2 billion from the second quarter's $15.2 billion, a number inflated by the $9.2 billion Blackstone/Centro transaction. The flight to quality continues as the gap between the average yield and top quartile products has widened, as core properties in primary markets continue to draw a premium. Per-square-foot prices rose dramatically from $146 to $199 quarter over quarter, due to select high-priced trades in Manhattan. Cap rates continue to remain relatively unchanged and at their lowest levels since 1980, ending the third quarter at 7.6 percent.
"As investors continue to seek out reliable investments, cap rates will continue to fall only for core properties, particularly urban retail, fortress malls and top-ranked grocery-anchored strip centers, while middle-of-the-road retail products will have valuation issues well into 2012," said Margaret Caldwell, Managing Director, Jones Lang LaSalle Retail. "Average cap rates for strip centers have hovered around 8 percent this year, while strips with grocery stores have been much lower, dropping 50 basis points over the last nine months or so."
Despite the fact that yields on centers in primary markets are approximately 100 basis points below those in secondary markets, yields on malls and other retail formats in secondary markets have dropped at a faster pace than in primary markets due to the limited supply of product, which has driven institutional capital outside of primary markets. Urban/storefront properties are a standout in this subtype, with cap rates falling a further 25 basis points in the third quarter.
In the distressed market, total retail properties now stand at $28.7 billion, signaling that the sector is now 50 percent worked out of its distress pool. Interestingly, distress made up a noticeably lower proportion of total sales this quarter at just 6 percent, but workouts have cut almost $3.5 billion from the distress pool. Restructurings accounted for a significant portion of this, totaling $4.0 billion in the third quarter. New inflows to distress were also much lower this quarter, adding only $1.4 billion. Markets with the heaviest distress include Phoenix, Las Vegas and Chicago.
There continues to be wide geographic disparity in retail property sales.  The Southeast region is the front runner with $6.67 billion year to date.  The West was second with $5.51 billion in transactions, followed by the Midwest ($5.25b), Mid-Atlantic ($4.25b), Northeast ($4.23b) and Southwest ($3.72b).
Smaller footprints, larger flagships
The move towards smaller, more efficient store footprints in population-dense urban areas continues, as retailers see the profit potential in core markets. Wal-Mart and Best Buy have both made serious commitments to smaller formats, as have many other retailers. Since grocery retailers have profited the most from urbanization, many brands have embraced the smaller urban store concept including Save-A-Lot, Aldi, Dollar General Market, The Fresh Market, and Fresh & Easy Neighborhood Market. Trader Joe's, which heralded the concept, is also currently expanding into new locations.
"Retailers are capitalizing on a growing preference for urban living where consumers can walk or bike to their favorite specialty retailer or grocery store in lieu of a long suburban commute," said Lew Kornberg, Managing Director, Corporate Retail Solutions. "Small formats also allow retailers to experiment with niche markets while staying flexible and efficient."
Conversely, several anchors and specialty retailers are launching super-sized flagships in New York, pouring in millions of dollars for these brand-building behemoths. Macy's is adding 100,000 square feet to its Herald Square flagship, an investment of $400 million over the next four years. Century 21 department store is awaiting approval to almost double the size of its downtown Manhattan location. Uniqlo - whose stores typically average between 8,000 and 10,000 square feet - is opening two massive locations totaling 153,000 square feet of space.
"These oversized store formats are typically used for brand-building where exposure to droves of consumers - including tourists - help drive sales globally and help boost a retailer's image, justifying the sizeable investment," said Kornberg.
Commerce 3.0
The trend toward "web-influenced sales" - consumers researching products online, reading reviews and searching for the best deals locally - is growing as the line between physical and online retail continues to blur and bricks-and-mortar retailers draw consumers through technology. The attractiveness of this practice lies in consumers' desire for immediate gratification as well as the ability to save on shipping costs by buying locally in-store.
Researchers estimate that web-influenced sales will generate almost $1.13 trillion in U.S. sales this year and, by 2015, will represent approximately 44 percent of total retail sales, or $1.55 trillion. Moreover, even though e-commerce sales are growing at a fast clip (10 percent each year), cross-channel commerce is growing even more rapidly, and is estimated to grow to five times the e-commerce market by 2015.
"To survive in the long-term, local retailers will have to ensure their products show up online, that the site reflects accurate availability, and that the online and in-store experiences are as seamless as possible," said Kornberg. "The rewards are direct - not only do shoppers come in for the researched product, they also stick around to buy other items once in-store."
Forrester Research reported that 45 percent of shoppers interviewed said they bought extra items once in a store, spending, on average, $154 on additional purchases.

Other major trends impacting retail include:
Consumers' increased reliance on their smart phones and tablets as an in-store shopping companion will motivate retailers to improve their mobile retail websites and capabilities and add mobile loyalty programs.
Amazon.com's entrance into the designer fashion market with high-end fashion items, an online style guide and fashion recommendations based on previous choices will raise the stakes in this sector as the online retailer giant leverages its easy-to-shop, hassle-free reputation with fashion-forward consumers. Interestingly, eBay also launched its Fashion Outlet this year, offering savings up to 70 percent.
Consumers are splitting their grocery budget and time among several types of food retailers - going to a wholesaler like Costco for bulk items, an organic supermarket like Whole Foods for produce and meats, and a regular supermarket for staples. Mid-market chains, most squeezed by this trend, are responding by adopting one of two strategies - upgrading their shopping experience with increased organic selections or focusing on bargains.
2012 Retail Outlook
Economic fundamentals have made some headway in recent months but there are still significant barriers to growth including sinking consumer confidence, very modest income growth and a still-anemic housing market. Though talks of a double-dip recession have diminished in recent weeks with improvements in employment and solid GDP growth, political turmoil state-side coupled with recent stock market jitters catapulted by the debt crisis and overall health of European financial markets could leave a mark on retail performance in coming months.
Though the holiday shopping season has so far set a positive tone, the National Retail Federation is predicting overall lackluster sales with an expected increase of 2.8 percent in sales over last year to $465.6 billion, slightly higher than the 10-year average of 2.6 percent but only slightly more than half of last year's gain. In light of consumers' more careful spending, the polarization of retail will most likely continue with a pervasion of smaller, more nimble stores as well as large, luxury flagships. Deep discounters are expected to continue to expand to serve lower income consumers, and luxury retailers - as well as some mid-price retailers - will look to outlet stores to increase their consumer base and boot profitability.
---
Sign Up Free | The WPJ Weekly Newsletter
Relevant real estate news.
Actionable market intelligence.
Right to your inbox every week.
---
Real Estate Listings Showcase