U.S. Hotel Pipeline in October Down 9% from One Year Ago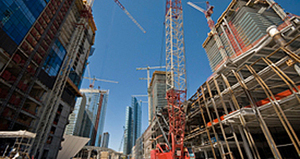 According to the October 2011 STR/McGraw Hill Construction Dodge Pipeline Report, the total number of active U.S. hotel developments in the pipeline comprises of 2,835 projects totaling 310,387 rooms.
This represents a 9-percent decrease in the number of rooms in the total active pipeline compared to October 2010. The total active pipeline data includes projects in the In Construction, Final Planning and Planning stages, but does not include projects in the Pre-Planning stage.
"New room supply growth will remain muted for the overall industry in the coming years," said Vail Brown, VP of global sales and marketing at STR. "An exception is the New York City market; they are in the middle of a new hotel construction explosion. Currently, rooms under construction represent around 7 percent of their existing supply base; this is a robust number. One very interesting observation is this is the first time in several years STR hasn't seen Las Vegas in the top 5 for new construction."
Among the top 10 markets by rooms in the In Construction phase, Nashville, Tennessee, reported the largest increase in rooms with a 333.1-percent increase with 1,490 rooms. Philadelphia, Pennsylvania-New Jersey (+120 percent with 1,071 rooms), and Washington, D.C. (+67.4 percent with 2,674 rooms), also reported significant year-over-year increases in rooms under construction. Chicago, Illinois, ended the month with the largest decrease in rooms under construction, falling 38.2 percent with 724 rooms.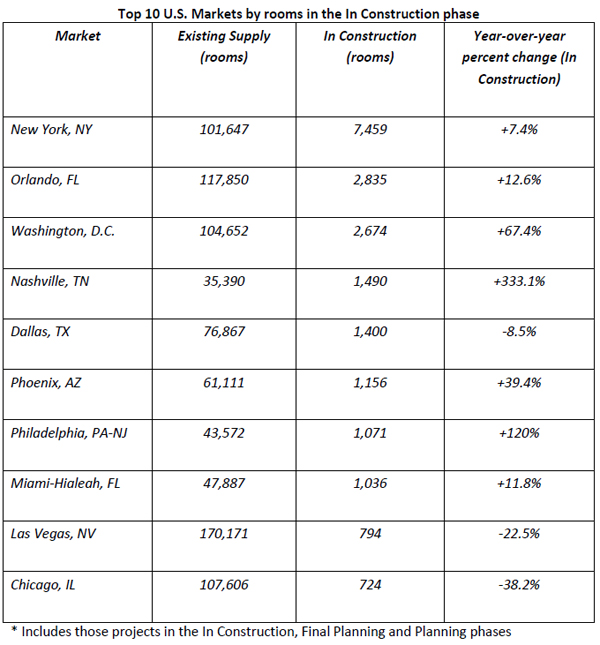 ---