---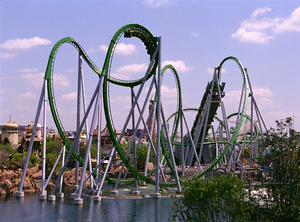 Today AAA reported that 34.9 million Americans will travel 50 miles or more from home during the Memorial Day holiday weekend, a slight increase of 0.2 percent - or 100,000 travelers - from the 34.8 million people who traveled one year ago. The Memorial Day holiday travel period is defined as Thursday, May 26 to Monday, May 30.
"Memorial Day travel experienced a gain of more than 14 percent in 2010, and this year we expect to add slightly to that gain due to an increase in air travel and an improvement in the overall domestic economic picture," said AAA President and CEO Robert L. Darbelnet. "Some travelers will compensate for the higher fuel costs by cutting other areas of their travel budgets."
AAA's projections are based on economic forecasting and research by IHS Global Insight. The Boston-based economic research and consulting firm teamed with AAA in 2009 to jointly analyze travel trends during the major holidays. AAA has been reporting on holiday travel trends for more than two decades.
Overwhelming majority of Americans to travel by automobile, but down slightly from last year
Approximately 30.9 million people plan to drive to their destination, a small decline from the 31 million who drove last year. In spite of gasoline prices more than a dollar per gallon higher than a year ago, automobile travel continues to be the dominant mode of transportation. Almost nine out of ten holiday travelers (88 percent) will take to the nation's roadways during the Memorial Day holiday weekend. The national average price for regular gasoline is $3.91, compared to $2.85 this time last year.
Impact of gasoline prices on travel plans
A survey of intended travelers found that six out of ten said rising gasoline prices would not impact their travel plans. Of the remaining four out of ten travelers who said rising gas prices would impact their travel plans, 70 percent will economize in other areas and the rest will take a shorter trip or travel by an alternate mode of transportation.
Travelers concerned about how fuel prices will impact their travel budget can use AAA's free, GPS-based TripTik Mobile application to compare prices for all grades of gasoline at nearby stations. TripTik Mobile is available for iPhone and Android devices. Travelers may also use TripTik Mobile to get maps and directions, AAA Approved and Diamond Rated hotel and restaurant information complete with AAA inspector notes, plus details about attractions, events and Approved Auto Repair facilities.
Number of air travelers expected to increase by 11.5 percent
Nearly 2.93 million leisure air travelers (eight percent of holiday travelers) will fly during the holiday weekend, an 11.5 percent increase from last year's 2.63 million air travelers. The remaining three percent of holiday travelers are expected to travel by other modes, including rail, bus and watercraft.
Airfares, hotel rates and car rental rates all rise
According to AAA's Leisure Travel Index, Memorial Day holiday airfares are expected to be 14 percent higher than last year with an average lowest round-trip rate of $201 for the top 40 U.S. air routes. Hotel rates for AAA Three Diamond lodgings are expected to increase five percent from a year ago with travelers spending an average of $148 per night compared to $142 last year. Travelers planning to stay at AAA Two Diamond hotels can expect to pay 10 percent more with an average cost of $109 per night. Weekend daily car rental rates will average $38, just $1 higher than last year.
Average travel distance up 27 percent; median spending down 14 percent
According to a survey of traveler intentions, the average distance traveled by Americans during the Memorial Day holiday weekend is expected to be 792 miles, which is 27 percent greater than last year's average travel distance of 626 miles. Air Travel is expected to gain a larger share of overall travel, and is likely the cause of a substantial increase in the average travel distance compared to a year ago. Median spending is expected to be $692, a decrease of 14 percent from $809 last year.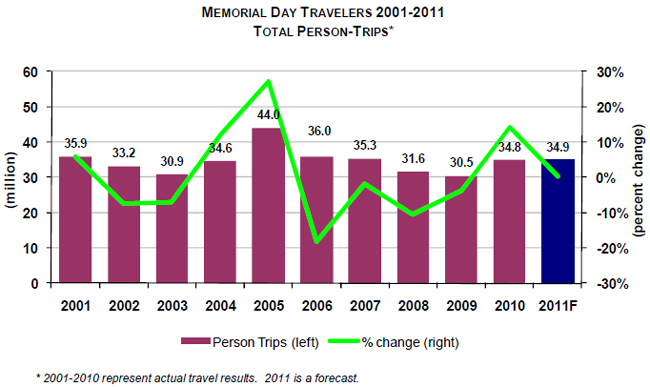 ---
Sign Up Free | The WPJ Weekly Newsletter
Relevant real estate news.
Actionable market intelligence.
Right to your inbox every week.
---
Real Estate Listings Showcase