New U.S. Hotel Construction Pipeline in September Down 10% Over Last Year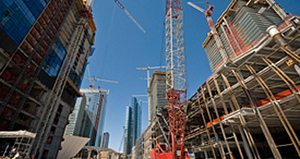 According to the September 2011 STR/McGraw Hill Construction Dodge Pipeline Report released this week, the total active U.S. hotel development pipeline comprises 2,915 projects totaling 315,200 rooms.
This represents a 10.5-percent decrease in the number of rooms in the total active pipeline compared to September 2010. The total active pipeline data includes projects in the In Construction, Final Planning and Planning stages, but does not include projects in the Pre-Planning stage.
"U.S. hotel rooms in the development pipeline continue trending at very low levels," said Bobby Bowers, senior VP of operations at STR. "Rooms under construction declined about 8 percent in September from prior-year levels, though the sequential number inched up slightly from August. September upper-end segment construction increased from prior year, while the Midscale and Economy segments declined. Most segments showed increases in final planning numbers, though many of these projects will never see a shovel. Bottom line: New supply will not be an issue in the near to intermediate term for hotel operators in most U.S. markets."
Among the Chain Scale segments, the Luxury segment ended the month with the largest increase in rooms in the total active pipeline, rising 15.6 percent with 5,371 rooms, followed by the Upper Upscale segment with an 8.9-percent increase with 23,335 rooms. Two segments reported decreases in rooms in the total active pipeline of more than 20 percent: the Midscale segment (-24.8 percent with 24,737 rooms) and the Economy segment (-22.3 percent with 3,619 rooms).
Three segments reported increases in the number of rooms under construction: the Upper Upscale segment (+21.6 percent with 8,925 rooms); the Upscale segment (+19.5 percent with 15,462 rooms); and the Luxury segment (+16.9 percent with 1,469 rooms).
U.S. pipeline by Chain Scale segment (number of rooms and percent change September 2011 vs. September 2010):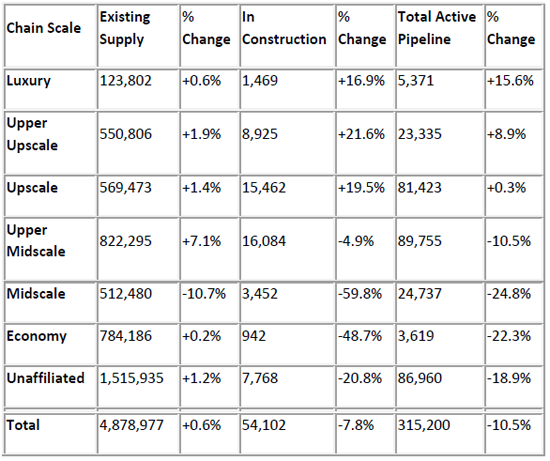 ---