---
2010 Year-end Results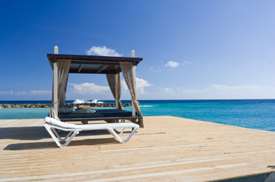 According to Smith Travel Research (STR), the U.S. hotel industry ended 2010 with mostly positive performance results.
The industry's occupancy increased 5.7 percent to 57.6 percent, average daily rate ended the year virtually flat with a 0.1-percent decrease to US$98.08, and revenue per available room was up 5.5 percent to US$56.47.
"2010 will be known as the year of demand recovery," said Mark Lomanno, STR's CEO. "For most industry markets and segments, the number of people purchasing hotel rooms approached and in some cases exceeded pre-recession levels. However, for myriad reasons including but not limited to historically low occupancies, late booking patterns and the sluggish return of group business, room rate acceleration did not follow the influx of guests. We look to see this change dramatically in 2011, especially during the second half of the year."
Among the Top 25 Markets, Detroit, Michigan, experienced the largest occupancy increase, rising 14.2 percent to 54.3 percent, followed by New Orleans, Louisiana (+12.7 percent to 64.7 percent), and Boston, Massachusetts (+10.4 percent to 68.7 percent). Houston, Texas, ended the year virtually flat with a 0.3-percent occupancy decrease to 55.1 percent, reporting the only decrease among the top markets.
New York, New York, achieved the only ADR increase of more than 5 percent, rising 7.5 percent to US$232.29. Three markets posted ADR decreases of more than 5 percent: Tampa-St. Petersburg, Florida (-7.2 percent to US$91.43); Detroit (-5.2 percent to US$74.49); and Phoenix, Arizona (-5.1 percent to US$100.94).
Five top markets experienced double-digit RevPAR increases for the year: New Orleans (+14.7 percent to US$74.92); Boston (+13.0 percent to US$97.19); New York (+12.9 percent to US$187.93); Miami-Hialeah, Florida (+10.9 percent to US$101.19); and Denver, Colorado (+10.5 percent to US$59.25). Houston (-4.2 percent to US$48.78) and Tampa-St. Petersburg (-1.5 percent to US$50.56) experienced the only RevPAR decreases for the year.
December 2010 Results
During December 2010, the industry's occupancy increased 5.4 percent to end the month at 46.0 percent. ADR was up 1.9 percent to finish the month at US$96.22. RevPAR for the month rose 7.4 percent to finish at US$44.23.
"Results for the month of December saw the continuation of strong demand growth in conjunction with very modest room rate growth," Lomanno said. "Room rate increases continue to be quite slow as it appears most hoteliers have been unable to accelerate this key component necessary to realize a full recovery."
Detroit rose 14.5 percent in occupancy to 46.8 percent, reporting the largest increase among the top markets, followed by Orlando, Florida (+11.9 percent to 65.3 percent), and Oahu Island, Hawaii (+11.4 percent to 79.8 percent. Two top markets posted occupancy decreases: New Orleans (-4.6 percent to 50.7 percent) and New York (-2.8 percent to 77.7 percent).
San Francisco/San Mateo, California (+11.0 percent to US$130.52), and Orlando, Florida (+10.2 percent to US$96.44), were the only top markets to report double-digit ADR increases for the month. New Orleans dropped 15.9 percent in ADR to US$101.80, reporting the largest decrease in that metric.
Three markets experienced RevPAR increases of more than 15 percent: Orlando (+23.3 percent to US$63.00); San Francisco/San Mateo (+20.2 percent to US$84.07); and Oahu Island (+18.9 percent to US$133.96). Two markets posted RevPAR decreases for the month: New Orleans (-19.8 percent to US$51.59) and Tampa-St. Petersburg (-4.9 percent to US$37.59).
---
Sign Up Free | The WPJ Weekly Newsletter
Relevant real estate news.
Actionable market intelligence.
Right to your inbox every week.
---
Real Estate Listings Showcase