---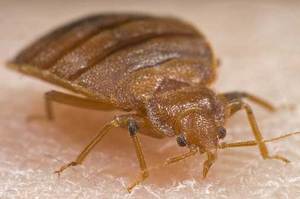 (ORLANDO, FL) -- The travel industry has soldiered through many unexpected challenges in recent years (SARS, the Swine Flu, Katrina, and assorted other natural disasters), yet perhaps none as creepy to prospective guests as that which now looms on the horizon: the growing infestation of bed bugs. Yes, bed bugs.
According to the Environmental Protection Agency, the infestation now spreading across the land is unprecedented in scope, victimizing hotels, resorts and retail establishments without regard for the social status of their clientele. And to make matters worse, entomologists have advised they appear to have become immune to the effects of common pesticides.
And the impact of the little critters can be profound on commerce: selected hotels in New York, Philadelphia and Detroit have experienced cancellations from both individual travelers and meeting planners because of press reports of infestations; and such venerable retail establishments as Victoria's Secret, Abercrombie & Fitch, Hollister and Nike (all in New York City) were forced to close temporarily in their effort to eradicate the pests.
And, yes, there's an app for that. In fact, the Apple App Store now features no less than nine different iPhone apps (from free to $2.99) which broadcast the latest information on the epidemic, calling out purportedly infested hotels, resorts and retail establishments when reports of bed bug sightings have been filed by affected consumers. And the Bed Bug Registry has now received over 20,000 reports about sightings (and bitings) in excess of 12,000 locations.
Given the potential scale of the problem and its concerning implications for the marketers of travel services, we decided to probe the subject in our most recent (October, 2010) travelhorizons survey. This nationally-representative survey of just over 2,300 U.S. households provides a highly-accurate barometer of the travel intentions of Americans, so we amended the survey instrument to determine to what extent the growing presence of bed bugs was on their minds when traveling, and the extent to which they were personally concerned about a possible (nocturnal?) encounter with one of more of the creatures. Much to our surprise, the subject is one of great concern to American travelers, as revealed in their replies below:

It is sobering to note that only 18% of respondents reported no such concern.
So keep a watchful eye on how this trend develops (as well as postings on the Bed Bug Registry), and develop a contingency plan to address the issue if and when these unwelcomed guests come knocking.
---
Sign Up Free | The WPJ Weekly Newsletter
Relevant real estate news.
Actionable market intelligence.
Right to your inbox every week.
---
Real Estate Listings Showcase