---
The Hong Kong government is determined to pump even-greater supply of property into the world's most-expensive residential market, despite signs that the market is already correcting and possibly positioned for a crash. It is also threatening to permit heavy development in Hong Kong's New Territories, the last bastion of countryside and open space in the city.
Hong Kong's chief executive, C.Y. Leung, unveiled a budget on Wednesday that promised to boost housing supply by 470,000 new units over the next decade, a full turnaround from recent patterns.
One of the explanations for Hong Kong's heady property prices is that the government froze land sales a decade ago, during a recession, resulting in very limited supply now. The private sector has built only an average of 9,800 flats per year over the last five years, well below the traditional norm. Based on current plans, developers will bring 40 percent more units to market each year over the next five years, at 13,600 per year. Leung's budget identified 150 new spots that would create another 210,000 homes over the next five years.
Including private and government housing, Leung's administration pledges to increase new-home supply from 33,000 units to 47,000 per year over the next decade.
Hong Kong is one of the most densely packed cities in the world, with about 23,000 people per square mile in its most crowded district, Kwun Tong. About 40 percent of the city's territory is devoted to parkland, and Hong Kong crowds people into office towers and residential apartment blocks that often top 50 stories.
The government is now proposing increasing the allowed density of housing in the rural New Territories by 20 percent, which would bring it in line with Hong Kong island and Kowloon. Environmentalists have deplored the suggestion, which potentially leads to a concreting of most of Hong Kong, a special autonomous region of China.
The think tank Civic Exchange called those plans "concerning" and "alarming," noting that increasing development to that degree in the New Territories runs the risk of exacerbating problems that have occurred in the urban parts of Hong Kong, such as "heat islands" where tall buildings trap hot air, the tunnel effect of walls of multistory towers next to each other, overburdened infrastructure and poor public spaces.
Leung also suggested developing Lantau, Hong Kong's largest island, into a new "metropolis" and freight trading post. Lantau is the site of the landing point of a new bridge being built to the gambling mecca of Macau and the mainland city of Zhuhai. But it is also one of its few pristine and undeveloped spots, home to the highly endangered Chinese pink dolphin.
Leung's budget did not impose any new curbs on property purchases, something the government has been trying to control since 2010. But neither did it suggest any easing of the existing controls, which place a 15 percent extra tax on top of any purchase by non-permanent residents and also place high minimum downpayment requirements for all buyers. CBRE said the lack of new measures is welcome, since market participants have one less thing to worry about.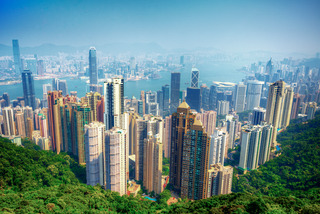 Hong Kong real estate sits alone at the top of the world in terms of price, according to Forbes, with luxury property commanding almost $11,000 per square foot. Thanks to pessimism over the government's restrictions, home prices are sinking slightly, but the descent may pick up pace once interest rates start to rise. They have been artificially low in a relatively positive economy thanks to Hong Kong's currency peg to the U.S. dollar, which effectively imports U.S. interest rates into the territory.
Home prices are now overvalued by 30 to 40 percent, according to the Royal Institute of Chartered Surveyors (RICS). Several investment banks have also predicted a collapse in values of 20 to 30 percent.
Some groups welcomed the idea of greater development in the New Territories, the one part of Hong Kong with extensive open space and greenery. RICS recommended the development of a retail hub near the border with mainland China, to ease the strain on neighborhoods such as Fan Ling and Sheung Shui.
Residents of both those towns complain that they are overrun by mainland shoppers buying up all the daily staples such as baby-milk formula, tooth paste and snack food. What isn't bought by mainlanders is snapped up by "parallel traders," who make a profit by taking the goods across the border and selling them in neighboring Shenzhen.
The government's efforts to bring property prices under control have reduced transaction volumes to their lowest-ever levels, below even the crisis during the recession and onset of SARS in 2003. That has decimated real estate agencies, leading to job losses and profit warnings.
But the increase in supply should prove a boon to the industry, according to the Hong Kong Institute of Housing, which predicts that the government's plan to provide another 470,000 residential units over the next 10 years will increase demand for another 800 professional property managers and 4,000 front-line property-management staff.
Currently, around 300 property management staff graduate each year, but the institute figures there's demand for another 200 or so qualified "new bloods" to enter the workforce annually. The government should also consider raising the upper age for people allowed to work as security guards from 65 to 70, the institute said.
Thomas Lam, the head of research at the brokerage Knight Frank, said the government's plans to bulk up supply will not produce results before 2020 at the earliest. Lam urged the government to introduce a timeline indicating when its budget proposals would be carried out.
Sign Up Free | The WPJ Weekly Newsletter
Relevant real estate news.
Actionable market intelligence.
Right to your inbox every week.
---
Real Estate Listings Showcase