---
Sonu Shivdasani is the founder and CEO of Soneva Resorts, an international resort brand he set up with his wife Eva in 1995. They were the first hoteliers to bring five-star luxury to the Maldives and the first company to offer homes for sale there.  
The couple also established Six Senses Resorts & Spas and Evason Resorts, both of which they sold to US-based private equity firm Pegasus Capital in 2012 to concentrate on their high-end resorts and property sales: Soneva Fushi in the Maldives and Soneva Kiri in Thailand. 
Homes start from US$3 million for a two-bedroom villa at Soneva Fushi and from US$3,250,000 for a three-bedroom house at Soneva Kiri. The Soneva ethos combines highly personalized service with simple design and strong eco-credentials. 
Sonu was born to Indian parents and educated at Eton and Oxford University, a contemporary of British Prime Minister David Cameron. Eva is an ex-Vogue model from Sweden who oversees the design of all their resorts. The couple own property near Oxford with their main home at Soneva Fushi. 
Why did you choose the Maldives for your first resort?
We discovered The Maldives in the 1980s while I was studying at Oxford University. When we first came we loved the destination but were horrified by the poor quality on offer in hotels. They had no concern for sustainability and were ruining the environment.  
We knew we could do it better. We bid for three different islands that were for sale but failed on them all. It wasn't until 1991 that we found the island where Soneva Fushi now is. It had been run as a hotel but had been closed since 1979. It took us four years to arrange the finance and open the resort.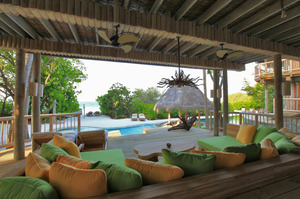 What are the challenges of running a resort in The Maldives?
We are a 30-minute flight by seaplane from Male, the Maldivian capital, so the biggest challenge remains building in such a remote location. There were times when it could take four days for boats to arrive from Male, so transfer logistics were complex. Other challenges include maintaining our service standards and our commitment to being as sustainable and eco conscious as possible. 
What are buyers concerns about choosing property in The Maldives?
Tourism is the only industry in the Maldives and vital to the nation, something most MPs understand. So I feel confident about the future of tourism in the Maldives. As for global warming and those who say the Maldives is threatened by rising sea levels, I believe the risk of having a home here is the same as in Chelsea, London or Amsterdam. Records show there has been no change in sea levels in the Maldives for the last 20 years. Meanwhile the government has increased the length of leases on property for sale from 25 to 50 years.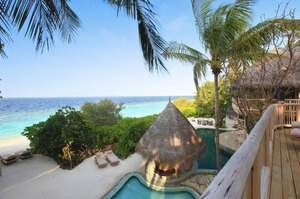 What is the appeal of owning a home at Soneva Fushi?
The Indian Ocean is a very popular holiday destination with incredible water, yet there are very few opportunities to buy property in the Maldives. Owning a home here is a lifestyle purchase but it also makes financial sense. Our figures show owners can expect an average 4 to 5 per cent rental yield and as much as 6 to 7 per cent.  
What properties have sold at Soneva Fushi?
We have sold eight Private Residences to date and will only ever build 16 to add to the 50 homes owned by the hotel. Buyers have come from Europe, Russia and Asia. 
How do you combine your environmental policies with a five-star desert island resort?
Our guests certainly have an eco-conscience but many people will not compromise their luxury for it. The concept of a staycation, staying at home and not traveling, is something of nonsense for today's wealthy consumers. One needs to realize that people will still travel and we need to combine sustainability with luxury.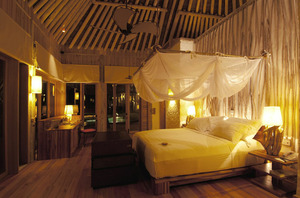 Can you explain your concept of intelligent luxury?
What is truly luxurious to wealthy people today is not named restaurant or Cristal champagne but rather what is rare. Most of our guests have an urban life, living in polluted and congested cities so luxury is an outdoor shower or walking barefoot on the sand when they are used to high heels and business suits. It's not about marble or gilt but about experiences: cruising with dolphins, spending the night on a sandbank. That is what we mean by intelligent luxury. 
What are the advantages in having a strong brand identity?
Branded Residences do well with prices in Thailand for example up to double those of non-branded resorts. People like the security, the ease of having an established team managing the resort and knowing that rental yields should be maximized. We have 52 per cent repeat guests at Soneva Fushi and the brand plays a crucial part in that. Brand consistency drives brand loyalty. There is a danger today of commoditization of luxury where the only distinguishing aspect of a resort is the sign and the logo. By selling Six Senses and concentrating on the Soneva brand we have ensured the brand is not distilled. And we are both owners and operators, a rarity today.
What future plans do you have for the Soneva Brand?
We are developing a second resort in the Maldives where there will also be property for sale including overwater villas. We are waiting for permits on a project on the island of Milos in Greece and in February 2014 we take the delivery of the first of five 64-foot yachts. Soneva in Aqua - that we have on order. These will be available for around US$25,000 a week with a crew of five.

Sign Up Free | The WPJ Weekly Newsletter
Relevant real estate news.
Actionable market intelligence.
Right to your inbox every week.
---
Real Estate Listings Showcase