---
Cushman & Wakefield, the world's largest privately-owned real estate services firm, has revealed £3.38 billion worth of central London commercial property transactions took place in Q2 2014; this takes total H1 London investment to £7.6 billion.
The Q2 2014 figure is down on the £4.28 billion seen in the previous quarter, which was the highest level of Q1 central London investment ever recorded - but this number was significantly inflated by the £1.7 billion St Martins acquisition of More London.
Overseas capital once again dominated the bulk of transactions, with 75% of volume coming from international sources in Q2 2014.
C & W Report Highlights Include:
£3.38 billion ($5.7B USD) invested in central London commercial real estate in Q2 2014
Q2 2014 West End deal volume reaches £929 million
City & Docklands transactions amounted to £2.45 billion in Q2 2014
Chinese investors accounted for more than 20% of City & Docklands transactions in H1 2014
Notably, more than a fifth of commercial property investment in the City & Docklands for the first half of this year was completed by Chinese investors.
City & Docklands
In the City & Docklands, total investment volume in Q2 2014 reached £2.45 billion across 27 major transactions.  Of this total volume, four investment deals completed in excess of £200 million.
Overseas investors remain the most active in terms of transactional investment volume and increased from 76% in Q1 to 78% in Q2 2014.  Although UK purchasers accounted for 16 of the deals during Q2 2014, this represented just 22% of deal volume and the remaining 11 transactions by overseas investors involved considerably larger average transaction sizes.  The average UK purchaser transaction size equated to £32.9 million, whereas the overseas purchasers average was £174.5 million.
Specifically, Chinese capital was responsible for 45% of City & Docklands deals in Q2 2014 - this is considerably above the 3% of Chinese investment witnessed in the first quarter of this year.
UK vendors have again dominated the quarter with 64% of sales volume including 10 Upper Bank Street, E14, sold by Canary Wharf Group to a consortium 70% owned by China Life, 20% by Qatar and 10% Canary Wharf Group for £795 million.
The third quarter of 2014 looks to continue at high volume levels with approximately 20 transactions currently either under offer or exchanged, amounting to a potential additional £1 billion of turnover.
The top five deals for Q2 2014 in the City & Docklands accounted for £1.72 billion, or 70% of total investment.

Bill Tyser of Cushman & Wakefield's City investment team said, "At the end of Q2 2014, there have been just under £6 billion of property transactions completed this year with broadly a further £500 million of transactions currently under offer.
"The desire for international investors to enter the London commercial property market remains unabated and so far this year we have seen more than a fifth of transactions in the City & Docklands completed by Chinese investors.  As previously highlighted, the more financial and geopolitical risk there is in the world, the more desire there is to inject money into the London markets and there is no suggestion at this stage that this phenomena is likely to slow down.
"There is some £3 billion worth of property available on the market, dominated by the current sale of HSBC Tower for £1.1 billion.  The second half of the year is also predicted to be presented with a number of large investment opportunities, for example, The Gherkin, 30 St Mary Axe.  Overall, 2014 looks set to produce another high volume turnover and potentially a record-breaking year."
West End
In London's West End, investment volume in Q2 2014 reached £929 million across 23 transactions, reflecting an average lot size of £40.4 million.  While these turnover figures are lower than both the previous quarter and Q2 2013, this is a consequence of a shortage of stock as opposed to any lack of demand.  Furthermore, over £1 billion of stock has come to the market during the last two months and we are therefore anticipating increased investor activity in H2 2014.
Notable transactions this quarter include the purchase of Bond Street House, 15-16 New Bond Street for £112 million by Meyer Bergman; the completion of the purchase of the Holborn Links Estate for £212.5million by Triangle and the purchase of 110 Park Street by Scottish Widows for £33.7 million, reflecting a net initial yield of 3.25%.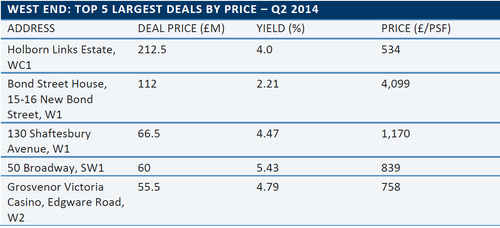 From a buyer perspective, Q2 2014 saw overseas investors remaining highly active and accounting for 69% of the purchase volume, including buyers from the Middle East, Continental Europe, the Far East and North America.
Mike Tremayne of Cushman & Wakefield's West End investment team said, "While the limited availability of stock has caused a marginal reduction in turnover for Q2 2014, we expect to see strong turnover activity in the second half of 2014.  Demand and the weight of capital in the West End investment market remains as strong as ever and with the positive rental growth story now becoming a reality, we are seeing no signs of this competitive market waning."
Sign Up Free | The WPJ Weekly Newsletter
Relevant real estate news.
Actionable market intelligence.
Right to your inbox every week.
---
Real Estate Listings Showcase