---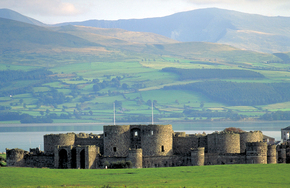 You no longer have to be a king or queen to stay in a British castle.
Many historic castles in the U.K. have been transformed into magnificent hotels, affording you the chance to walk in the footsteps of royalty. And to dine and be lodged like royalty, as well - many of these castles are now four- and five-star hotels. England, Scotland, and Wales are filled with shadowy, mysterious structures with towers and turrets and spires on the outside, but luxury accommodations on the inside.
Here are five of the best of these castles for us commoners...
Scotland
Ackergill Tower is a 28-bedroom, 5-story, 15th-Century castle in the Scottish Highlands, overlooking sandy beaches and the coastline of Sinclair's Bay. Located in the community of Wick, Ackergill Tower is thought to have been built back in the 1400's...and its legends are legion. According to the stories, it's been the subject (or cause) of fights, feuds, debts and debauchery between families. Legend has it that this is where a beautiful bride from Braemore leaped to her death after being abducted on her wedding night and then held prisoner.
Kinnettles Castle, in the Angus countryside near Dundee, is more of a "boutique" property, with nine luxury suites offering panoramic views. The castle was actually a gift from King Robert III of Scotland to a local nobleman at the beginning of the 15th Century. Twenty-first Century would-be nobles can enjoy walks in the woods, clay-pigeon shooting, horseback riding, and fly fishing.
England
Bovey Castle is one of the bigger ones, with 79 rooms. It sits in the beautiful countryside of Dartmoor National Park in Devon, and has a rich history. Bovey was built on land purchased in the 19th Century from the Earl of Devon, on the fortune from the W.H. Smith newspaper shops in British railway stations. Constructed in the style of a country manor, the castle has a list of activities as long as an archer's arm, among them archery(!), croquet, golf, tennis, falconry, fishing, horseback riding, hot air ballooning, and pistol and clay shooting.
Thornbury Castle, in Thornbury, South Gloucestershire, has 27 bedrooms, and medieval touches like heavy oak doors, beautiful oriel windows, a Tudor hall, and a tower dining room. Thornbury is definitely not the new kid on the block; construction began in 1510. However, there was apparently a slight interruption when the contractor, the third Duke of Buckingham, was ordered executed by King Henry VIII. The King then ordered the castle to be finished, and subsequently enjoyed it with the most famous of his six wives, Anne Boleyn. Today, activities at this castle are apparently a bit more sedate than in Henry's time, and include croquet, archery and falconry.
Wales
Ruthin Castle is a romantic 59-room hotel steeped in medieval charm, in the town of Ruthin, Denbighshire, northern Wales. It was originally built as a fort, but converted into a castle in 1277 by King Edward, and used by royalty for centuries afterward. It became a hotel in 1960, and today it's also a popular site for weddings and banquets... in which participants are encouraged to tour the 13th-Century walls, along with such happy areas as a dungeon, a whipping pit, and a drowning pool.
Britain's great old castle hotels are living proof that, even if you're not royalty, you can still live like it...if only for a week or two!
Sign Up Free | The WPJ Weekly Newsletter
Relevant real estate news.
Actionable market intelligence.
Right to your inbox every week.
---
Real Estate Listings Showcase