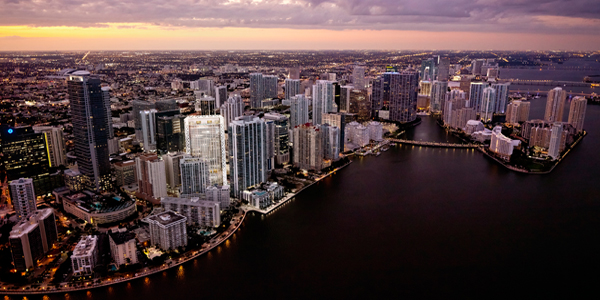 Miami Architecture Mocked in National Media
The
Wall Street Journal
offered a nice wet smooch to Zaha Hadid's design for a Miami residential tower Friday, focusing primarily on the premise that current Miami architecture is lame.
"Downtown Miami isn't known for bold architecture," author Robbie Whelan proclaims in the opening line of the article, making his intention clear.
Ms. Hadid wades in with her own assessment, leaving little doubt she believes the city needs a dose of her boldness.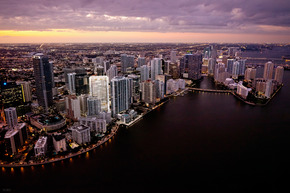 "I really love Miami, but I don't think the architecture matches the city," Ms. Hadid told the reporter. "It's a bit too commercial."
Hadid is one of several starchitects descending on Miami, apparently hired in an initiative to make the city appear less commercial. Norman Foster, Herzog & de Meuron and Bjarke Ingels are among the A-list designers working in Miami, as builders open their checkbooks to try to buy a little prestige.
Ms. Hadid's condo project, the 60-story One Museum Tower, could contribute to "Miami's credibility as an emerging cosmopolitan center," Whelan writes.
There is nothing new about mocking Miami architecture. Nor is it terribly original for the Wall Street Journal to link a city's "credibility" to a building, a familiar rationalization for paying architects huge sums for designs that may or may not be "bold." Flash, style and a name brand are now closely linked to a city's identity, at least according to architects and architecture critics.
Miami is an easy target. The city is an urban planner's nightmare, splattered across the map in the carefree manner of a child throwing his food at the wall. Lush neighborhoods of palm trees and mansions butt up against crack alleys; the road system thumbs its nose at logic.
But the oft-repeated snobbery against Miami, on display in the WSJ article, is more about the pompous nature of the modern architecture community than the reality of the Magic City. Design is part of Miami's soul and identity, far more so than most cities. The art deco buildings and curved elegance of the Fontainebleau hotel define Miami Beach. Sleek white towers may lack for boldness and seem "commercial" to ridiculously over-priced architects, but they are as much a part of the city as the cold black Mies van der Rohe-knockoffs of Chicago.
A building design has no more to do with a city's credibility and livability than a winning football team. Dubai features the work of many great architects and the city looks like a jumble of mismatched chess pieces, a nightmarish hodge-podge of architects and developers yelling "look at me!"
Few cities outside the Middle East and China are interested in that sort of store-bought boldness. And there is no reason to suggest that Miami rates as an inferior city unless it employs name architects to create the world's most expensive attempts at urban art.
Academics and urban planners write long papers these days about the need for creating a sense of "place," for buildings to inter-connect and truly reflect the city's essence. Plopping a Zaha Hadid tower in the middle of downtown Miami doesn't create a Miami identity, nor does it make the city a cultural destination.
But Miami is late to the big-name architect game and now it must catch up if it wants to be a "world class city," the theory goes.
From the renderings, nothing about Ms. Hadid's design for One Museum Tower says anything about Miami. The most distinctive feature is a concrete exoskeleton that spiders up the façade, a nice structural device that would look equally at home in, say, Kazakhstan.
The key phrase used to describe the project in the article is, "if built." Developers Louis Birdman and Gregg Colvin are still looking for financing, a familiar issue with the hefty price tags often associated with the works of Ms. Hadid and her peers.
Ms. Hadid has designed several wild, imaginative, beautiful projects that may never be built. Maybe Ms. Hadid's Miami project would have a better chance if it was a little more commercial.