---
An article in the New Republic is refocusing attention on one of the dirty little secrets of the mania to build tall buildings.
The Bank of America Tower in New York building, once touted as New York's greenest building, is "actually its biggest energy hog,"
New Republic
author Sam Roudman wrote. The 55-story tower, completed in 2010, was equipped with waterless urinals, daylight dimming controls, rainwater harvesting systems and an array of other green technologies, earning it the first-ever LEED platinum rating for a skyscraper. Even Al Gore praised it.
But once it opened, the building's performance was much different than the hype. In reality, the building consumes twice as much energy per square foot as the retrofitted Empire State Building, according to a city study. Even compared to projects with much lower LEEDs ratings, the building billed as "the most sustainable in the country" is a huge energy guzzler.
"After a certain height, most skyscrapers are about ego and marketing more than efficiency and sustainability."
This won't be a big surprise to anyone in the building world. Despite all the rhetoric about sustainability and technological advances, skyscrapers are rarely very green, even those buildings relentlessly promoted as green.
For the environmental community, this debate is not idle chit-chat. Buildings are the world's biggest energy consumers and they emit huge amounts of greenhouse gases, with flashy skyscrapers among the biggest abusers.
On one level, the
wildly read New Republic report
is an indictment of the LEED certification system, which is nothing new. The Leadership in Energy and Environmental Design (LEED), program administered by the nonprofit U.S. Green Building Council, rewards designers for following certain set guidelines, but displays little interest in the actual performance of the building once it is finished.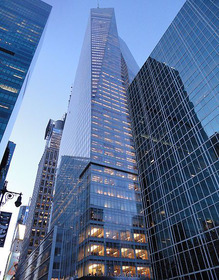 "The plaque [for LEED certification] should be installed with removable screws," energy consultant Henry Gifford told the
New York Times
in 2009. "Once the plaque is glued on, there's no incentive to do better."
Last year,
USA Today detailed
how the Palazzo Hotel and Casino in Las Vegas, a 50-story complex with decorative fountains and power-controlled curtains, managed to earn a LEED green certification. Sure, the smoke-filled casino and free-spending hotel guests gulp energy, but the design did include bike racks, room cards telling guests when towels are replaced and grass-less landscaping - even though few people ride bikes or grow grass in the desert. Nevertheless, the LEED rating earned the Palazzo developers a $27 million tax break
Following the LEED system doesn't necessarily lead to a better environmental building, developers know. Last year, Douglas Durst, who built the Bank of America tower, said he wouldn't be following LEED guidelines for a Bjarke Ingels-designed residential project in New York, which he hoped to make more environmentally innovative than the standards set for LEED.
"We found [LEED] to be a little confining," Mr. Durst, chairman of the Durst Organization, told the
Wall Street Journal
. "There are things we want to do that don't give us a benefit under LEED."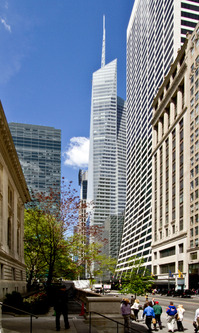 But the LEED rating is only part of the issue for the Bank of America tower, which was launched with so much fanfare. There is much larger debate raging within the design and building community about the role of tall buildings in cities around the world.
After a certain height, most skyscrapers are about ego and marketing more than efficiency and sustainability. Even economically, skyscrapers taller than 40 stories rarely make sense. An iconic building may add value to the surrounding land - now known as the "Burj Khalifa Effect" - but that doesn't make a kilometer-tall building any more logical.
Yet, to many urban planners, tall buildings are the key to future cities. Skyscrapers offer real value in terms of land use and creating efficient, dense neighborhoods. True vertical cities with services, green areas and entertainment all within a tightly compact area can change the way cities operate and flourish.
But tall buildings alone aren't necessarily "green." Build a skyscraper out in the middle of nowhere and people still have to drive to it. If there are no schools, stores and hospitals nearby, even the most energy efficient skyscrapers will be nothing more than islands, contributors to a new form of vertical sprawl. No amount of high-tech waterless urinals will make that dramatic all-glass tower a truly green project.
The Bank of America experience shows how easy it is to undermine good intentions. There really is no mystery behind the building's energy usage. A third of the leasable space is filled by huge financial trading floors, packed with electricity-guzzling computers and monitors, not to mention the servers and the systems needed to cool the space and equipment.
No building, no matter how well designed, could be considered energy efficient with those kinds of tenants. The Bank of America building may have been designed to set new standards for environmental skyscrapers; instead it simply illustrates that a building is only as green and sustainable as the people in it.
Sign Up Free | The WPJ Weekly Newsletter
Relevant real estate news.
Actionable market intelligence.
Right to your inbox every week.
---
Real Estate Listings Showcase