---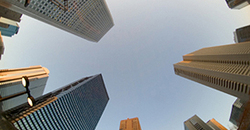 According to Jones Lang LaSalle, direct commercial real estate Investment volumes in Asia Pacific have increased to around 10% year to date. Preliminary figures released today suggest that volumes have now reached approximately USD 67 billion year to date compared to USD 61 billion for the same period last year.
The key country to watch was Japan where direct commercial investment volumes went back to over USD 4.7 billion - in line with the same quarter in 2010, as investors looked to see how the markets recovered following the tsunami and earthquake and the subsequent dramatic fall in volumes during the second quarter.
Japan's volumes in 3Q11 showed a resurgence from the USD 1.5 billion reported in 2Q11 supported by BOJ's program to spur the J-REIT market, leading to significant buying activity by J-REITs. The resumption of this market is likely to support renewed international investor interest in the biggest market in Asia Pacific. The IMF's outlook for Japan next year is for growth of 2.3% based on reconstruction work following the disaster.
In China, Shanghai was a top location with the city being home to six out of the top ten biggest deals, four offices, one retail and a hotel.  The deal volume for China's direct commercial property investments rose to approximately USD 2.8 billion, up 13% y-o-y. The landmark deal this quarter was Hong Kong's Festival Walk retail deal, which was sold by Swire Properties to Mapletree Investments for USD 2.4 billion.  This is the largest deal by far involving a single built asset since 2007, and the largest in Hong Kong's history. The market was active in South Korea with approximately USD 1.8 billion of deals recorded, double the volumes in the same quarter last year with REITs actively buying Seoul office stock.
In Australia, volumes stood at the USD 3 billion mark, back to more usual transactional levels following the surge of overseas cash into the market last quarter which pushed volumes up to USD 4 billion. Rounding up the markets, in Singapore total volumes were at USD 1.2 billion made up of plenty of smaller sub USD100 million deals, with industrial being an active sector.
On the back of increased investment volumes in 3Q11, most major markets saw either stable or increasing capital values. Across the region, the average quarterly increase in capital values was 2.6%, slightly higher than the 2.4% recorded in 2Q11. Capital values in Jakarta and Beijing recorded the largest q-o-q increases of 14.2% and 11.8%, respectively, largely in tandem with rental growth. Sydney, Perth and Manila followed with quarterly increases of 4.0-6.5%. Growth in capital values in Hong Kong and Singapore slowed further to between 0.8% and 2.1%, as investors became more cautious.
Stuart Crow, Head of Asia Pacific Capital Markets said, "Growing uncertainty on the global economy is placing downward pressure on capital values across some core markets in Asia Pacific. Many investors are shifting their attention to the less volatile office markets such as Australia and Japan, which is likely to continue to benefit from a flight to safety in the next 12 months, with investors attracted to the higher yield environment. There remains a solid interest in China Tier 1 Cities from domestic and international investors alike."
The office leasing market remains buoyant
Office leasing demand remained buoyant in 3Q11 across most of Asia Pacific, according to the Office Index also published today by Jones Lang LaSalle. Corporates continued to expand in China, while relocations and expansions bolstered demand in other centres. Corporate hiring sentiment and leasing demand weakened in the major financial centres of Hong Kong and Singapore amidst recent market volatility and news of some corporates shelving relocation and expansion plans.
Of the 27 office markets featured in the report, 18 saw an increase in net effective rents, while for the remainder rents stabilised or recorded small residual declines. Aggregate rental growth was largely similar to the previous quarter, with an average quarter-on-quarter increase across the region of 2.5%, as stronger growth in some Australian cities helped offset weaker growth in Asia.
Rents in Jakarta, Beijing and Perth saw the largest q-o-q increases in 3Q11 of between 10.5% and 13.6%, as vacancy levels fell rapidly in all markets. Among the major financial centres, net effective rents fell marginally by 0.9% q-o-q in Hong Kong Central and moderated to 0.6% q-o-q growth in Singapore Raffles Place, largely due to the slower expansion of financial institutions.
Jeremy Sheldon, Managing Director of Markets for Asia Pacific commented, "Leasing demand is still solid in most markets, especially China Tier 1 cities and most of SEA. We are seeing a slowing of decision-making in the more financially orientated markets of HK and Singapore which will translate into slowing rental growth but with more economic certainty this could be short-lived"
Gross rents in Tokyo fell further by 0.4% though net effective rents were stable. Rental declines were seen in a few other Asian markets like Seoul, Osaka and Vietnam, due to weak tenant demand or new supply, but are close to bottoming out. Average rents in India generally increased by up to 3% during the quarter.
Dr. Jane Murray, Head of Research for Asia Pacific said, "We expect overall leasing demand to remain solid for the remainder of 2011, particularly in the emerging markets. The regional office market continues to favour landlords although occupiers have become more reluctant to pay high rentals. Rental growth of up to 45% is expected across the region for the whole year, with the strongest growth likely to be seen in markets such as Beijing and Jakarta."
---
Sign Up Free | The WPJ Weekly Newsletter
Relevant real estate news.
Actionable market intelligence.
Right to your inbox every week.
---
Real Estate Listings Showcase