---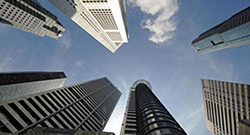 According to Cushman & Wakefield's
Global Office Forecast
released this week, global office markets will undergo a slow recovery, with several key markets poised to see growth continue through 2012 and 2013.
While 2011 began strongly in office markets around the world, apprehension and uncertainty led to a major bump in the road to recovery during the third quarter, resulting in a conservative outlook for the next year.
While the forecast for growth has become more moderate, strong leasing fundamentals and limited supply will sustain global office markets, the majority of which have little or no new construction planned for either 2012 or 2013.
Leasing activity through 2012 is best characterized as mixed.  In the Americas, markets dependent on government leasing will stall, though growth industries such as technology, healthcare and energy will fuel markets like San Francisco, Calgary, Houston and Downtown Toronto.  While Europe's overall economy will remain sluggish, Frankfurt, Munich, Paris, Istanbul, Stockholm and London are expected to outpace other European markets. In Asia, growth in second-tier markets in China is expected to accelerate, as well as in countries where regional trade accounts for the majority of exports, such as Indonesia and Australia.
Increased leasing activity early in 2011 made little impact on global office rents.  Accordingly, significant upward pressure on rents is not forecast until 2013 for the majority of U.S. markets. Several European markets did experience good rental growth earlier in 2011 meanwhile, but a number will expect downward pressure on rents to return if economic conditions do not improve in the near term. In Asia, rental values correlation to GDP growth and inflation will support slight growth.
Occupiers across the world are focused on controlling costs associated with their corporate real estate; yet, at the same time, have begun to take a more strategic approach to their real estate to derive value for their firms.
Organizations with multiple locations are centralizing functions to create greater synergy, while sustainability, technology and changing work habits have led many occupiers to pursue a strategy of "less space is more."  Portfolio expansion will remain moderate - in a recent survey of Cushman & Wakefield's top global clients, only 6 percent indicated they would significantly increase the size of their portfolio over the next 12 months, with 36 percent indicating moderate expansion, 33 percent indicating moderate contraction and 24 percent indicating no expansion.
AMERICAS
While most office markets in the Americas are expected to slow into 2012, prime centers - such as New York, San Francisco and Seattle in the U.S., Calgary in Canada and Mexico City, Santiago, Sao Paolo and Buenos Aires in Latin America - are expected to tighten further once economic uncertainty subsides.
Moving into 2012, leasing activity will pull back from the pent-up-demand-driven levels seen in 2011, though absorption should remain positive in most markets due to limited new speculative construction.
Rental rates in the Americas will hold steady in most markets.  In the U.S. and Canada, minimal new construction will mean limited competition for existing owners, allowing them to hold their ground on asking rents.  In Mexico and South America, increases in domestic consumption and trade with Asia will offset any decreases in European demand and drive expansion plans for corporations.
"By 2013, all major markets in the Americas are projected to be back on solid footing, with increased leasing activity, higher absorption levels and steady demand," said Maria Sicola, Executive Managing Director and head of Americas Research for Cushman & Wakefield.  "An expansionary cycle lies ahead, and firms will profit by focusing on long-term corporate strategies and growth."
Growth in sectors that support office market demand has already emerged, including natural-resource development, scientific research, professional and businesses services, technology, health care, education and domestically consumed goods and services.  As demand grows, a heightened scarcity of high-quality office product is likely to result in significantly higher rental rates and, ultimately, new construction.
EUROPE
While for the most part of 2011 the European office market moved steadily towards becoming a landlords' market, recent economic instability has put occupiers back in the driving seat.  However, the declining availability of high-quality space has made it clear that current conditions will support a delayed rather than a cancelled recovery.  Even while demand is weakening, businesses are still looking to improve productivity and cut costs.  When it comes time to replace older space, consolidate, reorganize or achieve greater sustainability, tenants are faced with limited opportunities for high-quality space.  This will ultimately drive rental growth in some markets.
Performance throughout Europe will vary by market.  Overall vacancy is expected to see a modest fall, but some cities will see an increase due to lower demand or more development.  While some areas, including Milan, Warsaw, Madrid and Stockholm, will see new building completions increase in 2012, overall development continues to drop throughout Europe.  In 2009, new construction as a percentage of total inventory peaked at 3.7 percent, and is forecast to fall to 1.7 percent in 2011 and 1.4 percent in 2012/2013.
"While the number of active occupiers is forecast to increase, most will be seeking improved efficiency rather than expansion and 2012 is widely expected to be a difficult year," said David Hutchings, Head of European Research for Cushman & Wakefield.  "The market will remain very polarized but most markets are expected to see absorption soften and then bounce back in 2013."
The highest net absorption relative to inventory will continue to be in Central European markets. Frankfurt will see a steady improvement and Budapest, Dublin, Madrid and Amsterdam will see increased relative activity.
Prime rents increased 3 percent in 2011 for major cities, but rental growth is expect to slow to less than 1 percent in 2011 before another increase sets in during 2013. Paris, Istanbul, Dublin, Luxembourg, Munich and Stockholm will see the highest growth over the next two years, while Moscow is expected to perform well after 2012. In 2013, 14 of 20 markets are forecast to see higher growth than in 2012.
ASIA PACIFIC
Asia Pacific's 2012 economic forecast portends moderate strength, enough to fuel activity in the occupier market. Demand will remain broad-based, with the banking sector continuing to be a vital player, despite an expected decrease in expansion. Continued global outsourcing and information technology spending will benefit India, and pharmaceutical firms are targeting China and India for their growing middle class and large population base as well as Japan, given its large, aging population.  The booming mining sector is also expected to be a critical growth driver in Australia and Indonesia.
Asia Pacific's construction pipeline is the highest globally, at more than 250 million square feet.  While a significant portion of this new construction is expected to be absorbed, availabilities remain high for projects underway in Guangzhou, Chengdu, Mumbai, Hyderbad, National Capital Region, Ho Chi Minh City and Seoul's CBD, where class-A vacancies are already in the double digits.  The combination of significant new construction and existing high vacancies will create many attractively-priced opportunities for occupiers.
In Tokyo, several new buildings are under construction, but growing demand for office buildings with superior seismic standards will likely stabilize or improve rental rates there, which are currently at a 10-year low.  In Jakarta, Shenzhen, Sydney and Melbourne, flat-to-moderately declining vacancy will sustain modest rental increases, while limited new supply will sustain tight office markets in Bangalore, Beijing and Shanghai.
"There are a lot of headwinds as we enter 2012, but we do not expect a repeat of 2009," said Sigrid Zialcita, Managing Director of Asia Pacific Research for Cushman & Wakefield.  "While the region will slow down from the recent period of above-trend growth, the growth rate is still healthy."
---
Sign Up Free | The WPJ Weekly Newsletter
Relevant real estate news.
Actionable market intelligence.
Right to your inbox every week.
---
Real Estate Listings Showcase