---
Even though London and New York have long been considered the world's top financial hub cities, Hong Kong and Sydney are gaining ground and catching up with a number of international financial institutions expanding into the Asia Pacific region.
While markets across the world face some economic challenges in the short term, the outlook for Asia Pacific in the medium to long term remains positive.
According to Jones Lang LaSalle's Asia Pacific Property Digest for Q2/2011, IHS Global Insight have forecast 2011 regional growth of 4.6%, significantly above the 3% forecast for the rest of the world. For 2012, faster regional growth of 6.5% is expected due to stronger investment and private consumption.
Australia
According to Kevin George, Australian Head of Leasing at Jones Lang LaSalle, Asia Pacific is seen as a "growth engine" with global financial firms getting positioned for growth in the region in the medium to long term.
Mr George cautioned that the Australian office market would face short term challenges following the current global uncertainty.
"Currently we are seeing occupiers pausing for reflection amidst the economic uncertainty. What this means for the Australian market is that those companies who don't need to make immediate relocation decisions will put these on hold until there is more certainty in the global economy. However we expect large corporate will still need to look towards their future space requirements due to low levels of spare capacity in the Australian office market," Mr George said.
"On a regional level, we are seeing an increasing number of companies, including those in the financial services sector, looking to Asia Pacific for growth opportunities. In Australia, we expect to see an expansion of the funds management sector in the medium to long term."
"Australia has the fourth largest pension fund market in the world both in dollar terms and as a percentage of GDP. This has led to an increase in activity from funds management firms with approximately 18 of the top 20 global asset managers having an established presence in the Australian market."
Australia's Superannuation Guarantee, which was introduced in 1992, has led to the rapid expansion of superannuation fund assets, from just AUD 154 million in June 1992 to AUD 1.3 trillion in June 2011.
Hong Kong
Gavin Morgan, Deputy Managing Director and Head of Leasing at Jones Lang LaSalle Hong Kong said, "Over the past five years the Hong Kong office market has been dominated by the expansion of the multinational finance sector. A number of major multinational and China originated occupiers including ICBC, China Construction Bank, Credit Suisse and Deutsche Bank have expanded in Hong Kong and have maintained a solid presence."
"In the past two years there has also been an influx of hedge funds and private equity groups into the Hong Kong office market looking to expand into the region.  The agenda of the Chinese government to position Hong Kong as an offshore clearing centre for the Renmibi (RMB) has led to a fast accumulation of RMB deposits here which will continue to grow as a significant proportion of assets held in Hong Kong. This represents huge opportunities for wealth management business, increasing Hong Kong's importance as an international finance centre" Mr Morgan said.
"The IPO pipeline remains very healthy as Chinese corporate continue to look to list in Hong Kong. We can expect to see this continue into 2012. This increasing corporate activity will provide further incentive for banks and supporting professional services organisations expand in Hong Kong."
The Hong Kong office market has remained solid over the past 12 months with rental growth of 18.7% registered for the year-to-date. Vacancy rate for the Overall market also trended down further to the latest 4.4%.
London
Neil Prime, Head of Office Agency Leasing UK at Jones Lang LaSalle said, "Although Sydney, Hong Kong, London and New York are all similar in terms of occupier profile, they currently differ in terms of activity, take-up and confidence."
"Many of the International banks are looking beyond their traditional hubs of London and New York for medium-term growth opportunities and certainly Asia Pacific is one of the focus regions."
Mr Prime added that while the financial sector in London remained quiet, tenants from the Telecommunications, Media and Technology (TMT) sector were increasingly active in the London office market with many looking outside of their traditional West End heartland.
"The TMT sub-sector accounted for 15% of total occupier take-up in Central London with the Services sector as a whole accounting for 43% of total demand," Mr Prime said.
"London will remain the key global financial centre however with the threat of over regulation of the financial services arena and the ongoing economic issues in the Eurozone there is a medium term risk to its competitiveness. That coupled with the growth opportunities of the Asia Pacific region could lead to the financial services sector focussing much of their investment and expansion away from the mature existing markets in the short term. In the meantime we will see occupier demand in London driven by the services sector and we can expect to see that continue for the next 12 to 18 months,"
"Despite the global economic uncertainty, Asia Pacific has remained relatively strong through 2011 and we expect that it will continue to recover well in 2012."
New York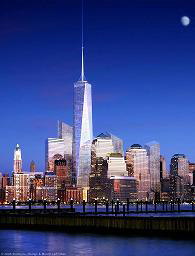 Similar to the Central London market, Manhattan is experiencing a diversification of its tenant base with the creative and professional services sectors increasing their presence in the area.
A recent report by Jones Lang LaSalle, 'Lower Manhattan....10 years later', found that recent transaction activity and increasing interest in the Downtown market among the media and professional services sectors indicate that while financial services continue to dominate, tenant base diversification is also a reality in Lower Manhattan.
While in 2011, six out of the top ten leases Downtown are within the financial services segment, there have also been a number of major deals involving creative and professional services firms including Conde Nast, WNYC and Wilmer Hale.
Peter Riguardi, President, New York Operations at Jones Lang LaSalle said, "The diversification of the tenants in New York, outside of the financial service industry, is being led by the media industry--first and foremost, by Conde Nast, committed to 1 Million square feet at the new World Trade Center."
"The other industry seeing growth is tech companies.  Although tech companies have been in New York for quite some time, their primary purpose was for banking relationships and media connectivity.  We are now seeing the tech companies expand here by adding programmers and engineers."
"The best example of this is Google, who last year purchased a 2 Million square foot building in Manhattan a building they eventually plan to occupy in its entirety.  The tech companies seem to be attracted to New York's deep and diversified labor market and the ability to connect globally better than one can from Silicon Valley." 
---
Sign Up Free | The WPJ Weekly Newsletter
Relevant real estate news.
Actionable market intelligence.
Right to your inbox every week.
---
Real Estate Listings Showcase