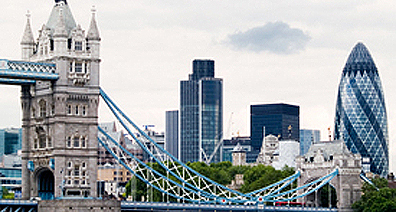 Central London Prime Property Prices in Up 10.8% in 2011
London-based Douglas & Gordon reports that prices of prime Central London property moved up in the second quarter of the year with an overall increase of 5.8% taking the total for 2011 to 10.8%.
This surge has been led by the market for houses where prices have increased by more than 10% in the quarter. Prime London continues to attract significant foreign investment which is chasing property, the supply of which is down year on year by 25%.
Michael Hodgson, CEO and Chairman of Douglas & Gordon tells the
World Property Channel
, "In contrast, the sales market in the adjacent South West London area is not "so hot", with prices rising 1.7% in the quarter. The impact of these price movements on gross yields has created a situation which certainly hasn't occurred in the last 10 years and maybe for a longer period, whereby yields on property in the South West London area have risen above Prime yields. Whilst rental growth has also been impressive in Prime London - a rise of 5.4% in the quarter - the market has been even stronger in South West London with a quarterly increase of 6.9%. Again, these increases in rental prices are driven by lack of supply. In South West London, therefore, the more modest capital growth against big rental increases has lifted the yield in comparison with Prime London where capital values have pushed ahead. "
Hodgson further commented, "In Outlook 2011, we predicted "an increase of 5% (for 2011), but this may prove to be conservative". In our Spring Market Report, we reaffirmed the timidity of our prediction, stating that "the balance of supply (properties available), and demand (buyer application), would seem to underpin price increases".....ducking predictions for the rest of 2011 until the end of the next quarter. So now, in a corner, we have to come off the fence. So what do we think for the rest of the year? In "D&G land" overall, prices have already increased by 6.1% in the first six months of the year with, as mentioned above, the top end of the market increasing by much more than that. Traditionally, there is more growth in prices in the first six months of the calendar year and we suspect that this will prove to be the case in 2011. However, with insecurity in many parts of the world being a main driver to investment in Prime London, geopolitical developments being no respecter of seasons, there is every possibility that demand at the top end will be sustained. With inherent shortages in the areas of choice, that can only mean one thing - more increases - and we will stick our neck out and predict that prices will rise another 4% to bring the annual total to 10%, though, as mentioned above, some types of property have already exceeded that in the first six months of the year.
"From the investor's point of view, the shortage of property to rent throughout "D&G land" presents a good investment opportunity with the London economy, relative to the UK, comparatively buoyant. South West London looks a particularly good bet for those looking for an income return with yields rising, though we would expect foreign investment to continue to focus on Prime", said Hodgson.
---