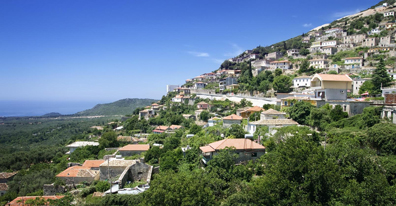 Albanian Tourism Shows Strong Growth
(TIRANA, ALBANIA) -- Although still one of the very few European countries left to be explored, Albania is slowly but surely starting to gain a foothold in the lucrative tourism market, seeing 3.5 million visitors last year, an impressive increase of 32 percent over previous years and it looks as though Albanian authorities are maintaining a further positive outlook.
"Our expectations are based on the improvements we have done in infrastructure and improvements of the tourist environment in general," said Endri Jorgoni, Chief of Cabinet in the Albanian Ministry of Culture and Tourism.
As a tourist operator in the capital Tirana, Dritan Xhengo, has been in the industry for eight years and suggests that there has been an extraordinarily positive change compared to previous years mainly because Albania is cheap and can provide tourists, usually from Britain, Finland, Denmark and Italy, cultural tourism or archaeological tours away from the norm.
Property expert Ravin Maharajah explains why Albania was chosen as the destination for his new 5-star resort development - Lalzit Bay Resort & Spa,
"We firmly believe that Albania is going to explode as a tourist destination in the next five years," said Maharajah. "Due to join the EU in 2014, this country shows every positive sign of going the way other Southern European countries such as Croatia and Montenegro have over the past 10 years. For now, Albania benefits greatly by sitting outside the Euro and this means that the cost to our investors is hugely reduced."
Indeed, Albania's economy has improved substantially over recent years and has outperformed many other countries in the region with heavy infrastructure investment in the Balkan nation, including main road pathways. The 170-kilometer highway for instance linking Durres, the second largest city in Albania with Kosovo has provided a major corridor for transportation making connections to and from the area easier for residents and tourists alike as well as the Albanian airline Belle Air introducing a twice weekly direct flight from Stansted to the capital, Tirana, in addition to the daily BA flights from Gatwick.
Lalzit Bay Resort and Spa, a beautiful beachfront development in Albania is fast becoming the buyer's choice for a resort destination in the Eastern Mediterranean as well as an appealing investment choice.
"At Lalzit Bay Resort and Spa we are offering knowledgeable investors the opportunity to become a part of this growth economy," Maharajah said. "Investors can purchase studios, one or two bedroom apartments or villas in a divine Mediterranean location from as little as €29,000, a fraction of the cost of buying a home in one of the more established European resorts, demonstrating to international buyers the huge opportunities that Albania presents. Owners also have the benefit of a fabulous beachfront holiday resort to enjoy with family and friends or to rent out to holiday makers."
---