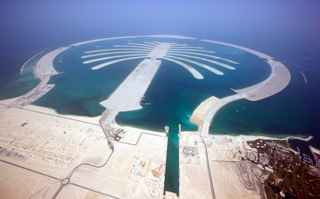 Nakheel Announces Cuts in Projects and Employees
A company spokesperson announced that Nakheel is reducing its workforce by 15 percent or 500 employees. At the same time, the company is scaling back some of its projects for now including the Trump tower on Palm Jumeirah, one of three palm-shaped islands the developer is building off Dubai's coast.
"We have the responsibility to adjust our short term business plans to accommodate the current global environment. The redundancies are indeed regrettable, but a necessity dictated by operational requirements which are in turn dependent on demand," added the spokesperson.
Nakheel admitted earlier this month that the rate of property sales has slowed.
Today the head of the Real Estate Regulatory Authority told Reuters that defaults on some properties were increasing. "There are more and more defaults on the high end, if banks do not give mortgages," said Marwan bin Ghalita.
It might also be a good time for smaller developers to link up. "I always support and encourage good mergers in any sector if it adds value to the sector," he said. Bin Ghalita is a member of a nine-person emergency committee set up by Dubai ruler Sheikh Mohammed bin Rashid Al-Maktoum who is also Vice President and Prime Minister of the UAE.