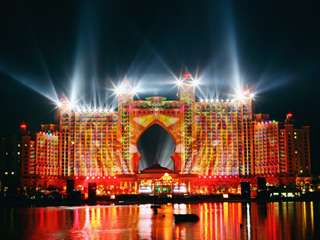 Stars and Fireworks Mark Atlantis Opening
Access to Palm Jumeirah had been restricted since early afternoon with only homeowners and Atlantis guests allowed on the island. It was one time that tourists weren't welcome.
Actors Robert De Niro and Charlize Theron, singers Lily Allen and Natalie Imbruglia, sports superstars Michael Jordan and Boris Becker, entrepreneur Richard Branson, and royalty in the person of Sarah Ferguson, the Duchess of York, were among the 2000 guests of resort owner Sol Kerzner.
Oprah Winfrey and Ben Affleck were expected but didn't make it to the grand opening which according to rumors cost $20 million. Winfrey remained in California where her home is endangered by wildfires while Affleck is in the Democratic Republic of Congo visiting refugee camps.
The evening began with the so-called Atlantean Feast featuring specialities by four celebrity chefs. Then Kylie Minogue came on stage for the first time in the Middle East to sing some of her hits including
Spinning Around, Better the Devil You Know
, and
I Can't Get You Out of My Head
.
The night ended with extraordinary fireworks by the Grucci family that entertained people all over the coast around Dubai who couldn't get to the highly restricted party but stood on balconies to see the display.
The Atlantis resort includes amusement parks, an outdoor marine habitat, beaches, boutiques and restaurant in addition to 1539 guest rooms.