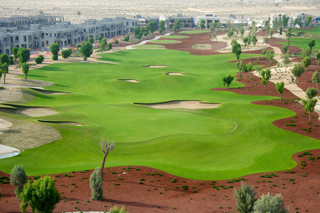 Countdown to Richest Golf Tournament on Earth
The Dubai World Championship in 2009 will be open to the 60 golfers with the best season record in the Race for Dubai that will replace the current European Tour Order of Merit series of tournaments.
Players will be ranked according to their earnings from all events on The European Tour International Schedule, including European Tour tournaments, Major Championships and World Golf Championships.
The top 60 will tee off in Dubai on November 19, 2009 at Jumeirah Golf Estates playing on Earth for the first time. Earth is one of three Norman-designed courses at Jumeirah, along with Fire and Wind. Water, the fourth course in the complex, was designed by Vijay Singh.
According to golf legend turned designer Norman, "The course is looking sensational, the detailed features applied to the course, whether it be the bunkering, lush vegetation or fast flowing water ways, will be a key aspect, not only in how the course will challenge the players, but also in the aesthetics of the course."
The par-72 course called Earth is 7758 total yards with 97 bunkers, six interconnected lakes, and two streams that wander throughout. The project was developed by Leisurecorp, a company that manages investments in sports and leisure in Dubai and elsewhere. It is part of the Dubai World holding company.