---
According to a report by Jones Lang LaSalle, Puerto Rico's commercial real estate market continues to go through a bumpy recovery in 2014. 
JLL says the Puerto Rican economy continued its slide in 2013 with a growth rate of -0.5%. This follows 2012, a year that saw the first positive growth since 2009. This contraction is likely due to the expiration in June 2013 of the US stimulus package, which had provided a backstop to the economic slowdown.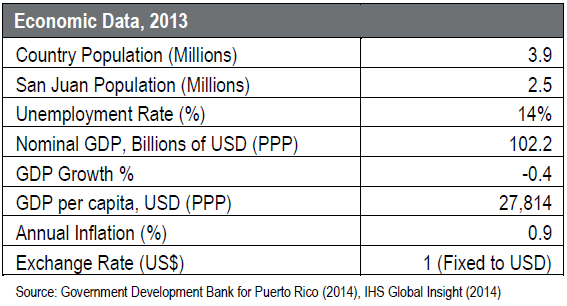 The end of the stimulus coupled with the continued phasing out of tax benefits for multinational exporters and high utility prices, has kept Puerto Rico mired in its worst recession since the 1930s. 
One of the central issues has become Governor Alejandro Garcia Padilla's efforts to reassert Puerto Rico's standing in the bond market. The government has taken important strides recently to shore up their fiscal position, including a reform of the tax code aimed at stimulating domestic demand. However more needs to be done, especially in pension and public sector reforms, so that the fiscal gap can be narrowed and the integrity of their bonds can be maintained. This will be difficult to achieve, as any spending cuts are sure to encounter resistance from unions and special interest groups. The bankruptcy of Detroit is weighing heavily on bondholders' minds, as it is now clear that such events are not outside the realm of possibility, as they were once thought to be. 
Signs of a recovery remain elusive says JLL. While the unemployment rate has fallen from 15.2% in 2012 to 14% in 2013, this likely reflects a significant share of the population that have either left the island or withdrawn from the labor pool. To combat stubbornly high unemployment, the government is offering hiring incentives through the Jobs Now Act.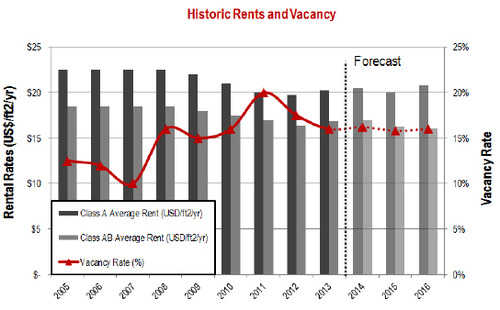 Forecasts for 2014 indicate a continuation of the contraction seen in 2013. High energy prices in the international markets will put downward pressure on the island's external accounts, while the government will have to make more difficult tradeoffs between job creation policies and job cutting austerity measures. Still, there are reasons to be optimistic. A bullish short-term outlook for the US will likely boost export demand. In the medium term, recently signed free trade agreements with Central American countries should bear fruit in the form of increased service and technology exports to new markets. 
In 2012 Puerto Ricans voted on whether to retain its status as a US commonwealth or move towards statehood. The electorate voted overwhelmingly (61%) in favor of statehood, however the idea has been basically rejected by a fiscally strained US Congress. 
Market Summary
JLL reports San Juan's two most important office clusters are Hato Rey - which contains about 44% of the office stock - and Guaynabo, a newer submarket that offers larger floor plates, more parking, and less traffic congestion. Caparra and Rio Piedras also have significant concentrations of office activity.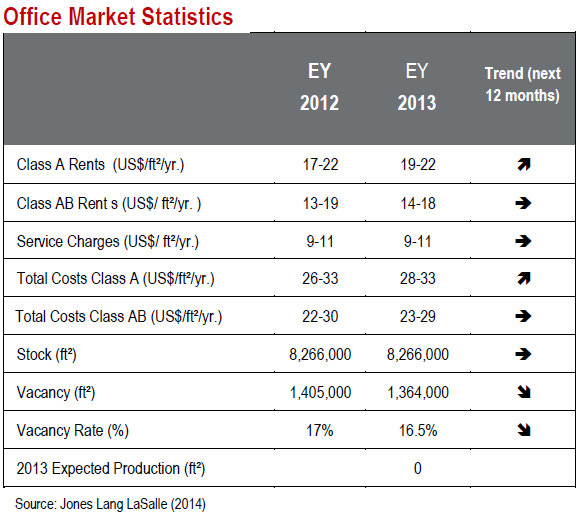 The office market in San Juan has been treading water for several years now. There has not been any new construction for years as several multinational companies are reducing their office space and in some cases abandoning their operation entirely. This behavior has been mainly observed in the Central Business District of Hato Rey, the city's financial district, where some of the island's most important banks have significantly downsized their operations. 
The vacancy rate is currently estimated at around 16%, having fallen moderately over the course of the last two years. Vacancy is lowest among Class A buildings (around 14%) and higher for Class AB (18%) and Class B (25%). With rents having fallen in recent years, companies are finding that cheap rents are available in quality properties in quality locations. Class A rents are averaging USD $20/ft2/year while Class AB rents are averaging USD $17/ft2/year. 
The highest rents in San Juan can be found in Hato Rey, where Class A properties are renting between USD $19-22/ft2/year and Class AB offices are at USD $14-18/ft2/year. Guaynabo rents are slightly lower at USD $18-21/ft2/year for Class A and USD $14-18/ft2/year for Class AB. More affordable rents can be found in other sectors such as Santurce, and Rio Piedras.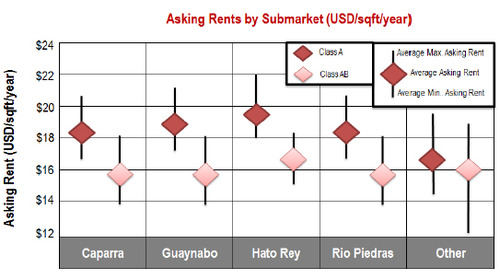 Production has been very limited in the past few years. The most recent major completion came in 2010, and 2007 before that. Absorption has managed to stay positive over the last two years as the demand little by little catches up to a stagnant supply. Office absorption in 2013 is estimated at about 125,000 ft2, down from 200,000 ft2 seen in 2012. 
Overall, the San Juan prime office market continues to be tenant- favorable. Investors, users, and corporate clients are taking advantage, using sub-leases and early contract re-negotiations. They are also moving to spaces where landlords will help pay for capital improvements and moving costs, says JLL. 
Sign Up Free | The WPJ Weekly Newsletter
Relevant real estate news.
Actionable market intelligence.
Right to your inbox every week.
---
Real Estate Listings Showcase