---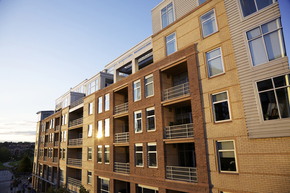 When Toll Brothers' City Living division went looking for a site on which to build luxury condominiums in New York City in late 2011, it was a buyer's market.
"We thought the last downturn was a good time to buy land from other developers," says Todd Dumaresq, marketing manager for City Living, which is based in New York (Toll Brothers' headquarters is in Horsham, Pennsylvania). The 20,000-square foot site on Park Avenue South, which had been cleared for another development that never took off, was purchased in late 2011 by City Living for a lower price than might have been available during boom times. Since then, however, land prices have begun rising again.
The Toll Brothers development, which recently began construction, is unique. Named for its address, 400 Park Avenue South will have 99 condominium units and 266 rental units, the latter being developed by Chicago-based Equity Residential, Toll Brothers/City Living joint-venture partner.
"It is a perfect match," says Dan Fasulo, managing director at Real Capital Analytics in New York, referring to 400 Park Avenue South. "The units on the lower floors (of condominium buildings) don't work well (in Manhattan) because they don't have views," he says. But at 400 Park Avenue South, the rental units will be on the bottom and the condominiums on the top, says Fasulo.
"The market is heating up quickly with developers acquiring over $2 billion of significant multifamily development sites in the first half of 2012--almost double the volume for all of last year and on track to reach peak levels soon," according to a US Capital Trends' special report on multi-family development sites published in July by RCA.
"Prices for development sites suitable for multi-family development are approaching, or have already exceeded, past peak levels in a few markets, but have just started to rebound in most other markets nationally. (They) have averaged $66,000 per buildable unit over the past 18 months, down from $100,000 reached at the peak, but are significantly up from $36,000 at the nadir of the market in 2009," according to RCA.
In Manhattan alone, according to RCA data, sales volume for multi-family development sites was nearly $2 billion during the 2005-2007 peak period, compared to nearly $256 million during the so-called "correction" period, from 2008 through 2010. But the volume for 2011 through June 30, 2012, was $811 million.
"Multifamily land has rebounded in only a small number of areas where the initial development wave has been concentrated. In Manhattan, San Francisco, Seattle and Raleigh, price averages have already rebounded past peak pricing. Moreover, in San Francisco, Seattle and Raleigh, transaction activity over the past 18 months is greater than during the entire 2005-2007 peak period," according to the RCA report.
While RCA cites average land prices per unit in its report, these numbers may be misleading, it notes, because there is a big discrepancy between prices in core locations, which have attracted the most interest and where prices are highest, and distressed sale prices, which pull down averages, although the level of distress has lessened somewhat recently. As of mid-summer, distressed sales accounted for about 15% of recent transactions, according to RCA.
Sign Up Free | The WPJ Weekly Newsletter
Relevant real estate news.
Actionable market intelligence.
Right to your inbox every week.
---
Real Estate Listings Showcase