---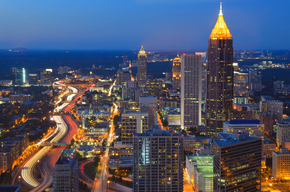 The Atlanta apartment market is still reaping the benefits of a struggling home market as well as favorable demographics, according to Reis, Inc. According to the company's latest data, vacancies fell to 6.8% at the end of 2012, compared to 7.9% at the end of 2011 and average asking rents were up nearly 3%, going from $857 per month a year ago to $880 per month at the end of 2012.
Fewer completions of apartment units--381 in 2012 compared to 2,156 in 2011--may have contributed to a lower vacancy rate in Atlanta. At the same time, net absorption levels were much higher in 2011--7,864 units, compared to only 4,126 in 2012, according to Reis.
Apartment development in Atlanta slowed down in 2012, because there had been a lot of construction a few years ago, says Ryan Severino, senior economist at Reis in New York. "Certainly if you look back, even during the down years of 2009-2011, a lot of properties were still being developed," even though there wasn't much demand, because some projects had started during better times, and it made more sense to complete them than scrap them, depending on where they were in the development process, he says.
At the end of 2009, the vacancy rate for the Atlanta apartment market was 11.7%, the highest since 1990, which is why so many developers pulled the plug on their projects, says Severino. "Now, the market has tightened to a point that (some developers) feel confident about building in Atlanta again," he says.
"If the economy starts to pick up (more), it isn't hard to see more apartments being built, although not at the level seen in the late 1990s through 2002, when 10,000 to 14,000 units were delivered each year" says Severino. "Atlanta is a big, sprawling area with no supply constraints, so vacancy rates aren't as tight" as in places that do have constraints, he says. In Manhattan at the end of 2012, the vacancy rate was 2.2%, according to data from Reis.
What works in the apartment sector's favor in Atlanta as elsewhere, says Severino, "is that the housing market is still in disarray, so even though Atlanta is more of a home-ownership (kind of place)" than some other markets, the area hasn't seen a strong rebound in home-ownership yet, he says.
In the US as a whole, apartment vacancy rates are declining and will continue to decline for at least the next few years, not only because of people's inability to buy homes, but because there are so many young people needing a place to live, says Severino. "Vacancy rates will be at low enough levels," that rent increases will continue, he says. "The last time vacancy rates were this low was in the late 1990s during the dot.com bubble, but the economy was growing faster so (landlords) could raise the rents," says Severino.
In Atlanta, vacancy rates may tighten to where they were in the late 1990s, which was 4.5% to 6%, says Severino. By the middle of this decade, the rates are expected to be in the 6% to 6.5% range, he says.
In spite of low vacancy rates, Severino says that if the economy continues to grow slowly, it will get harder and harder to extract higher rents from tenants. Plus, the number of 20 to 30 year olds will start to peak at the end of this decade and without good jobs and income growth, tenants won't be able to pay ever higher rates, maybe not even if they have two or three roommates, he says.
Sign Up Free | The WPJ Weekly Newsletter
Relevant real estate news.
Actionable market intelligence.
Right to your inbox every week.
---
Real Estate Listings Showcase