---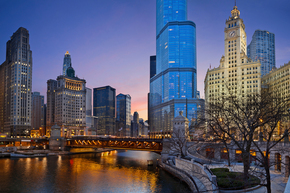 There is growing interest by private investors from the East and West Coasts in the Chicago office market today. One of these loosely-affiliated groups of high-net worth individuals bought the 540 West Madison Street building in Chicago's West Loop-- just west of Chicago's main CBD--for $350 million at the end of December.
The fact that these East and West Coast buyers are looking to Chicago to make large investments is a good sign for the health of the market, says Michael Lirtzman, executive vice president at Transwestern in Chicago. And the prices per square foot are relatively high, he says. "Chicago's office market has historically topped off just north of $400 per square foot," says Lirtzman.
The 10-year-old 1.1-million-square-foot 540 West Madison building was sold by Bank of America to David Werner of New York and Joseph Mizrachi of Boca Raton for a price per square foot of $318, in a sale-leaseback transaction, according to Real Capital Analytics.
"There is some risk associated with the 540 West Madison sale," says Lirtzman. Although the building is 92% occupied, Bank of America, which is leasing 757,000 square feet, "has more space than it needs and has the ability to market some of it," he says. "But if the new owners can land a large tenant that can pay high rents, then the purchase will pay off for them, says Lirtzman.

Another coastal investor who snagged an office property in Chicago was the Irvine Company-- a privately-held real estate investment company and master planner, based in Los Angeles. It bought the 71 South Wacker Drive/Hyatt Center in December 2010 according to RCA. The company paid $625 million, or $424 per square foot for the nine-year old building. "It has little leasing risk, because it is 95% occupied," says Lirtzman. "(The company) bought 71 South Wacker as a yield play, because it has credit worthy tenants, and there is not much leasing risk for the next five to seven years," he says.

Buildings that were built in the last boom--from 2004 to 2007--have been selling in the $400 to $450 square foot range lately, says Lirtzman. The 540 Madison building, which sold for less, did so because it is in a slightly less desirable location than the 71 South Wacker building, and it was cheaper to build, but $318 per square foot is a healthy number for Chicago, he says.

The main business address in Chicago is along Wacker Drive to the east of the West Loop, says Lirtzman, and the 540 West Madison building is two blocks west of the Chicago River, which is many blocks west of Wacker Drive. Every additional block west of the river is less desirable, he says. Plus, the 540 West Madison building has only 30 stories and doesn't have the most spectacular views of the city, says Lirtzman.

"Chicago is still a bargain compared to the coasts," says Lirtzman. "In every cycle, prices (for office buildings) get bid up on the coasts so investors start to look for yields in the Midwest," he says. "Chicago is the only 'flyover' town worth investing in and cap rates are higher here than on the East and West Coasts," says Lirtzman. For comparable buildings, "rental rates in Chicago run from about $23 to $26 per square foot, while rents in New York for the same building would run from $60 to $70 per square foot," he says. "Plus, cap rates in Chicago are probably 100 basis points higher than in New York," for a similar building, says Lirtzman.

When Chicago gets picked over (by East and West Coast investors), says Lirtzman, they go to St. Louis, Indianapolis or other Midwestern cities. But there isn't a lot of institutional money outside of Chicago, he says.

East and West Coast investors aren't the only ones looking to Chicago as a good investment, says Lirtzman. "There is lots of money coming from Korea, Hong Kong, Ireland and Germany," he says. Some European countries are considered too risky right now, so investors look offshore for stability, says Lirtzman.



Sign Up Free | The WPJ Weekly Newsletter
Relevant real estate news.
Actionable market intelligence.
Right to your inbox every week.
---
Real Estate Listings Showcase