---
There is a battle between online retailers and brick-and-mortar locations. Who will win? How about both.
The e-commerce industry is booming, challenging long standing retailers, many of which are looking for ways to stay relevant. However, deciding the winner is not as easy as it seems.
One thing is for sure, e-commerce is booming and sales are growing. In 2004, e-commerce accounted for two percent of all retail sales in the U.S., according to the U.S. Census Bureau. Almost 10 years later, e-commerce accounts for six percent of all sales.
The retail sales data for the third quarter of 2013, the latest available, is even more telling. During the third quarter, total retail sales increased 4.7 percent year-over-year. In comparison, e-commerce sales increased by a much higher 18.2 percent during the same time period, according to the Bureau's revised estimate.
An advance estimate for retail sales in December 2013, during the holiday shopping season, increased 4.0 percent year-over-year. That is down from the 4.7 percent yearly increase recorded in December 2012.

John Ellis
"What's happened is people have become more comfortable with e-commerce and we obviously know the 800-pound gorilla out there is Amazon," John Ellis, Miami commercial retail broker, told
WPC News
.
Seattle-based Amazon has become a true marketplace, continuously inventing ways to improve its model. Last week, the company reported fourth quarter sales increased 20 percent to $25.59 billion.
However, just like all business models, there are some challenges for Amazon. Among them are shipping costs and faster delivery to customers.
In the last couple of months the company has introduced innovative ideas to improve its business ranging from drones delivering to customers' doors to a new patent introduced last month it calls "anticipatory shipping," which would deliver packages even before customers order them.
The new patent would increase the speed of delivery and add pressure to its brick-and-mortar competitors, which still have the advantage when it comes to same-day service.

Randy Anderson
"While the internet has been very effective at competing on price, it has not yet cracked the code of how to affordably get products to the end consumer on the same day they are purchased," Randy Anderson, head of CBRE Research, Americas, told
WPC News
. "If the Amazon model works, clearly there will be other internet retailers who follow suit."
A move like this from Amazon or other online retailers benefit the industrial real estate sector, and more specifically, warehouse space around the country.
Year-to-date industrial sales through the third quarter of 2013 reached $31.9 billion, up 33 percent compared to a year ago, according to CBRE's latest available research. For warehousing, sales increased 46 percent year-over-year during the same time period.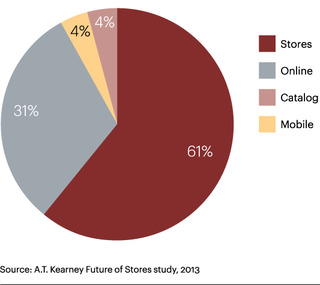 Consumers spend the majority of their shopping time in stores
"From a real estate perspective this has many implications, as it benefits warehouse space at the expense of retail space," Mr. Anderson said. "[It] could also hurt large distribution focused warehouse spaces/centers, as more would be stored in smaller, regional warehouses designed to serve a small geographical area."
Traditional retail space is still relevant but needs to evolve. Loehmann's Holdings, the New York-based retailer of discounted designer goods has filed for bankruptcy and will close the doors to some of its stores nationwide this weekend.
"One of their reasons for their recent bankruptcy and their closing after 90 years was their inability to react swiftly and proactively enough to e-commerce," Mr. Ellis said. "Some of the people that have jumped into e-commerce with both feet have been H &M, Walmart, Target."
Retail stores can breathe easy, however, as brick-and-mortar is not dead. In fact, it plays a leading role in building customer loyalty and supporting financial performance, according to a report from consulting firm A.T. Kearney.
The firm studied 3,200 U.S. and U.K. consumers and found they spent 61 percent of their shopping time in stores.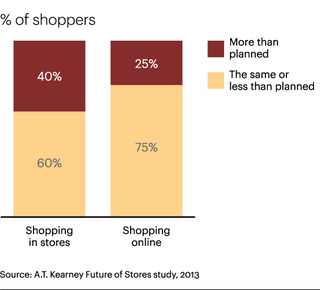 Consumers spend more money when shopping in brick and mortar stores
Moreover, the study found 40 percent of shoppers spent more than they had planned while shopping in brick-and-mortar stores. By comparison, only 25 percent of shopping spent more than expected when shopping online.
The top reasons why consumers visit stores is the instant gratification of taking an item home, trying products on and experiencing the products, as well as socializing with friends and family.
Besides creating a positive experience for consumers, retailers are trying to get ahead by resizing.
"The big word in retailing is 'right sizing,'" Mr. Ellis said. "Fedex/Kinkos is now coming out with a hybrid that is a 5,000-square-foot store...Dressbarn is going from 10,000 square feet to a more comfortable 7,000 square feet."
So who wins the battle between e-commerce and brick-and-mortar? Only time will tell whether retailers increase cross-channel measures.
"Much of the perceived antagonism between brick and mortar and online retailing is giving way to the notion that both platforms are fundamental elements for a successful omnichannel growth strategy," Mr. Anderson said.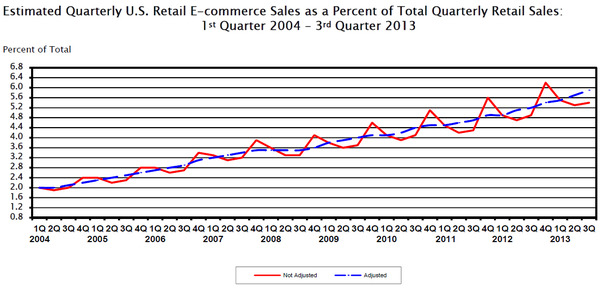 Sign Up Free | The WPJ Weekly Newsletter
Relevant real estate news.
Actionable market intelligence.
Right to your inbox every week.
---
Real Estate Listings Showcase