---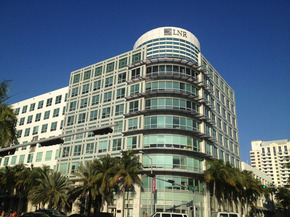 Last week, Starwood Property Trust (STWD) and Starwood Capital Group announced that they would acquire, on behalf of Starwood Distressed Opportunity Fund IX, LNR Property, LLC for $1.05 billion. At the time, company executives said that it was "a transformative and highly strategic acquisition... (that) would diversify Starwood Property Trust's revenue sources (and) add significant scale to our operating platform and dramatically expands our proprietary origination capabilities."
LNR has the largest special servicer operation in the US with 129 deals representing unpaid balances of $131 billion and with nearly $20 billion in special servicing or REOs. It holds a 25.1% market share of all outstanding CMBS loans in the US.
In addition to the five LNR businesses that Starwood Property Trust is acquiring, including the special servicing part, Starwood Capital Group will pay $197 million for LNR's US Commercial Property Group and 50% of LNR's ownership interest in Auction.com.  Starwood Property Trust will pay $856 million for the rest of LNR's assets, including 50% of Auction.com.
LNR doesn't have direct exposure to loans in the CMBS trusts, said Barry Sternlicht, Starwood Property Trust's chairman and chief executive officer, at last week's conference call announcing the LNR acquisition. "As the loans go bad, we get compensated," he said.
Starwood's acquisition will cover five separate LNR business segments, including the US Investment Securities Portfolio which has legacy whole loans, CMBS and CDO investments, including controlling class positions that form the basis for a material portion of LNR's special servicing rights. Current securities portfolio includes interests in 43% of all outstanding conduit CMBS transactions and 50% of all transactions between 2005 and 2008, according to the Starwood Property Trust website.
Another business segment is LNR Europe, which consists of Hatfield Philips, the largest independent primary and special servicer in Europe, and LNR European Investment Fund, a European CRE debt fund.
"At the beginning of the restructuring of the European debt crisis...this offers an extraordinary window onto this business," said Sternlicht at last week's presentation.
"LNR Europe is the largest primary and special servicer in Europe and manages CMBS trusts, many of which are going bad today, "said Sternlicht. "Having (LNR Europe) in the fold will be unique..." and will offer "an extraordinary window" on what is happening in the European debt market, he said.
Joshua Barber, analyst with Stifel Nicolaus in Baltimore agrees. "There needs to be boots on the ground if something develops. Lots of people think there will be good buys in Europe in the coming years," but in order to take advantage of those deals, companies "need market data first," he says.
The LNR deal will give Starwood Property Trust expanded ability to pursue European origination and distressed asset sales, according to Starwood Property Trust's website.
The servicing business of what the REIT (Starwood Property Trust) is buying is about one third of LNR's business, said Sternlicht. "If the servicing business isn't as good as we thought," then principal recovery will be an offset, he says. Those two parts of the business are hedged against each other, says Sternlicht.
This point of view is stated more generally on the company website: "Funds and CMBS investments perform better in a bullish economic scenario and special servicers perform better in a bearish economic scenario."
Sternlicht adds: "We think the (LNR) acquisition has asymmetric risk. We have a seat at table with billions of debt maturities. We can offer to refinance every asset. (LNR people) already know what the office buildings are worth," he said.
"We expect to close (on the LNR deal) at the end of the first quarter or in the second quarter of 2013,"said Sternlicht. "We will sell off some lower hanging fruit, paper we've bought (CMBS and RMBS that has increased in value) and we will look at other securities... At the end of the day, we can always sell what we need to sell to raise capital. As you (the audience at the presentation) know, two banks (Citigroup and Credit Suisse) have committed a bridge loan to us. LNR has saleable assets too," he said. "This is not an optimal (way to finance the deal), but we will consider it."
Sign Up Free | The WPJ Weekly Newsletter
Relevant real estate news.
Actionable market intelligence.
Right to your inbox every week.
---
Real Estate Listings Showcase