---
The U.S. office market recorded the highest quarterly jump in a year for leasing activity at the end of 2013, according to Cushman & Wakefield.
The market witnessed 19.5 million square feet of office leasing activity in the fourth quarter, led by New York's Midtown Manhattan office market's 4.5 million square feet.
Downtown Manhattan
(1.8 million), Chicago (1.3 million), Boston (1.2 million) and San Francisco (1.2 million) each recorded leasing activity higher than one million square feet of activity for the quarter, the firm reports.
San Francisco, a market experiencing a boom from the tech industry, enjoyed a record leasing year in 2013. The market's leasing activity in the fourth quarter totaled two million square feet, bringing the year-to-date volume to 7.2 million square feet. The 10-year average for San Francisco was only 5.8 million square feet, according to the report.
"The technology and the energy markets remain strong," Maria Sicola, executive managing director and head of Americas research for C&W, said in the report. "San Francisco, Boston, Houston and Denver are the markets that are seeing quite a bit of the activity and remain resilient. It's a great start for those markets, but the other more pressing factor is going to be other industries recovering and expanding beyond technology and energy."
In 2013, overall leasing activity for the U.S. central business district (CBD) office market totaled 68.1 million square feet, with another 137.8 million square feet of suburban activity, increasing 5.9 million square feet from 2012.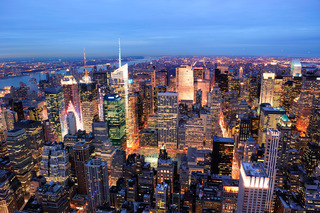 The Midtown Manhattan market also led the nation in full-year activity, with 16 million square feet of activity. That was 9.8 million more than C&W's second place in the report: Downtown Manhattan.
In the fourth quarter, the vacancy rate for CBDs increased slightly to 13.5 percent from the 13.1 percent recorded in the final quarter of 2012. Compared to the previous quarter, the rate increased just 0.1 percent. However, 17 CBDs recorded a drop in vacancy for the fourth quarter, with the largest quarterly declines seen in Hartford, Conn. (down 7.03 percent), Phoenix (down 2.6 percent) and Silicon Valley (down 1.6 percent).
Rental rates averaged $41.74 per square foot for CBDs in 2013, increasing seven percent from 2012. Quarterly, national rental rates increased just $0.77. Manhattan's Midtown South market led the nation with $62.61 per square foot asking rents, increasing $2.27 from the previous quarter. In Downtown Manhattan, the rental rate was $48.26 per square foot after increasing $2.26 from the previous quarter.
According to the report, the only U.S. CBDs to outpace the national rental rate average were Midtown Manhattan, Midtown South, San Francisco, Fairfield County, Conn., Washington D.C., Downtown Manhattan and Boston.
A total of 6.4 million square feet of office space entered the market in 2013, with Downtown Manhattan accounting for two million of that.
"An additional 12.8 million square feet is expected to be completed over the next two years, with Downtown Manhattan seeing the most gain with three million square feet of construction expected in 2014," the report states. "Silicon Valley's suburban market will also see a surge in construction this year, with an additional three million square feet expect for completion."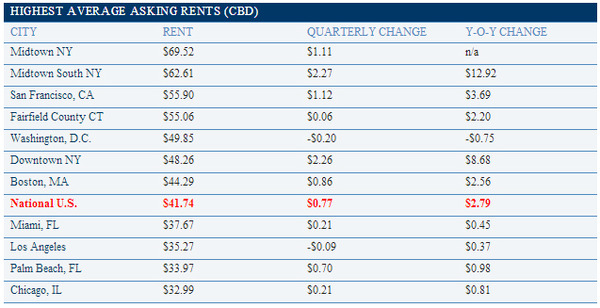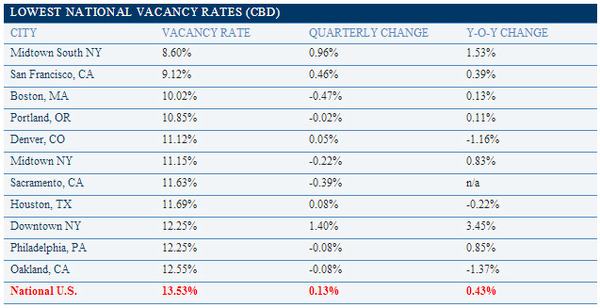 Source : Cushman & Wakefield

Sign Up Free | The WPJ Weekly Newsletter
Relevant real estate news.
Actionable market intelligence.
Right to your inbox every week.
---
Real Estate Listings Showcase