---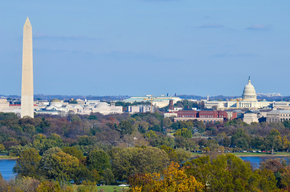 The 17th annual Delta Associates Year-End 2012 Market Maker Report, a survey of developers, institutions and financial experts in the Washington, D.C. area, reports that the metro's commercial real estate market has had a good year. Cap rates have generally gone down and targeted cash-on-cost returns for new development increased by 13 basis points in 2012, according to the report. 
"It was a surprise to me that commercial real estate cap rates have continued to decline, except in the case of office, where the metrics remain in trouble," says Greg Leisch, founder and chief executive at Delta Associates, a real estate research and advisory firm in Alexandria, Virginia. This was the first time in history (since 1970) that office had negative absorption," he says. Out of 410 million square feet in the Washington metro, there were 2.9 million square feet of negative absorption.
"A combination of factors," accounted for the negative absorption, says Leisch. "Among them was the fact that the GSA (General Services Administration), the largest office tenant in the area with 140 million square feet, made a shift out of some government-leased space to government-owned space, the result of the Base Realignment and Closure Act of 2005, he says. Today, about 80 million square feet of GSA space is rented and 60 million square feet is owned. (Government-owned space is not counted in the 410 million square foot figure).
BRAC affects all Department of Defense personnel who work in offices in the region, says Leisch.  Personnel from DOD have moved from Crystal City in Arlington, Virginia into government offices at Fort Belvoir in Fairfax County, Virginia, 20 miles south of Washington, he says. "This has created negative absorption of 2.5 million square feet of office space in Arlington and while other suburbs have also been affected," Arlington was the biggest casualty, says Leisch.
The Washington office market has also been impacted by concern over the fiscal cliff, which has caused some tenants to hesitate about making decisions regarding leases, says Leisch.
In 2013, "The 'fiscal cliff' will be resolved, says Leisch. "But there will be more government austerity," he says. "Washington will be affected one way or another."
In spite of negative absorption in Washington's office market, cap rates for CBD Class A office space averaged about 6.25% in 2012, says Leisch. In the retail sector, Class A, grocery-anchored shopping centers' cap rates averaged roughly 6.5% and for Class A, multi-family, high-rise apartment buildings, cap rates averaged roughly 5.5% in 2012, he says.
"Office space that was vacated tended not to be Class A," says Leisch. "Class A space has performed better than Class B office space," he says. The same is true for apartments. Class A apartments perform better than Class B product. "There has been a flight to quality," says Leisch.
There has also been a flight to quality in retail, says Leisch. "We have malls that are obsolete, such as the Springfield Mall in Springfield, Virginia and the Landover Mall, in Landover, Maryland, both Class C properties, that are doing terribly," he says, while Class A malls like Tysons Corners in McLean, Virginia, are doing marvelously.
The Delta Associates report includes an Investment Worthiness Index, with ratings from 0 to 10. "We know from history that any (property with a rating) above 5 is investment-worthy," says Leisch. "We know that only two asset classes fell below 5 in 2012, CBD and suburban Class B office," he says. If a property has a rating of 6, that is particularly strong, says Leisch. Asset classes with ratings above 6 include most hotel categories, Class B, suburban garden apartments, Class A grocery-anchored shopping centers and Class A industrial facilities.
The Washington, D.C. region will see growth of about 40,000 jobs per year in the next three years, about half of what the rate would normally be in an expansion cycle, "but we are still growing," says Leisch, and that number compares favorably to other metros. "Washington will be among the job leaders in the country," he says. As for the reason why the job growth isn't more robust, Leisch says, "the federal government isn't growing." 
Sign Up Free | The WPJ Weekly Newsletter
Relevant real estate news.
Actionable market intelligence.
Right to your inbox every week.
---
Real Estate Listings Showcase