---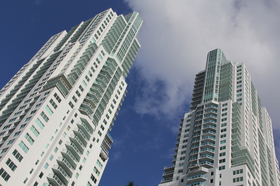 According to Miami Association of Realtors, the Miami real estate market continues to strengthen as it nears a full year of significant price increases fueled by strong sales and an inventory shortage. 
Despite very limited inventory, total residential sales in Miami-Dade County surged 24.2 percent compared to a year earlier.  The sales of existing condominiums in Miami-Dade increased 13.1 percent, from 1,271 to 1,437.  Sales of single-family homes increased 41.9 percent, from 805 to 1,142, year-over-year.
"Intense demand for Miami properties continues to fuel robust price appreciation," said 2012 Chairman of the Board of the Miami Association of Realtors Martha Pomares.  "Demand from investors, foreign and vacation buyers as well as U.S. and local residents remain very strong.  The world is focused on Miami where population growth, global business expansion, and record tourism are just a few of the factors attracting attention on many fronts and will continue to fuel demand long into the future."
Statewide sales of existing single-family homes totaled 17,779 in October, up 25.3 percent compared to a year ago.  Statewide condominium sales totaled 8,252, down 16.4 percent from October 2011. Nationally, sales of existing single-family homes, townhomes, condominiums, and co-ops rose 2.1 percent from October but were 10.9 percent higher than they were in October 2011, according NAR.
Evident Demand Continues to Fuel Strong Appreciation

Miami home prices rose again in October, marking 11 consecutive months of appreciation for both single-family homes and condominiums.  The median sales price of Miami-Dade condominiums, which has increased each of the last 16 months, rose 24.2 percent to $146,000 compared to a year earlier.  The median sales price of single-family homes rose 5.8 percent to $185,000.
In October the average sales price for condominiums in Miami-Dade County increased 16.4 percent to $265,783.  The average sales price for single-family homes decreased 14 percent to $324,253.
Florida Statewide Home Prices

Statewide median sales prices in September increased 9.0 percent to $145,000 for single-family homes and 20.2 percent to $107,000 for condominiums, according to data from Florida Realtors Industry Data and Analysis department and vendor partner 10K Research and Marketing. The national median existing-home price for all housing types was $178,600 in October, an 11.1 percent increase from October 2011, according to the National Association of Realtors (NAR).
"Miami's strong rental market clearly reflects the demand for local housing that is attracting both U.S. and foreign investors," said 2012 Miami Association of Realtors Residential President Patricia Delinois.  "Many local residents who defaulted on loans during the market downturn are not able to purchase homes again, thus generating demand for rental properties that should persist for a few years and should continue to boost market performance."
Inventory Shortage Persists

Over the last year, the inventory of residential listings in Miami-Dade County has dropped 22.2 percent from 15,127 to 11,769.  Compared to the previous month, the total inventory of homes increased 1.5 percent.   Currently, there are 4.2 months of supply in Miami-Dade.  Total housing inventory nationally decreased 1.4 percent at the end of October and was 21.9 percent below year-ago levels, representing a 5.4-month supply at the current sales pace.
Median Days on the Market

Properties are selling much more rapidly in the current market than they did a year ago.  The current median days on the market is only 39 for single-family homes and 43 for condominiums, compared with historic averages of 90 to 120 days on the market. These are respectively 35 percent and 15.7 percent decreases year-over-year.  Nationally, the median time on the market was 71 days.
Distressed Sales Decrease

Strong demand for bank-owned (REO) properties and improved processing of short sales continues to yield absorption of distressed listings and to contribute to price appreciation.  In October, 47.5 percent of all closed residential sales in Miami-Dade County were distressed, including REOs (bank-owned properties) and short sales, compared to 57 percent in October 2011 and 47.4 percent the previous month.  Nationally, distressed homes accounted for 24 percent of October sales, unchanged from September.
Cash Sales Reflect Strong International Presence

In Miami-Dade County, 63.7 percent of total closed sales in October were all-cash sales, compared to 64 percent in October 2011 and 62.4 percent the previous month.  Cash sales accounted for 46 percent of single-family and 77.6 percent of condominium closings.  Nearly 90 percent of foreign buyers in Florida purchase properties all cash.  This reflects the much stronger presence of international buyers in the Miami real estate market - by comparison all-cash sales nationally accounted for 29 percent of transactions in October, up from 28 percent the previous month; they were 29 percent in October 2011.
Sign Up Free | The WPJ Weekly Newsletter
Relevant real estate news.
Actionable market intelligence.
Right to your inbox every week.
---
Real Estate Listings Showcase