---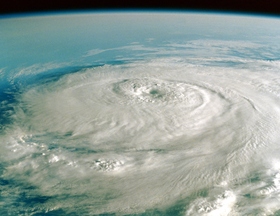 According to CoreLogic's annual Natural Hazard Risk Summary and Analysis report, natural disasters that struck the United States in 2012 had a significant economic impact on property losses nationwide. 
"Hurricane Sandy was, without a doubt, the single most destructive natural hazard event of 2012, due to the combination of environmental elements that created what the National Oceanic and Atmospheric Association (NOAA) called a 'Frankenstorm,'" said Dr. Thomas Jeffery, senior hazard scientist for CoreLogic.
"The unusually broad span of the storm's reach, its intersecting path with a nor'easter and its landfall at high tide led to disastrous levels of storm surge, pushing flood waters far overland and causing widespread destruction along the coast that could total as high as $50 billion." 
Among key findings of CoreLogic 2012 Natural Hazard Risk Summary and Analysis include: 
Hurricane
The single most destructive natural disaster in 2012 was Hurricane Sandy. In late October, the Category 1 storm generated record levels of storm surge along the northern New Jersey coast and in the New York City area, impacting more than 5 million residents across the region.
The first hurricane to make landfall in the U.S. in 2012 was Category 1 Hurricane Isaac in late August, which caused an estimated $2 billion in insured losses around the New Orleans metro area.
Flood
Flood losses are expected to total approximately $10 billion in 2012, which would result in the third consecutive year of increasing flood damage in the U.S.
Prior to Hurricane Sandy, flood events in 2012 were relatively insignificant, with most of them occurring below the Federal Emergency Management Agency 100-year flood levels. In fact, freshwater flood activity through October indicated a decline in flood losses from 2011, on par with CoreLogic historical trend analysis. The broad scope and extreme conditions of Sandy, however, led to widespread flooding along the Atlantic Coast and a significant increase in estimated flood losses for the year.
Earlier in the year, Tropical Storm Debby tracked slowly across the Florida peninsula in June, dropping at least 25 inches of rainfall along its path.
After months of sustained, widespread drought, Hurricane Isaac brought heavy rainfall and flooding to Louisiana in late August before continuing northward into the Midwest.
Wildfire
The 2012 wildfire season was the third most destructive on record in the U.S. in terms of total acres burned as of early December.
The 15-year trend of fewer, but larger fires continued into 2012 with fewer than 51,000 individual wildfires across the country--the lowest number recorded since 1989.
Several of the individual fires that occurred in 2012 set records, including Colorado's Waldo Canyon Fire, which damaged or destroyed 346 homes, and New Mexico's Whitewater-Baldy Fire, which burned more than 297,000 acres.
The rebound in wildfires that occurred in California was not unexpected given that by the end of August approximately 63 percent of the U.S. was experiencing drought conditions as classified by NOAA and demonstrates the cyclical nature of wildfire activity.
NOAA continues to predict a pattern of drought conditions through the start of 2013, suggesting the potential for another increase in wildfire risk across much of the country.
Tornado
Tornado activity in 2012 was not strictly limited to the region commonly referred to as "Tornado Alley." States located outside the central and southern Great Plains experienced a significant number of tornadoes this year.
January 2012 was one of the most active Januaries since recording began in 1950, with a total of 79 tornadoes reported across the country.
In late February, tornadoes struck Illinois, Indiana, Kentucky and Ohio. Harrisburg, Ill., experienced the most concentrated destruction, with more than 225 homes and businesses damaged or destroyed and an estimated $475 million in total damage.
"Because the strength, severity and geographic impact of natural disaster events will change from year to year, an understanding of patterns in hazard activity, geographic vulnerabilities and the properties exposed to each different type of disaster is crucial to managing risk," said Jeffery. 
The report provides an analysis of the impact of hurricane, flood, wildfire and tornado events over the course of the year, as well as a summary of potential risk from natural hazards in 2013. Compiled by CoreLogic spatial science experts, the report summarizes the structural, geographic and financial impact of natural disasters that caused billions of dollars in property damage across the U.S. over the course of the year. 
Sign Up Free | The WPJ Weekly Newsletter
Relevant real estate news.
Actionable market intelligence.
Right to your inbox every week.
---
Real Estate Listings Showcase