---
According to the latest S&P/Case-Shiller Home Price Index released this week, U.S. home prices decreases of 1.1% and 1.2% for the 10- and 20-City Composites in October vs. September.
Nineteen of the 20 cities covered by the indices also saw home prices decrease over the month. The 10- and 20-City Composites posted annual returns of -3.0% and -3.4% versus October 2010, respectively. Fourteen of the 20 MSAs and both Composites saw improved annual returns compared to September's data.
Miami saw no change in annual returns in October; while Atlanta, Detroit, Las Vegas, Los Angeles and Minneapolis saw their annual rates worsen. At -11.7% Atlanta posted the lowest annual return. Detroit and Washington DC were the only two cities to post positive annual returns of +2.5% and +1.3%, respectively.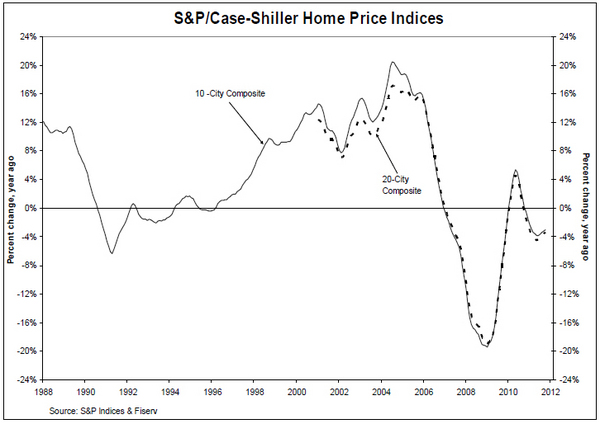 The chart above depicts the annual returns of the 10-City and the 20-City Composite Home Price Indices. In October 2011, the 10- and 20-City Composites recorded annual returns of -3.0% and -3.4%, respectively. Both Composites and 14 MSAs - Boston, Charlotte, Chicago, Cleveland, Dallas, Denver, New York, Phoenix, Portland, San Diego, San Francisco, Seattle, Tampa, and Washington DC - saw their annual rates improve in October compared to September.
"There was weakness in the monthly statistics, as 19 of the cities posted price declines in October over September," says David M. Blitzer, Chairman of the Index Committee at S&P Indices. "Eleven of the cities and both composites fell by 1.0% or more during the month. And even though some of the annual rates are improving, 18 cities and both Composites are still negative. Nationally, home prices are still below where they were a year ago. The 10-City Composite is down 3.0% and the 20-City is down 3.4% compared to October 2010.
"In the October data, the only good news is some improvement in the annual rates of change in home prices, with 14 of 20 cities and both Composites seeing their annual rates of change improve. The crisis low for the 10-City Composite was back in April 2009; whereas it was a more recent March 2011 for the 20-City Composite. The 10-City Composite is about 2.4% above its relative low, and the 20-City Composite is about 1.9%.
"Atlanta and the Midwest are regions that really stand out in terms of recent relative weakness. Atlanta was down 5.0% over the month, after having fallen by 5.9% in September. It also has the weakest annual return, down 11.7%. Chicago, Cleveland Detroit and Minneapolis all posted monthly declines of 1.0% or more in October. These markets were some of the strongest during the spring/summer buying season. However, Detroit is the healthiest when viewed on an annual basis. It is up 2.5% versus October 2010.
Atlanta, Cleveland, Detroit and Las Vegas are four markets where average prices are below their January 2000 levels; and Atlanta and Las Vegas posted new lows in October.
"Some of the other housing statistics posted relatively healthy figures for November, but it seems that most of the good news was confined to the multi-family sector. Existing home sales rose in November, but are still at a low annual rate of about 4.0 million. Single family housing starts also rose, but remain close to record lows and are still down about 1.5% versus October 2010."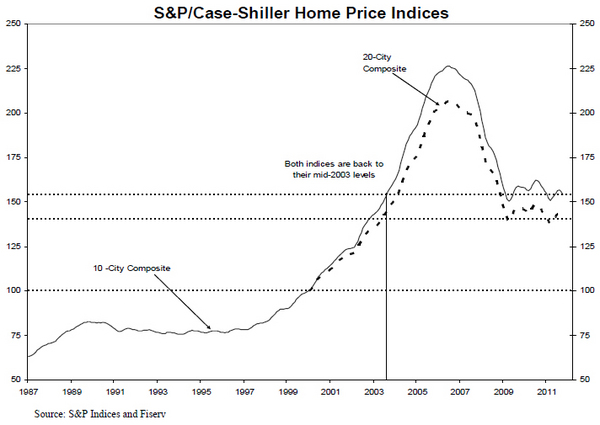 The chart on the previous page shows the index levels for the 10-City and 20-City Composite Indices. As of October 2011, average home prices across the United States are back to the levels where they were in mid-2003. Measured from their June/July 2006 peaks through October 2011, the peak-to-current declines for the 10-City Composite and 20-City Composite are -31.9% and -32.1%, respectively. The recovery from recent lows are +2.4% and +1.9%, respectively. The 10-City Composite hit its crisis low in April 2009, whereas the 20-City reached a more recent low in March 2011.
At +0.3%, Phoenix was the only one of the 20 MSAs that posted a positive monthly change. The 10-City and 20-City Composites were down -1.1% and -1.2%, respectively, from their September 2011 levels.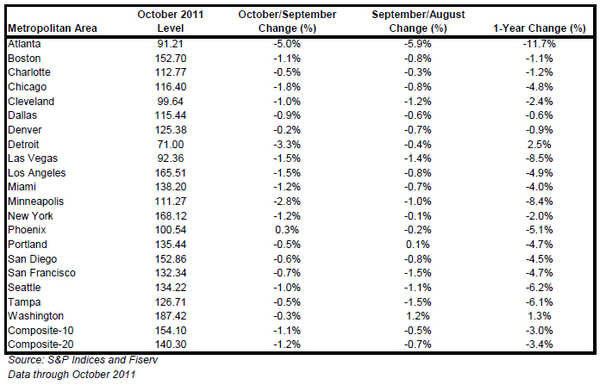 Sign Up Free | The WPJ Weekly Newsletter
Relevant real estate news.
Actionable market intelligence.
Right to your inbox every week.
---
Real Estate Listings Showcase